Megan says: Check out this great guest post from Alma – you can have dinner made and on the table in less time than it takes to run a 5K!
Hey Runner's Kitchen Readers!  It's Megan's roomie, Alma here with a guest post! It's pretty awesome living with Megan… she's a friend, a running buddy, AND she's always offering me yummy, healthy food!  I don't dislike cooking, but I do find it challenging to find the time to cook balanced meals on a regular basis.  But, after taking advantage of Megan's leftovers all week, on Wednesday night the guilt got to me, and I decided to stir up a healthy and tasty little meal to share with her.    BUT…  I was a bit crunched for time, so, READY, SET, GO!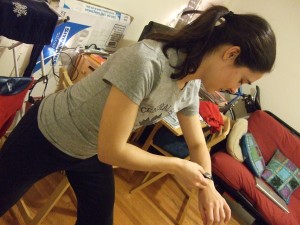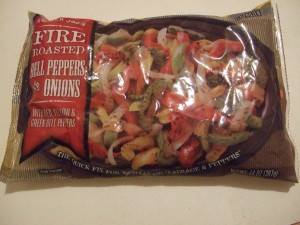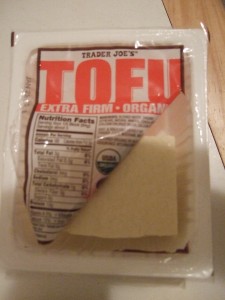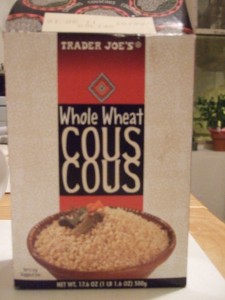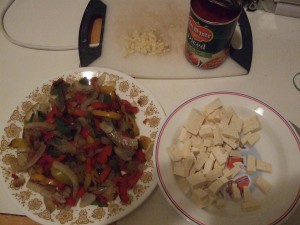 1 bag Trader Joe's Fire-Roasted 3 pepper and onion mix (frozen)
1 half block of extra-firm Tofu
EVOO- I always use more than is absolutely necessary.  To quote my Spanish grandmother- "¡mas aceite, mas aceite!" which means "more oil, more oil!"
3 cloves garlic- I normally go for about a half a head each time I cook, but thinking ahead to the track meet I was planning to run on Thursday, I decided to be extra nice to my GI track…
1 cup of whole-wheat couscous (uncooked)
(I ended up deciding against including the picture can of diced tomatoes because I felt more liquid would kill this dish)
salt
pepper
hot sauce
balsamic vinegar
Before I begin, I should mention that (even though it might count as cheating on the prep time) I set the peppers out to defrost without the intervention of the microwave several hours before…
I started by mincing the garlic and chopping the tofu.  Then (according to the directions on the package of couscous) I set 1 cup of water and 2 tablespoons (approximately- I eyeballed it) of EVOO (substituted for butter) to boil in a small saucepan.
Around the same time I started to heat some EVOO in a large frying pan- I've never been worried about cooking with EVOO at high temperatures- and I've never had a problem with it (nor has my mother, nor my grandmother…)
Tip- put a small piece of garlic in the EVOO when you start to heat it up- when it starts to sizzle, you'll know it's time to add the rest.
Add garlic, and brown, stirring constantly.  I let it go more than a minute since I like my garlic very brown.  (which also makes it easier on your stomach)  Once the garlic was ready, I added the peppers and onions and the tofu and continued to stir.
Going back to the couscous- once the water + oil starts to boil, it's time to remove the saucepan from burner, and to add the couscous, stir it in well, and then cover the saucepan.  You'll need to let the pot sit for about 5 minutes before you remove the lid and fluf the couscous with a fork.  OK, back to the main event…
At this point in my improvised quickie dinner, I started to get nervous about how this was actually going to taste (tofu…) so I added some salt, pepper, a sprinkle of balsamic vinegar, and later, when I was getting really worried, a touch of hot sauce.  When I felt it was ready (the tofu was taking on some color from my improvised flavorings, and the peppers were looking more fried than defrosted, I turned off the heat and stopped my watch.
18:58!  About the time it took Megan to run her 5K PR! Time to chow down!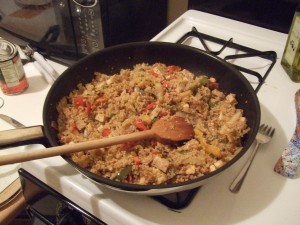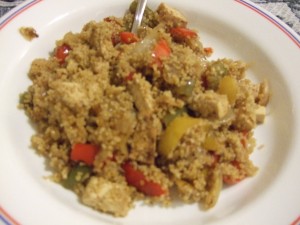 It felt good to cook for Megan- it definitely eased my conscience for about a week, hehe. Oh, and it must have been a great pre-race dinner, because the next day I ran a very successful Mile-800m double at my first indoor track meet of the season.  🙂
Happy Running (and Eating!)