TGIF! Just finished a 6 mile run in practically balmy temps (38 degrees) and now I'm counting down to the weekend. But first, let's rewind to Thursday…
I took a few days off from running because I was feeling under the weather, but I was ready to hit the roads again Thursday morning. I fueled up with my coffee and a homemade clif bar beforehand and saved the orange for afterwards. Alma and I ran for about 40 minutes (plus 4 strides!) and I felt good. Lower left back is still feeling a little tight, but didn't bother me too much during the run.
Once I got to the office, I had breakfast #2 – egg whites with sriracha sauce and a slice of Eli Zabar's health bread topped with pb & j.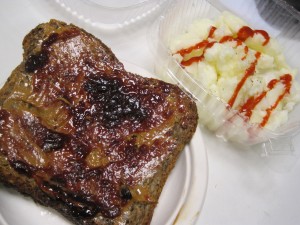 Plus a mid-morning decaf cappuccino. Yum, I could drink these all day long.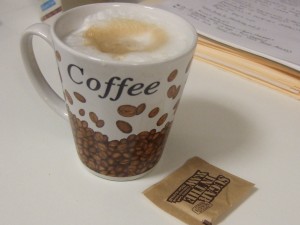 I have pretty much given up on packing a lunch this week, so to cafeteria I went! I mixed up a colorful salad that contained:
romaine lettuce, sliced mushrooms, shredded carrots

chickpeas, feta cheese, dried cranberries, whole grain croutons

wild rice and asparagus salad

roasted brussels sprouts and onions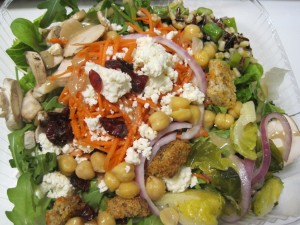 And to satisfy my 4pm sweet tooth, I tried something a little different. Instead of straight up dark chocolate (which I LOVE, but have been eating a little too much of lately), I opted for a Wallaby low-fat chocolate yogurt. The tangy plain yogurt mixed with the chocolate yogurt was really tasty – plus this snack packed a good amount of protein and calcium. Yay. Stonyfield Farm makes a similar yogurt flavor – I think it's called "Chocolate Underground".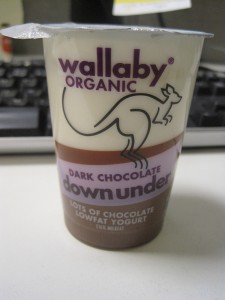 I considered cooking something for dinner, but then Alma suggested that we go to Chipotle. How could I pass that up? And the weather was warm enough (40 degrees!) that the 15 minute walk there and back was almost pleasant. My go-to Chipotle order is the salad – romaine lettuce, fajita veggies, spicy tomato & green tomatillo salsa, black beans, lots of guacamole, and a sprinkle of cheese. I ate it ALL 🙂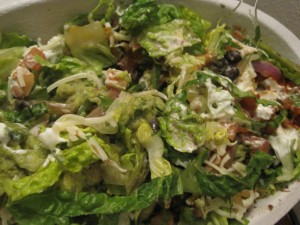 For dessert, I added some mini chocolate chips to a jar of peanut butter and spooned away. Wouldn't it be dangerous awesome if jars of peanut butter came with chocolate chips already mixed into them? I might patent this idea.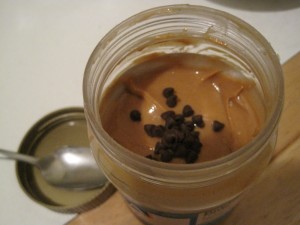 Got a little extra junk in your trunk? Don't sweat it – new research shows that  body fat in the butt and thighs helps to prevent against diabetes and heart disease.
Will protein shakes and creatine help you get buff? The NY Times explores the fitness supplement phenomenom.
Question: I'm travelling this weekend and need healthy snack ideas for the bus. What's your favorite on-the-go option?