I'm still feeling a bit under the weather, so I'm taking it easy this week. Tuesday's breakfast included lots of nutrient-packed foods: yogurt (probiotics!), an orange (vitamin C!), and a slice of Eli Zabar's health bread (flax seeds!) topped with peanut butter and raspberry preserves.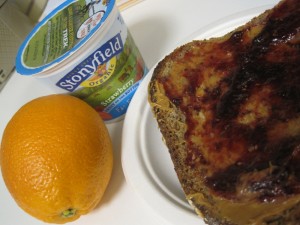 My stomach started to grumble mid-morning, so I sipped on a cappuccino and a few (big!) handfuls of peanuts.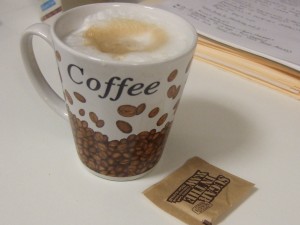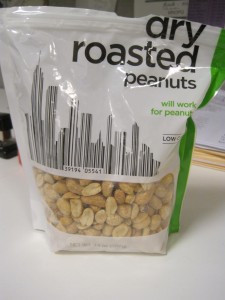 I brought my lunch from home and while it tasted delicious, it looked a bit ghetto. My large spinach container was about 1/4 full, so I used that as my salad bowl (enter strange looks from co-workers here). To the spinach, I added chopped red cabbage, cubed swiss cheese, homemade croutons, and a bit of leftover savory asparagus and mushroom bread pudding. The yellow tuperware contained my homemade salad dressing. To make the dressing, I whisked together 1 Tbs flaxseed oil, 1 Tbs dijon mustard, 2 Tbs garlic rice vinegar, and dash of salt. Yum!
My mid-afternoon snack was a cup of green tea and an Amazing Greens bar. I like that this energy bar is full of whole food ingredients (dates! nuts! greens!), but it tasted a little too sweet for me.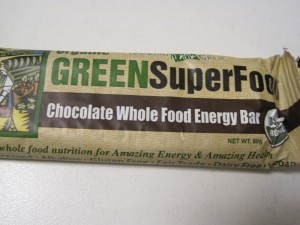 After work I headed to the gym to attend a pilates class with Darien. I definitely would NOT go to pilates classes solo. I just don't like them! However, I know I need to build up my core strength, so a workout buddy makes the 45 minutes bearable 🙂
I was wayyy hungry when I finished with the gym (some day I will get home before 8pm…), so I fixed a super quick dinner: healthy nachos!
I cut a whole wheat tortilla into wedges, misted them with cooking spray, and then baked at 350 F until crispy. Then I topped the tortilla chips with black beans, swiss cheese, a wedge of laughing cow, and salsa and popped the plate back into the oven until the cheese melted.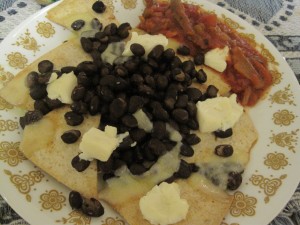 And then I started on a special baking project! I'm a pretty busy girl, so I rely on Clif bars and luna bars a lot for quick energy. I like the way they taste, but I'm not so thrilled about the long ingredient list (lots of soy derivatives). I decided to get creative in the kitchen and make my own energy bar!
Ingredients:
Directions:
Heat the oven to 350 degrees, lightly coat an 8″ x 8″ baking pan with cooking spray

Mix all ingredients together until combined

Press batter into the baking pan and bake for about 20-25 minutes or until lightly golden brown

Cool and cut into 9 squares
Nutritional information (per serving): 230 calories, 10 grams of fat, 30 grams of carbohydrates, 7 grams of protein, 3 grams of fiber, and plenty of vitamins and iron from the oats, eggs, and peanut butter!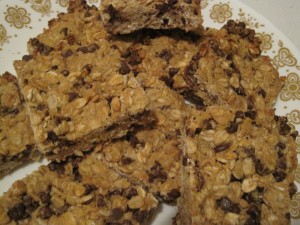 For dessert, I topped one of my oatmeal-chocolate chip bars with a little greek yogurt and peanut butter.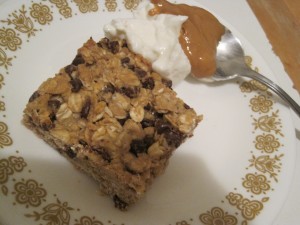 Note: The Krema Company sent me a sample pack of 4 of their peanut butters. I've already devoured one of the crunchy varieties and the smooth variety worked well in this recipe. I love that the only ingredient is PEANUTS. Thanks Krema/Crazy Richard's!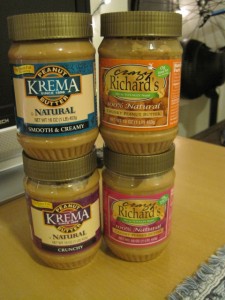 In the News:
Check out the latest on Running Shorts – Imprisoned by a Garmin?
My favorite article of the week – 50 steps to simple happiness. I particularly like #'s 6, 16, 37, and 50!
Question: What's your favorite brand/style of peanut butter? My go-to is Whole Foods 365 Organic Crunchy. Perfecto!