Earlier this week I took a personal day from work to spend some quality time with my sister. She wasn't due to arrive in the city until mid-morning, so I woke up at my usual time and hit up the gym. My back's been bothering me a bit lately, so instead of running I hopped on the elliptical for 35 minutes, swam laps for 15 minutes, and finished up with some strength training. It's 2 days later and my butt and hamstrings are STILL sore. Do these moves at your own risk:
3 x 10 squats

3 x 10 calf raises

3 x 10 tricep dips

3 x 10 bicep curls w/ 12.5 lb weights
My pre-workout mini breakfast was a key lime pie lara bar and after the gym I met my sis for a Starbucks latte.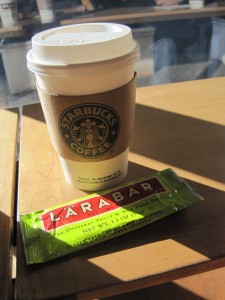 While doing a little shopping (J. Crew sales!), I finally found the elusive Lindt dark chocolate and sea salt bar and treated myself to a few squares. Probably not the healthiest mid-morning snack, but if sure did taste good. And dark chocolate contains iron and antioxidants – that has to count for something, right?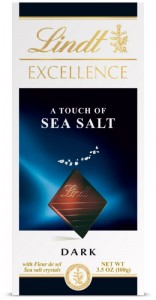 Next on the agenda: Indian food! Rachel loves this cuisine, so I found a little place nearby and off we went. Basera had a great lunch special – naan, rice, and any vegetarian, chicken, or lamb entree all for $8.95.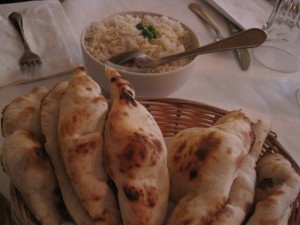 Along with my rice and naan, I ordered the saag masala (spinach and chickpeas). So good! I had a generous second helping and left feeling stuffed.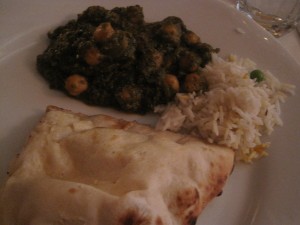 I usually eat at my desk during the work week, so it was nice to enjoy a relaxed lunch with friends.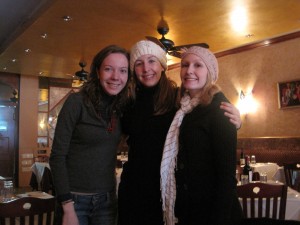 With our bellies full of naan and vegetables, Rach and I headed over to Broadway for the day's main event, Wicked. The show tix and the day together were my birthday present to my sis 🙂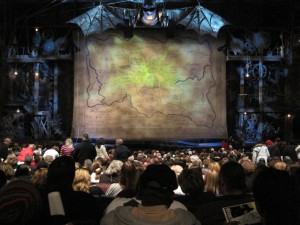 After the show, Rach and I popped into a nearby bar so she could enjoy her first legal drink in NYC (she just turned 21!). The appletini looked good, but I had a long night of writing and other work ahead of me so I opted for a diet coke instead.
Isn't she cute? hehe.
Alma offered to make dinner and I definitely appreciated the night off from cooking. My roommate made a yummy whole wheat cous cous, peppers & onions, & tofu combo. Topped with a little salt, pepper, and hot sauce it was a perfect filling meal for a wintry evening.  I think Alma has plans to guest blog about the recipe, so stay tuned!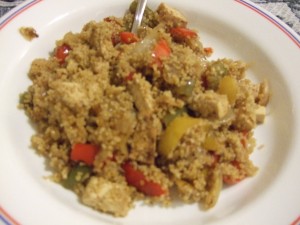 Dessert was a warmed up vita brownie topped with lots of peanut butter and a container of Fage 0% greek yogurt on the side.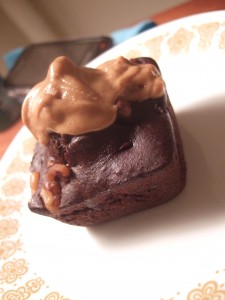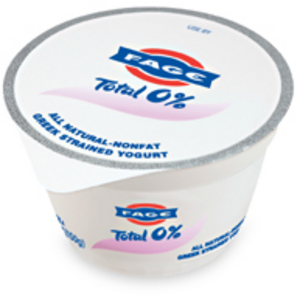 Check out my newest article on True/Slant: How to love running more
Green tea, beans, and low fat dairy – see why these foods are the best at firing up your metabolism!
Apple? Pear? Athletic? Check out the best workouts for your body type!
Simple tricks to make your dishes more yummy.
Question: What's your lunch hour like? Do you usually eat at your desk? At a restaurant? At home?