With all the recipes I've been posting lately, I bet you're wondering if I'm actually doing any running. Well, the answer is yes! I had my second physical therapy session yesterday and while I'm a bit overwhelmed with all of the strengthening exercises I need to do everyday, my back is feeling much better.
I was feeling so good, that I decided to attempt a road workout with my running club. The Central Park Track Club meets every Thursday evening around 7pm to run road workouts. I like that the late start allows us working gals enough time to get to practice, but I'm always STARVING once I finish the run and return home (~9pm). Yesterday I decided to try something a little different. In lieu of my afternoon snack, I decided to have a small dinner before practice. Dinner #1 was eaten around 4pm:
I hit up the Whole Foods salad bar and filled a small container with romaine lettuce, heritage bean salad, bit of Morrocan turkey salad, a piece of lemon tempeh, and a piece of sweet and sour tofu.
I also had a slice of protein packed cheesecake. This tasted delicious and it was reasonably healthy, but it did NOT sit well during the workout. Note to self: stick to quick-digesting carbs before fast runs. Usually I have a stomach of steel when it comes to easy runs, but whenever I pick up the pace I have to be very careful. I try to stay away from yogurt, (too much) peanut butter, and eggs pre-race. All are a bit too protein heavy for hard efforts. However, these foods are great after racing or running fast since your muscles need protein for recovery.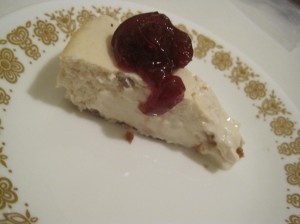 Despite falling temperatures and some serious wind, the workout went pretty well!
3.25 mile warm-up (ran from my apartment, probably a little too quickly because I was running late!)
1.5 miles in 10:17 (6:51 pace)
.5 mile recovery
1 mile in approx. 6:48 – wasn't sure where the mile marker was, so this is probably a little off.
.25 mile recovery
.8 mile in 5:20 (6:40 pace)
2 mile cool-down
Total: 9.25 miles
The faster intervals felt tough, but I had a good group to run with (BIG turnout last night!) and even led a few of the reps. Unfortunately I didn't know where the mile repeat ended, so I think I made my group run a little long. whoops.
Back felt mostly good, left hip yelped a little bit during the .8 mile segment, but felt fine on the cooldown.
I was f-r-e-e-z-i-n-g by the time I got home and my stomach was not feeling great (oh cheesecake…), so I sipped on some hot  ginger tea.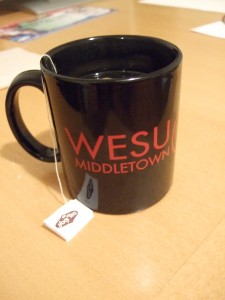 Eventually, I was ready for dinner #2: plain oikos greek yogurt, chopped apple, Tbs peanut butter, and Nature's Path peanut butter granola (the best kind ever!).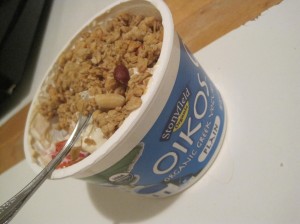 Last night I returned home to find a special delivery: Eat With Me t-shirts! My friend Matt has a great food blog that features mouth-watering photos and a special series on Italian food and wine. Take a look at his site and maybe you can score a shirt of your own – I hear there's a give-a-way in the works!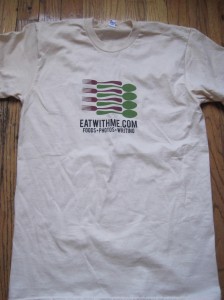 Love the back of the shirt!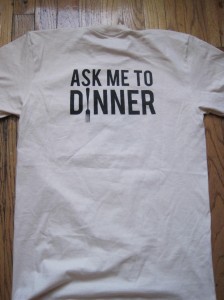 Check out my latest True/Slant article – Who stole my Boston marathon spot??
How do you motivate yourself to go running when it's cold and dark?