I love how packed my social calendar gets during the holiday season, but lately I feel like I've been burning the candle at both ends. For the past month I've been running 50+ mile weeks, averaging only 6 1/2 hours of sleep per night, and consuming way more than my fair share of red wine and holiday cookies. I could really use a few days of R&R before Christmas arrives, but I don't see that happenin'.  Guess I'll just have to be a little more diligent about an early bedtime (or brew that second third cup of coffee)….
When my alarm went off before sunrise on Monday, I was a seriously cranky girl, meh. Coffee with Frida and 1/2 peppermint stick luna bar helped me to become functional. After a little time for digestion, Alma and I headed out the door for a morning run. My IT band and hamstring felt good for the 6.5 miles through Central Park, but I was feelin' pretty sleepy and tired. Post-run I hydrated with a big glass of water and an apple and then got ready for work.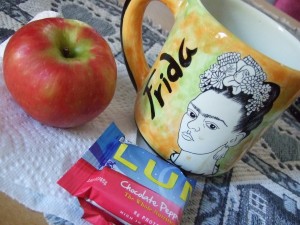 Arrival at the office signaled time for coffee #2 (well, a cappuccino to be exact) and a bowl of apple-cinnamon steel cut oats from Jamba Juice. Ah! I love these oats. They're not on special for $1 anymore, but they're totally worth the full price. The oats contain 290 calories, 60 grams of carbs (energy!), 8 grams of protein, and 5 grams of fiber. Plus they taste great – I love the layer of cooked apples, cinnamon, and brown sugar that comes on top.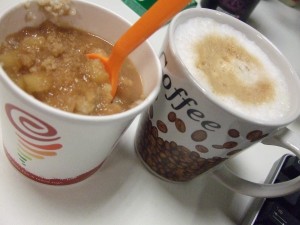 After a morning full of work, I paused for lunch. There's not really any way to make black bean & pumpkin soup in a take out container look appetizing, but I promise it was delicious!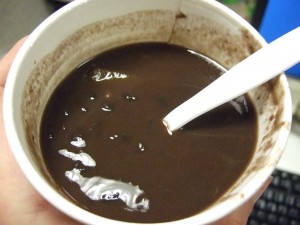 Plus a salad because…vegetables are good for you!
romaine, shredded carrots, mushrooms, onions

spoonfuls of fruit salad, orzo salad, and cottage cheese

sunflower seeds, craisins, balsamic vinaigrette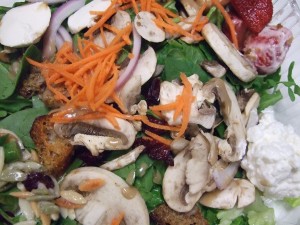 I had a serious chocolate craving around 4pm, so I snacked on a baggie of Cocoa Roast almonds – delicious! And then I wanted more chocolate, so I had two Adora calcium supplements. In a row. Eh, I'm pretty sure you're not supposed to do that. "Do as I say, not as I do." 🙂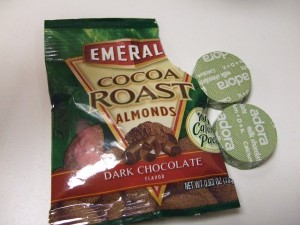 I attended a holiday party in the evening and some more red wine was consumed (at least it's good for my heart, right?).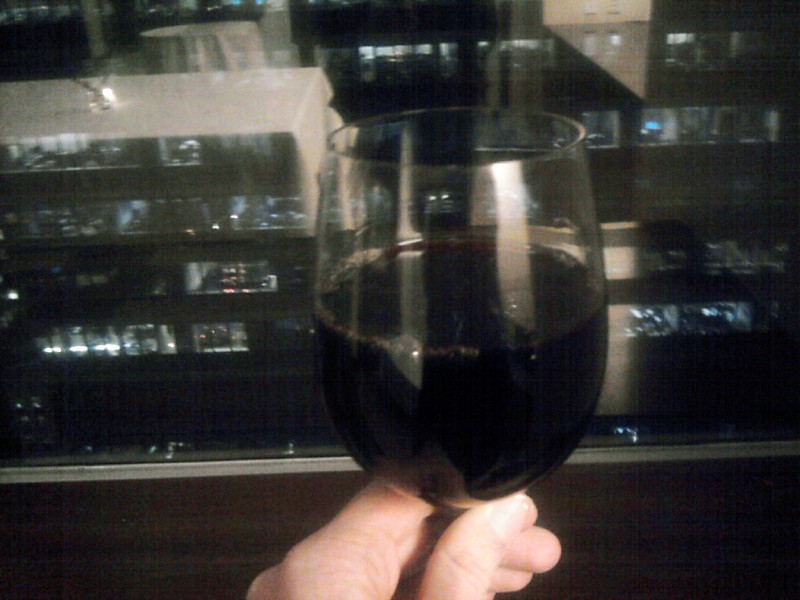 And now for some blurry awesome cell phone photos. Yay!
I had about 3 small plates throughout the evening – I tried to include some healthier fare like cucumber-feta salad, raspberries, olives, tabbouleh-tomato salad, and hummus, but plenty of Humboldt-Fog goat cheese and pita crisps were also enjoyed. I really love Mediterranean style tapas – I could eat like this every day!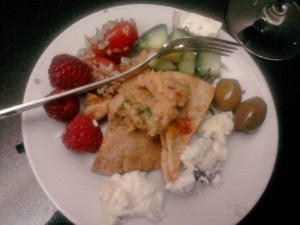 After my soiree, I headed home and got a little gift-wrapping out of the way. About an hour for bed, my tum started growling. I've been holding off on buying groceries this week since I have so many after-work committments, but I managed to scrounge together a fairly decent snack. I mixed a Tbs of peanut butter into a container of Chobani (peanut butter flavored yogurt!) and a 1/2 cup of Kashi Go Lean.
I didn't make it to bed as early as I planned, but at least it was before midnight!
Today was another early morning. Pre-gym snack involved coffee and 1/2 peppermint stick luna bar. No photo, too early. After a few weeks hiatus, I made it back to my favorite 7am spin class. Today's theme: Angels, Demons, Heaven, and Hell. The instructor got very creative with the music including such classics as: "The Devil Went Down to Georgia", "Losing my Religion", and "Halo". Interesting…
I followed up 40 minutes of spinning with 3 miles on the treadmill in 24:45. A year ago, my usual "easy" run pace was around 8:00-8:30 per mile and that speed is finally feeling normal again. Yay! I foam rolled and stretched afterwards and then hit the showers!
Breakfast was healthy, but a little boring (I want $3 jamba juice oatmeal everyday!). Grapefruit and orange segments and a cup of Oikos non-fat greek yogurt.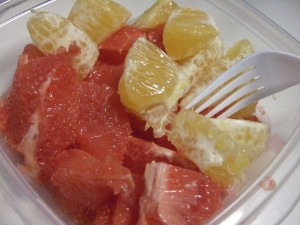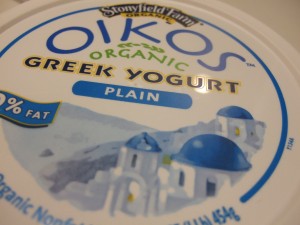 And a decaf cappuccino. Hey, at least it was decaf!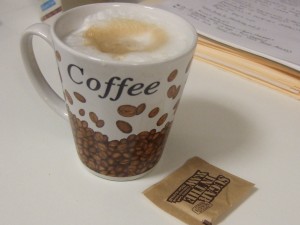 Now, on to productivity! Enjoy your Tuesday 🙂
Do you love Trader Joe's as much as I do? Check out their list of most favorite products of 2009. I just about swoon everytime I think of their economically priced nut butters….
Kelly Rutherfood a.k.a. Lily from the hit TV show gossip girl is actually an UES mom in real life. Check out her tips for staying healthy during the holidays in NYC.
Question: What's the first thing you slack on when you've got too much to do? Exercise? Healthy Eating? Sleep? Time with friends? For me, it's sleep! I need to start making it a priority…