Good morning blog readers! I intended to publish this post last night, but once again fell asleep at my computer. I think I need more sleep….
I've been feelin' good since Saturday's long run. I ran a quick 7 miles on Sunday morning and my legs felt surprisingly fresh!
Monday morning began with some coffee in the Frida mug and an easy 9.5 miles in Central Park.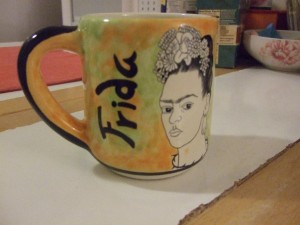 My weekend contained a lot of foods high in sodium (canned soup, salty popcorn, triscuits, etc.), so I tried to balance it all out with a potassium-packed breakfast. I mixed some PB2 (powdered peanut butter) into a plain Oikos greek yogurt and had an apple and a banana on the side.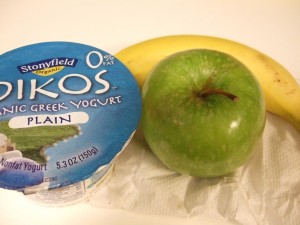 And a cappuccino to warm me up. I do not like the cold weather, boo.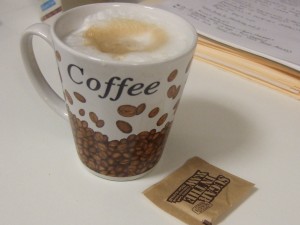 Lunch began with some carrot sticks (leave the peel on for extra fiber!).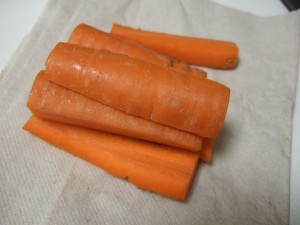 And leftover black bean enchiladas topped with avocado.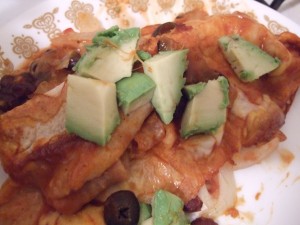 My afternoon snackeroos included two vitatops (blueberry bran and chocolate). Each of these muffin tops has 6 grams of fiber, 4 grams of protein, 100 calories, and good amount of vitamins & minerals. I keep them frozen (they don't contain preservatives), so I like to warm them up in the microwave for about 25 seconds.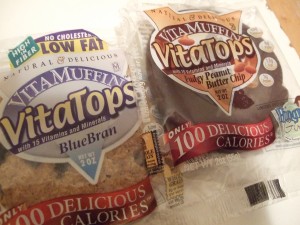 And then I was still hungry….
Around 4pm I made a snack creation by topping a vanilla light 'n fit yogurt (not my fav brand, but oh well) with a few peanut butter covered pretzels, shredded coconut, and a sprinkle of granola. This was certainly sweet, but at least the yogurt provided some calcium and protein.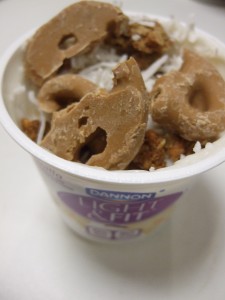 I diligently worked through the rest of the day – I had a fun dinner planned and didn't want to get stuck in the office!
Around 7:30pm I ventured to the East Village to meet Katie for dinner at the Organic Grill.
The inside of this little veggie spot was super cute and cozy. The wooden tables and benches made me feel like I was at an indoor picnic!
I started off with some freshly brewed ginger-apricot tea.
And for my entree, I chose the grilled tofu sandwich. My sliced tofu was sandwiched between 2 slices of spelt toast and topped with lettuce, tomato, sprouts, and vegan mayo. With homefries, coleslaw, and mini-pickles on the side! My meal was simple, but exactly what I was craving.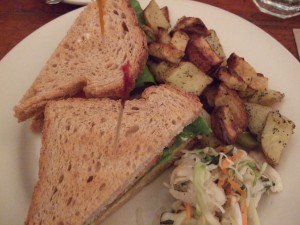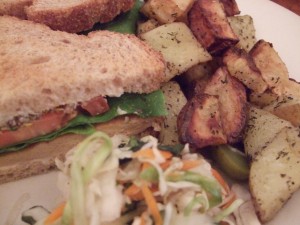 My long day began catching up with me around 9 o'clock, so I took my dessert to go. After studying the dessert case, I chose the vegan peanut butter-chocolate cream pie to take home. Wow, this was rich. The graham cracker crust base was topped with a creamy chocolate-peanut butter cream. However, since the pie was vegan, I assume that silken tofu was used in place of eggs/cream. The topping featured chocolate ganache and crunch peanuts. It was a delicious dessert, but I could only eat about 2/3 of the big portion I brought home. That's rare for me – I always finish dessert!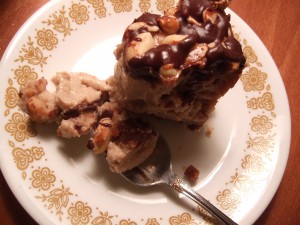 If you're in the E. Village looking for simple, vegetarian food, the Organic Grill is a good option. I would definitely go back for another sammie and a piece of pie!
Exciting News: For this week only, Jamba Juice is offering their steel cut oats for only $1 (get the coupon here)!! Each steaming bowl of oats contains approximately 300 calories, 6 grams of filling fiber, and 9 grams of protein. In addition to fresh banana, blueberry-blackberry, and apple-cinnamon, there's also a brand NEW flavor – berry cherry pecan. I know what I'll be having for breakfast this week…
What vegetables are in season during the winter? And what the heck do I do with an artichoke? Luckily, FoodFit.com has the answers!
Holiday stress getting you down? Eat these super foods to feel better fast!
Question: Have you ever prepared steel cut oats from scratch?