Whenever my alarm goes off in the weekend pre-dawn darkness, I always question my sanity. Did I actually pay $17 to go run 9.3 miles in the freezing cold? Yup. Luckily once I toss the comforter aside and the smell of coffee starts wafting through the apartment, I start to feel a little better about my running decisions. The Ted Corbitt 15K was on the calendar this morning and at 8am I was happy to see that the snow hadn't yet begun to fall.
I started off with a strong cup of Frida: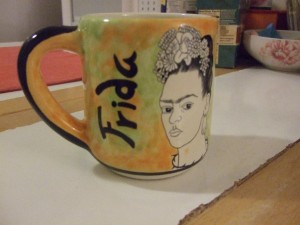 And then fueled up with a banana and a spoonful of nutzo: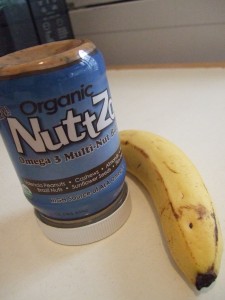 After a 1 mile + warm-up to the start, Alma and I were ready to run! I planned on running the 15K as a hard workout, but not racing all out. I feel like I'm still building up confidence when it comes to racing fast and of course, I want to be careful about the 'ol hamstring and IT band. Alma agreed to be my pacer/workout buddy and the plan was to start out slow and run negative splits. We went through the first mile nice and easy (chatting about our party plans for tonight!) and then started to drop the pace.
Mile 1 – 8:30
Mile 2 – 7:55
Mile 3 – 7:40
Mile 4 – 8:00 (uphill?)
Mile 5 – 7:30
Mile 6 – 7:30
Mile 7 – 7:35
Mile 8 – 7:30
Mile 9 – 7:10
Last .3 – FAST!
Total finish time: 15K (9.3 miles) in 1 hour, 11 minutes, 35 seconds for an average of 7:41 pace.
Hooray! I was definitely feeling fatigued (umm, 5.5 hours of sleep last night, bleh), but If I were actually racing this I think I could have gone faster. Next up: Manhattan 1/2 marathon on January 24th!
After a 1.5 mile cool-down, we found ourselves in Starbucks where I ordered my favorite drink: decaf misto with one-pump of gingerbread syrup. And then…I picked up a special package that was waiting for me at the post office!
All bundled up…those giant green mittens are the best!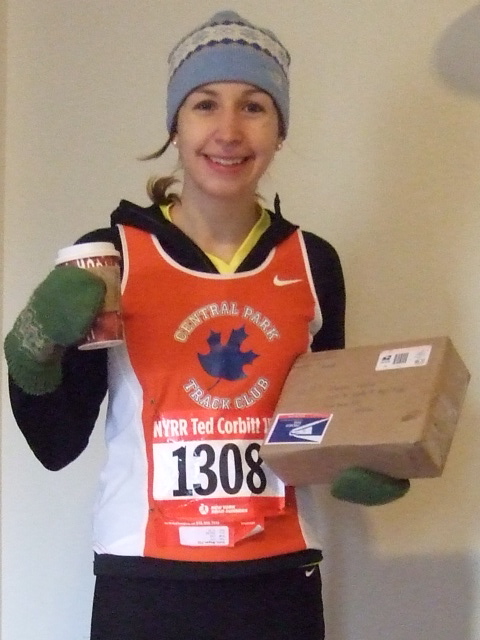 Melissa from Trying to Heal was my Blogger Secret Santa – and I am one lucky girl! My box was packed with peanut butter clif and odwalla bars, Qbel pb-chocolate wafers, and a whole plate of homemade goodness! Of course, I had to sample some of the sweets right away. I tried a piece of the Oatmeal M&M snack bar and a chocolate-covered graham cracker. Yum. Thanks, Melissa!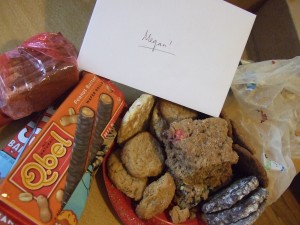 And then I was ready for some more food. 12 miles of running = HUNGRY. I mixed a Tbs of peanut butter with a container of Chobani non-fat greek yogurt and added it to a chopped pear. With a cup of sugar cookie sleigh ride herbal tea to warm up!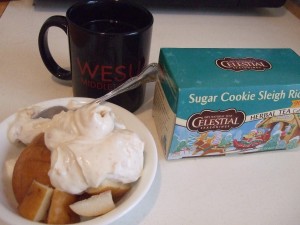 After showering and some emailing, I was ready for another snack. This was kind of an odd combo and not all that photogenic, but it did taste pretty good. I melted a string cheese on a whole wheat tortilla added some chipotle hummus and salsa and rolled it up like a burrito.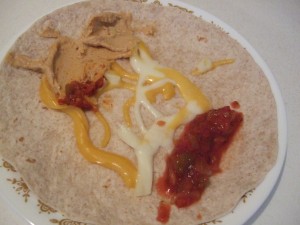 With carrot sticks and more hummus on the side.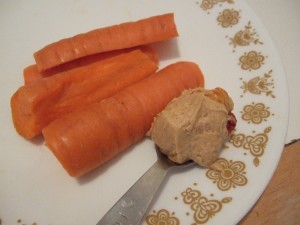 Just finished a little bit of writing (check out Running Shorts later today – Matt and I will have something fresh and new posted shortly!) and now I'm off to prepare for the holiday party Alma and I are hosting tonight. Excited!
We're supposed to get A LOT of snow this evening, what's your favorite snow day activity? I have big plans for a mug of hot chocolate and a good book tomorrow….