My Sunday was just as jam-packed as the rest of my weekend, but at least I was able to sleep in until 9:30am! After a few hours of  breakfast, blogging, and organizing my life, I headed to the gym. I had a long run on the schedule, but the weather was just awful (cold with heavy rain). I try to run outside whenever possible, but today was definitely a treadmill day. How do you run 12 miles on the treadmill without dying of boredom? Well, first you should read my True/Slant article with Tips for Surviving the Treadmill! I tried to follow my own advice and while the run wasn't thrilling, It went pretty well.
I split up the run into 3 parts:
5 miles on treadmill #1

5 miles on treadmill #2

2 miles on treadmill #3

Total: 12 miles in 1 hour, 46 minutes, 17 seconds (~8:51 pace)
Breaking up the run into smaller chunks makes it seem more manageable and it helps me get around the machine's 60 minute limit! I jog from one treadmill to the next, so the break isn't that long – 30 seconds tops.
After showering, I re-fueled with a grapefruit, Clif bar, and a few Goji Gourmet cookies.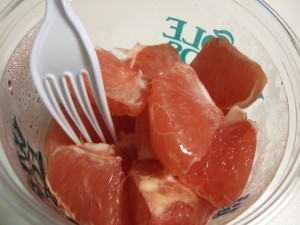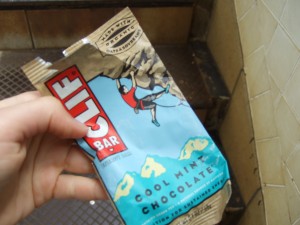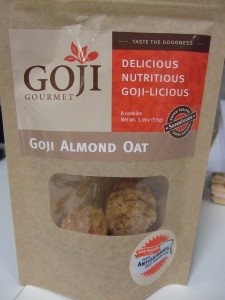 I received the cookies as a free sample (they're made super-close to where I work) and I loved them! The top 3 ingredients are: organic whole wheat flour, organic goji berries, and organic oats. They're sweetened with organic buckwheat honey and contain other goodies such as: raw wheat germ and almonds. Each cookie is 25 calories and contains a decent amount of vitamins and fiber. Plus they taste GOOD! This is definitely something I'll be buying again once my samples are all eaten 🙂
Later in the afternoon, I headed downtown to meet Chelsea for a class at Yoga to the People.  The class featured some deep hip openers and gentle IT band stretching – exactly what I needed post-long run!
After yoga, Chelsea and I braved the rain and ventured to a cozy macrobiotic  restaurant near Union Square called Souen. Curious about what macrobiotic actually means? Check out the description on Souen's website – they describe it very well!
I started off with a pomegranate juice seltzer.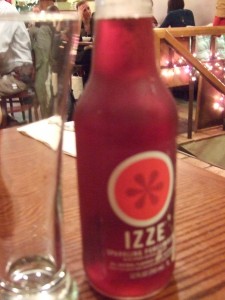 For my entree, I was adventurous and chose the broiled tofu okabe. A thick slice of tofu was covered in a delicous and savory sesame seed sauce. It tasted a lot like tahini!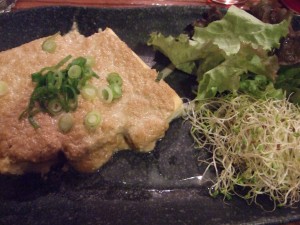 I received brown rice on the side.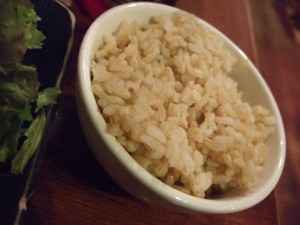 And my favorite thing of the day – a big plate of steamed vegetables! Seriously, the kale and acorn squash made me SO happy 🙂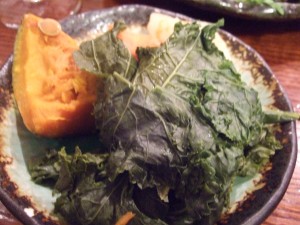 I finished this dinner with a happy tum and then booked to the W. Village to hear Alma perform at Le Poisson Rouge. The concert venue was transformed into a jazz club-esque space: low tables,  flickering candles, etc. It was a fun show! Very different from anything I've been to lately.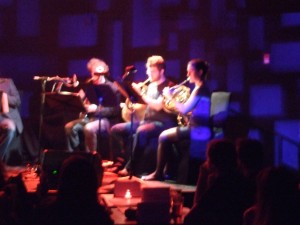 When I got home, it was nearly 11pm. After a snack and some email writing, I was ready to crash. Busy weekends and long runs will do that to a girl!
'Tis the season:
In honor of the latke-making class I'm headed to tonight (so excited!), check out this healthy Hanukkah recipe from the gals at Skinny & the City.
Check out these tips for making healthy choices at the holiday buffet.
Need a gift idea for your active friend? Nancy Clark, R.D. offers up some recipes for yummy, edible gifts. Will someone make me those peanutty energy bars?? Hehe.
Question: What's your favorite weekend ritual? Pancake breakfasts? Sleeping in? Afternoon yoga classes?