We've made it over the hump and the weekend is on its way!
Morning wake-up call was the usual coffee (not decaf!) and 1/2 clif bar. I've found that eating 1/2 clif bar before running is the perfect amount for me. It gives me energy without causing stomach distress.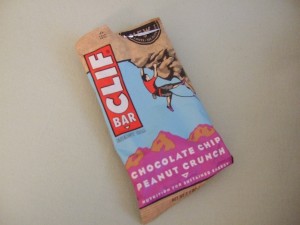 I was way le tired this morning, but managed to get myself to the gym anyway. I have to miss tomorrow's CPTC workout, so I thought I'd do it today instead.
1 mile warm-up
5 x 1000m @ 5K (~6:50)pace
400m easy running between the 1000m intervals
1 mile cool-down
I was so sweaty after this workout – I cooled off with a lavender soaked towel from the mini fridge at my gym. This alone makes the membership worth it! Overall, I felt pretty good, but my right hamstring was a little weird on the last interval/cool-down. I rolled it out on a softball while sitting in my desk chair and that seemed to help.
I was HUNGRY for breakfast: sliced banana, chobani greek yogurt, dried cranberries, and 1/2 cup Kashi Go Lean cereal.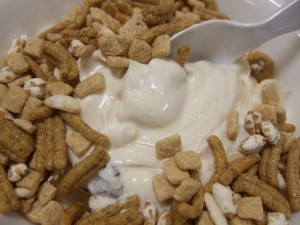 And a decaf cappuccino later –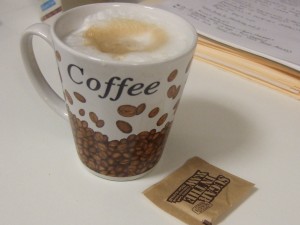 Lunch was a beauteous salad creation – lots of veggies up in here!
arugula, shredded carrots, sliced red onion
roasted cauliflower, marinated mushrooms
chickpeas, blue cheese crumbles, balsamic vinaigrette
bit of potato-egg salad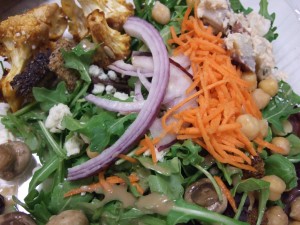 I thought about grabbing a bag of chips, but decided that a whole grain roll with some butter would be a better choice. Man, I love real butter.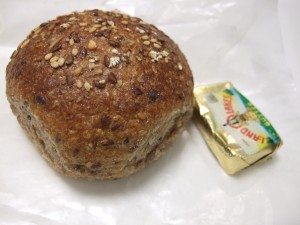 My afternoon snack was one of my favorites – a peanut butter and jelly lara bar!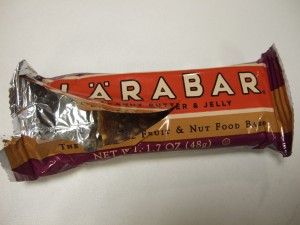 After leaving the office, I headed home for….more work! Dinner was a quick repeat of yesterday – spaghetti squash, marinara sauce, sliced olives, and melted cheese.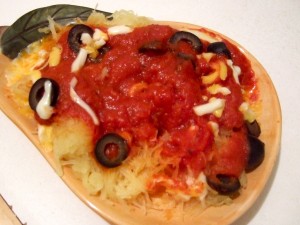 Plus a multi-bran vita top with some homemade apple buttah.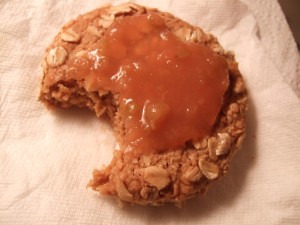 I'm about to take a break from my typing and writing and I think a couple of these sweet 'n salty treats are in my future. Yum.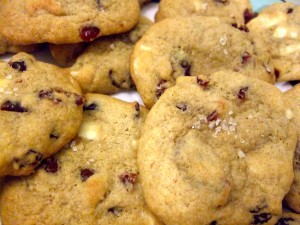 Do you know the difference between a gun time and a chip time? Which race timing method is better? Check out my latest Running Shorts piece for more info!
Concerned about food waste? Check out this interesting video.
Find out why obesity might be the next big threat to national security.
Question: What do you think is the biggest cause of obesity? Inactivity? Fast food? Soda?