If good things come in threes, then today is a perfect example! Despite being a little sleepy, I started the day with a 7.5 mile run (good thing #1) through Central Park with Alma. The legs felt good, but man it was COLD out there. I wore full length spandex, gloves, and ear warmers for the first time this season.
The rest of the day was busy, busy and I was tired and hangry when I arrived home. Luckily, I was able to prep dinner fairly quicky. I microwaved a spaghetti squash for 2 minutes to soften it up and then I cut it in half. I placed the squash face down on a lightly oiled cookie sheet and baked for 30 minutes at 350 degrees (you may need to cook the squash longer, depending on your oven).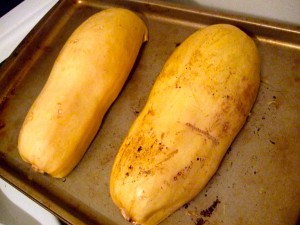 Once the squash had cooled a bit, I used a fork to scrape out the strands of squash. It looks a lot like spaghetti!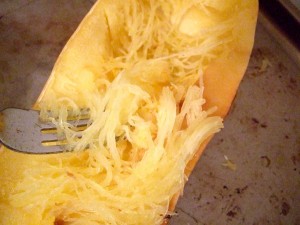 I topped a big plateful of spaghetti squash with Newman's Own marinara sauce, black olives, and shredded cheese (good thing #2). I'm not a big pasta fan, but I LOVE marinara sauce, so this was perfect for me!
What's so great about spaghetti squash?
low in calories, only 25 per 1/2 cup serving
good source of Vitamin C, Vitamin B6, Iron, and Potassium
a great "in-season" vegetable to enjoy during the winter months
long storage life – keep in a cool, dark place for up to 30 days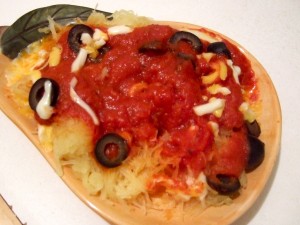 And what was good thing #3, you ask? Cookies! Of course. I've been salivating over the recipes in my Salty Sweets cookbook and per Matt's suggestion, I decided to make Nantucket cookies.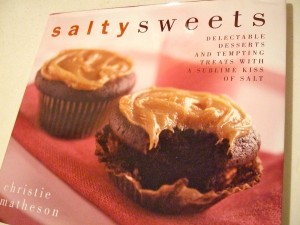 The addition of sea salt really made the flavor in these cookies pop – SO GOOD!
Nantucket Cookies
Excerpted from Salty Sweets by Christie Matheson, © 2009,  and used by
permission of The Harvard Common Press.
Ingredients:
2¼ cups all-purpose flour
1 teaspoon baking soda
1 teaspoon fine salt
2/3 cup (1 stick plus 1 2/3 tablespoons) unsalted butter, softened
¾ cup granulated sugar
¾ cup packed light brown sugar
1 ½  teaspoons pure vanilla extract
2 large eggs
1 cup dried cranberries, preferably unsweetened
1 cup white chocolate chips or chunks
Grinder sea salt
Directions:
Preheat the oven to 375°F. Line baking sheets with parchment paper.
In a medium-size bowl, whisk together the flour, baking soda, and fine sea salt. Set aside.
In the bowl of a stand mixer fitted with a paddle attachment, beat the butter with the sugars until creamy. Add the vanilla and beat until thoroughly combined. Beat in the eggs one at a time.
Slowly add the flour mixture to the mixer bowl, mixing it in a little at a time, until the flour is well incorporated. Stir in the cranberries and white chocolate chips.
Use an ice cream scoop or two spoons to drop balls of dough (about 2 tablespoons each) onto the baking sheets. Bake for 8 to 10 minutes, until set and just golden.
Remove the cookies from the oven and immediately sprinkle them with a light dusting of grinder sea salt. Let cool on the baking sheets for about 1 minute, then remove them to a wire rack and let them cool completely. The cookies will keep in an airtight container at room temperature for up to 5 days.
Make 30 to 40 cookies (err…maybe 29 if you're like me and nibble on the batter!)
The only modifications I made were: I replaced 1 cup of the all-purpose flour with whole wheat and I reduced the granulated sugar by 1/4 cup (my white chocolate chunks were pretty sweet!).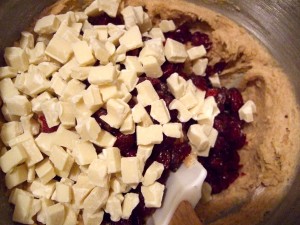 Mmm, what's better than white chocolate, cranberries, and a sprinkle of sea salt? If you haven't given the salty-sweet combo a try yet, these cookies are a great place to start!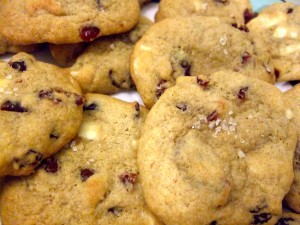 Question: What's your favorite salty-sweet combo? See above for my answer!
Having trouble sleeping? Exercise might be the cure.
You all know how much I love salad bars, so I was excited to read this article that suggests health care savings might be found in offering healthier food options in the office.