When my alarm went off at 6:15am on Saturday morning, it was cold and dark. Very dark. Did I really agree to go running this early?? Yes. Yes, I did. And it turned out to be the BEST decision of the day!
I fueled up for my run with a sliced banana and a big spoonful of peanut butter.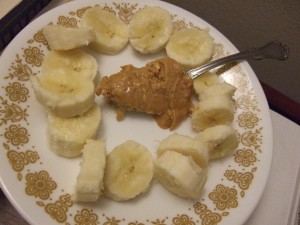 And then a Frida mug full o' coffee. Still no sun…
After about 30 minutes for digestion, I headed outside and started running towards Central Park. After a few miles, I saw Katherine's smiling face. Yay, running buddy! Together, we did a big loop of the Park (6 miles) and then added on some bridle path (2 miles). When I looked down at my watch I couldn't believe we had been running for nearly 10 miles – all of our gabbing made the time fly by! After saying my goodbyes, I continued my run around the Reservoir, Harlem Meer, and finally finished up in Morningside Park. All in all, I ran 16.5 miles in about 2 hours, 27 minutes. The pace felt relaxed and easy the whole time and my legs felt GOOD. My IT band gets a little twinge-y sometimes, but it never really becomes painful. However, next time I run this long I will be bringing or stashing water along the route. 16.5 miles = thirsty girl. Today's run makes 57 miles of running in 7 days, huzzah! Injury, I think I have conquered you.
For your entertainment, this is how I felt post-run: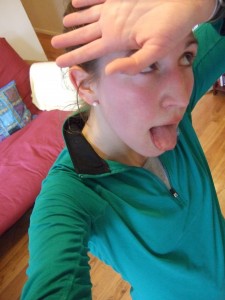 After a brief stretch, I got cookin' in the kitchen. On the stove top I made a pot of oats:
1/2 cup rolled oats, milk, water
chopped apple
dash of cinnamon, brown sugar, and salt
Once this was done cooking, I poured the oats into a nearly empty peanut butter jar and added two squares of dark chocolate (antioxidants!) on top.
Mmm, oats in a jar is the perfect way to get every last bit of peanut butter!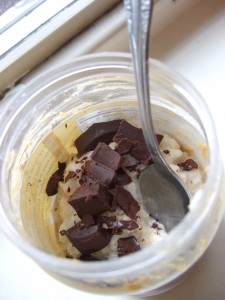 Umm, and since 16 miles is a long way, I was still hungry. I mixed about a cup of non-fat greek yogurt with a Tbs of homemade apple butter and a sprinkle of Kashi Go Lean. Protein-packed!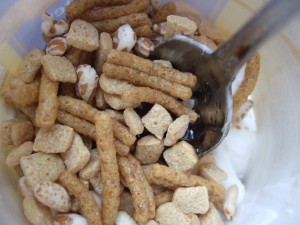 My attempts at napping were unsuccessful, but I did complete some freelance writing and sweep/mop the floors. Productive, yes? Since it was snowing, sleeting, and windy outside, I stayed snug as a bug in my apartment for the rest of Saturday. Around 4pm, I got hungry for a late lunch – it was a repeat of Friday's potato & garlic soup with triscuits and a laughing cow cheese wedge. Mmm, salty. Perfect for after a sweaty long run.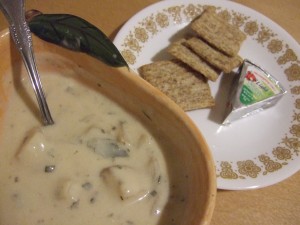 I spent the rest of the night being a bum, watching movies (LOVED Broken English), and making enchiladas! I made this recipe up as I went along, so it's a true Megan original.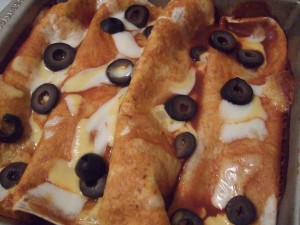 Megan's Running Enchiladas
Ingredients:
1 onion, thinly sliced
4 whole wheat 8″ tortillas
1 can enchilada sauce
1/4 cup salsa
1 can black beans, rinsed and drained
4 oz. shredded monterrey jack or colby cheese (I used string cheese x 4!)
1/4 cup sliced olives
sliced avocado, more salsa, sour cream for serving
Directions:
Preheat the oven to 350 degrees and saute the onion in a small pan for about 5-7 minutes
Pour 1/2 the enchilada sauce in the bottom of a square baking dish
Lay tortillas flat on a plate and distribute the cooked onions, beans, salsa, and 1/2 of the cheese evenly amongst them. Roll up the tortillas and place them seam-side down in the baking pan.
Pour the remaining enchilada sauce on top and add the sliced olives and the rest of the cheese.
Cover with foil and bake for 20 minutes, remove foil and cook for another 10 minutes or so.
Serve with diced avocado, extra salsa, and sour cream (or plain greek yogurt!)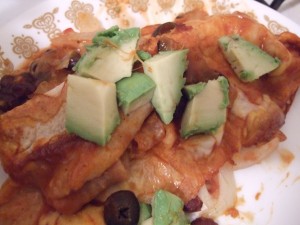 I finished off the evening with the last two Nantucket cookies and some un-pictured candy cane kisses ala Holly.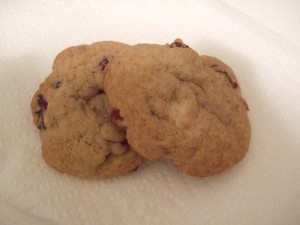 What should Santa bring you this year? Check out the holiday wishlists for runners that Matt and I compiled for our latest True/Slant post.
Would anyone like to bake me these chocolate-hazelnut sandwich cookies? They look SO good!
Question: What was the best present you ever received? Mine was my Kitchenaid stand mixer (thanks Mom!).