Getting up early to run on Wednesday morning = FAIL
Some days (i.e. when I have Alma to run with) I can get up and go without a problem. Other days, I sit drinking coffee and reading email for way too long and before I know it my time window for running has disappeared. Fortunately yesterday morning wasn't completely unproductive – I was able to put the finishing touches on my tirade against running skirts and blog about crepes and cupcakes. I drank my coffee black yesterday morning because I was too lazy forgot to buy milk. Black coffee is growing on me.
Once I got to the office I was about ready to chew my arm off, so I picked up a protein-packed breakfast from the cafeteria: whole grain bread with pb & jam, mixed berries with cottage cheese, and egg whites with sriracha hot sauce. Except most of the egg whites were already eaten when I snapped this photo….
Hunger > Patience for food photography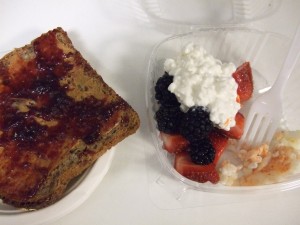 With the first of two decaf cappuccinos. I can make them for free at work and they're actually quite delicious.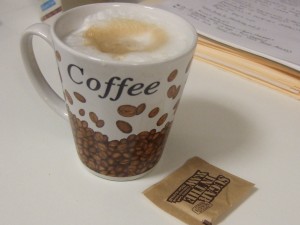 Lunch contained the vegetables that were so elusive last week.
romaine, mixed greens, carrots, onion, mushrooms

1/4 cup each of homemade guacamole, black beans, & corn

feta cheese, whole grain croutons, dried cranberries, sunflower seeds

Tbs balsamic vinaigrette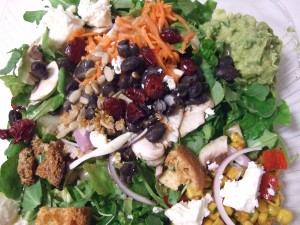 I really wanted something sweet for my afternoon snack, so I picked up some toppings from the frozen yogurt bar (crushed oreos, shredded coconut, granola crumbles) and mixed them into a plain Stoneyfield Farm yogurt. Sweet, but still mostly healthy!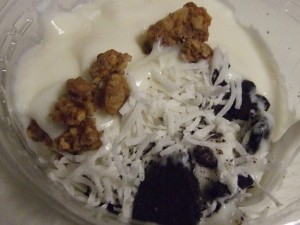 Since my morning run didn't happen, I headed to the gym post work. My motivation for running after a long day in the office (and sitting for 9 hours straight) is never super high, but I always feel better afterward. I ran 5 miles in about 43:30 – a nice and comfortable pace for me right now. My left hip/butt started acting up about 3 miles into the run, but I was able to finish without too much trouble. I think my lower back muscles are really knotted up and this is causing tightness and pain in my hips and butt. I spent a good 10 minutes foam rolling and stretching and I plan to switch to my new running shoes ASAP, so hopefully that will help things along.
The best part of my whole day was meeting Katie (check out her hilarious survival guide for New Year's Resolution gym-goers) for dinner at a new vegan restaurant called PeaceFood Cafe. I first heard about this place in a Vital Juice newsletter back in October and it has been on my radar ever since!
I ordered the roasted japanese pumpkin sandwich and o.m.g. was it delicious. I was so busy chatting during my meal that I didn't realize how good it was until it was almost gone, but I'd go back for this sammie in a heart beat! The pumpkin was mashed and seasoned with sea salt, black pepper, and olive oil and then sandwiched between two hearty slices of spelt bread, caramelized onions, ground walnuts, seasonal greens, and vegan goat cheese. The flavor and texture combinations in this sandwich worked really well together and it was filling, without being too heavy.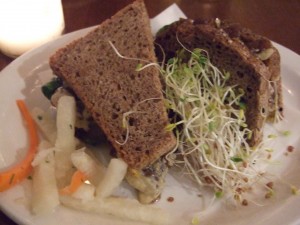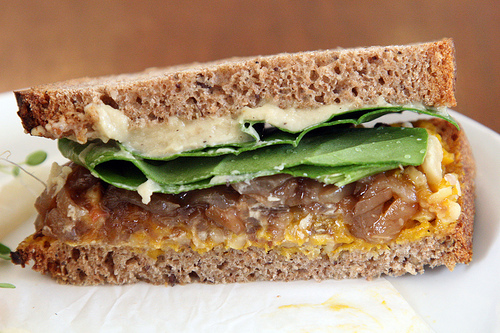 Alongside my sandwich I ordered the hangover cure juice (apple, orange, carrot, celery, and ginger root). I did not have a hangover, but I figured I might by tomorrow morning (New Year's Day!), so why not get a headstart on curing it?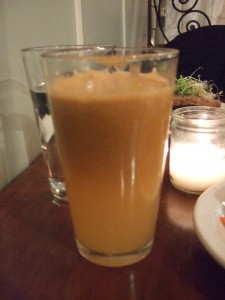 After some MUCH needed grocery shopping (my fridge has milk again, yay!) it was time for the other half of my Reese's Peanut Butter Cup cupcake. I was too busy eating to take a photo, but the one from yesterday makes me want to lick the screen, so you should go look at that.
And then I had a few bites of Ben & Jerry's light phish food, you know, as a palate cleanser… I was really excited to get this pint for FREE. I had a not great experience at a scoop shop this summer and after writing to Ben & Jerry's headquarters about my complaint, they sent me a coupon for a free pint. The coupon expired today, so I redeemed it just in the nick of time 🙂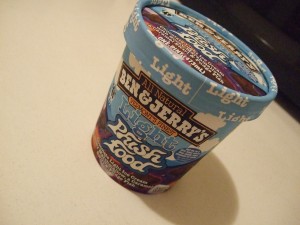 Question: When you are unhappy with a restaurant dish or purchased food product, do you complain or just let it slide?
ALSO – HAPPY NEW YEAR'S EVE!
It's been a busy year –