Have you read my True/Slant article on winter running? I tried to follow my own advice in order to get pumped up for a workout with my running club. Despite the darkness and 16 degree windchill I managed to have a pretty good time!
1.5 mile warm-up
1 mile @ 10k pace – 6:50
.75 mile recovery
1.5 mile @ 10k pace  – 10:36 (~7:04 pace)
.75 mile recovery
1 mile @ 10k pace (downhill mile) – 6:30
2.5 mile cool-down
Total: 9 miles
Hamstring/IT band felt good throughout, but my legs and lungs were working REALLY hard to maintain this pace. I don't even remember the last time I ran a 6:30 mile, maybe last January?
It definitely helped to have teammates to run this workout with – I definitely wouldn't have gone this fast on my own. I still haven't managed the self-portrait with my camera, but I wanted to show you what I run in during the winter: long spandex running tights, short sleeve dri-fit shirt, Nike zip-up hoodie (I wore the hood for my warm-up miles!), and mittens (not shown). My hands actually got a little too warm half-way through the run, but overall I maintained a pretty good temperature. Oh, and I wear my watch over the sleeve of my shirt. This way I can easily check my pace without having to push up my sleeve/move my mitten out of the way.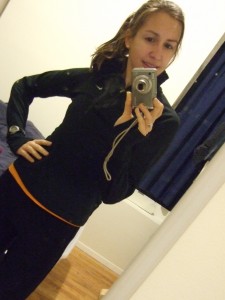 My post-run "dinner" was eaten after 9pm (late!), so I wanted something that wasn't too heavy. I don't usually put banana in my oatmeal, but this was surprisingly tasty. And it was nice and warm – a necessity after my frigid workout!
1/2 cup oats, milk, water
banana (cooked with the oats)
Tbs peanut butter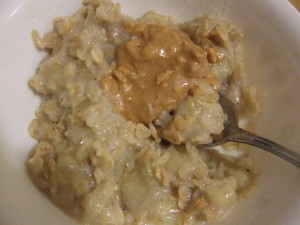 Last night I experimented in the kitchen and created a new recipe. After 24 hours of chilling in the fridge, it was time for a taste-test!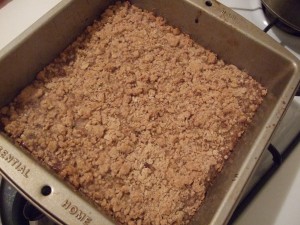 Oatmeal Apple-Butter Bars
Ingredients:
1/2 cup all-purpose flour
1/3 whole wheat flour
3/4 cup old-fashioned oats
1/8 tsp salt
1/4 tsp baking soda
1 tsp cinnamon
6 Tbs butter, cut into small pieces
1/2 cup packed brown sugar
3/4 cup low-sugar apple butter (or any other type of jam)
Instructions:
Pre-heat oven to 350 degrees
In a food processor combine the flour, salt, baking soda, cinnamon, butter, and sugar until a crumbly dough forms
Add the oatmeal and pulse once or twice until combined
Press 2/3 of the dough into a 8″ x 8″ pan and pack it down
Spread the apple butter over the crust and then sprinkle the remaining crumble mixture on top
Bake for about 20 minutes, allow to cool completely, and then refrigerate or store in an air-tight container
Makes 12 bars
These bars are delicious with a dollop of greek yogurt on the side!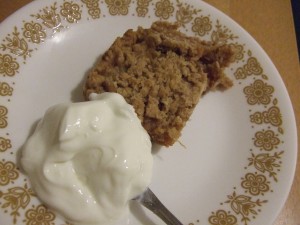 What time of day is best for working out? The New York Times discusses how your heart rate affects the efficacy of your workout.
Question: When do you prefer to exercise – morning or evening?