Happy weekend! My TGI Friday started off with a little bit of sleeping in (till 8am!) and a banana –
And then a cappuccino with a packet of sugar in the raw and clif bar once I arrived at my desk. I finally received my new (BPA-free!) Sigg bottle. I like the new "sports cap", but it took me nearly an entire day to figure out how to get the water to  come out. Seriously.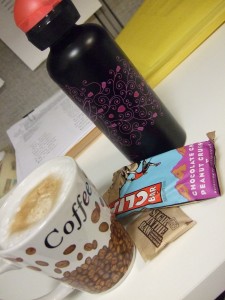 Morning was productive, stomach started to get hungry around noon. Had some prunes to hold me over till lunch and then headed over to a 45 minute spinning class at my gym. I usually dig the music this instructor plays, but today I just wasn't feelin' it. Ah well, maybe we'll get a little more Britney Spears next week. After a warm-up the class did 3 hill climbs with some speed surges mixed in. I really like going to cycling classes because I don't think I would add resistance or speed if I were to bike by myself!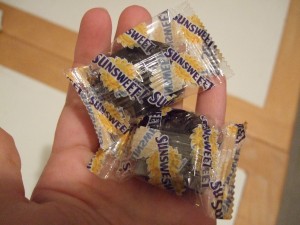 Lunch was a salad from the cafeteria (so much more exciting than a packed lunch!):
iceberg and mixed greens
shredded carrots, mushrooms, red onion, roasted butternut squash
black beans, cannelloni beans
sprinkle of blue cheese, craisins, and sunflower seed
balsamic vinaigrette (extra garlic-y today!)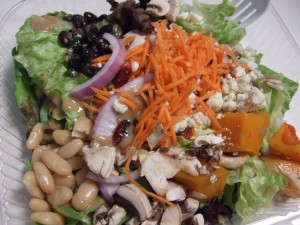 Afternoon snackeroos: chai latte (from the flavia machine at work) and a dark chocolate-covered pretzel.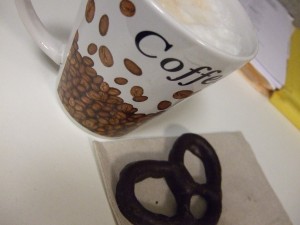 And a Brown Cow maple cream top yogurt. This was the first time I ever tried one of these – I liked it a lot!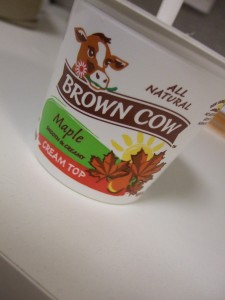 I stared at the clock worked diligently until 5:30pm and then skedaddled to a 6pm hot yoga class with Agnes. It was sweaty. If you don't live in New York City or Northern California (or just feel like stayin' home) you can still partake: check out the new YTTP podcasts!
After yoga, I was feelin' good. My shoulders were relaxed, my head was clear, my bags were light. Wait. Maybe a little too light. When I was about 1/2 way home I realized I had left my new lunaracers (Thanks Nike!) in the changing room of the yoga studio. F%$#!!
I dashed into my apartment, changed out of sweaty clothes, grabbed a snack and headed back downtown.
My fellow subway passengers were weirded out intrigued by my carrot sticks and peanut butter snack.
Thankfully yogis are pretty good people (karma!) and my shoes were waiting for me when I arrived. I was so happy to retrieve them that I snapped a photo on the grungy subway platform. The lunaracers are SO light – 4.5 ounces! I can't wait to race something fast in them.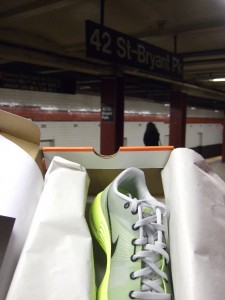 9pm, finally home and hungry. Apologies for the lack of creativity, but I just wanted to EAT. I heated up a cup of roasted garlic-potato soup and had some triscuits and a laughing cow cheese on the side. I was craving salt after sweaty hot yoga.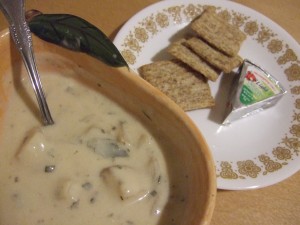 Shortly before hitting the hay, I downed a glass of milk and some Nantucket cookies. Yum!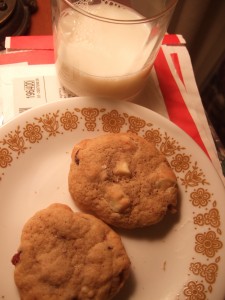 And that was Friday!
I just finished up a 16.5 mile run (more on that later)…and have plans to stay snug in my apartment for the rest of Saturday. It's cold and rainy outside – perfect for reading, napping, and baking 🙂
Question: What's your favorite cold and rainy day food?
Did you know that food is more valuable in its fermented form (think apples vs. hard cider, milk vs. cheese)? Check out this cool article on food fermentation!