Despite a blowing wind and the first heavy snowfall of the season, Alma and Megan's 1st Annual Holiday Party was a success. I went to bed a little tipsy with a belly full of cookies, so it's a winner in my book!
Check out our beauteous spread of food! Homemade oreos, chocolate chip candy cane cookies, baby carrots, spiced almonds, crackers, feta-stuffed piquillo peppers, olives, brie (!!), iberico cheese, and pistachios. Yum.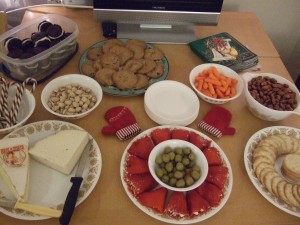 I made spiced almonds for our house-warming party back in October, but this time I decided to go in a slightly different direction. These almonds were more sweet than savory – similar to the candied nuts you can buy on the street corners of NYC. Just as delicious, but much less sketchy.
Sugar & Spice Almonds
Ingredients:
3 cups of raw almonds
1/2 cup of pure maple syrup
1 tsp cinnamon
1 tsp cumin
1/4 tsp each of nutmeg, ginger, cloves, and cardamom
Directions:
Preheat the oven to 35o degrees, cover a baking sheet with several pieces of aluminum foil.
Mix the almonds and maple syrup in a large bowl
Mix the spices together in a small bowl and then add the spices to the almond-syrup mixture. Stir well to combine.
Bake almonds for 10-15 minutes (stirring after 5 minutes) or until toasted and golden brown.
Allow nuts to cool briefly and then immediately transfer them to a large bowl (work fast or they'll stick to the foil!). Once completely cool, store in an air-tight container.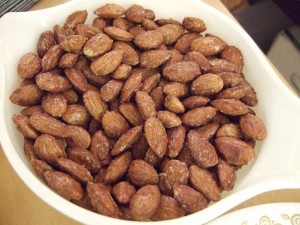 Chocolate Chip Candy Cane Cookies (makes about 20 cookies)

Ingredients:
6 Tbs firmly packed brown sugar
1/4 cup granulated sugar
1/2 cup butter, softened
1 tsp vanilla
1 egg
3/4 cup whole wheat flour
1/2 tsp baking soda
1/4 tsp salt
1/2 cup chocolate chips
3 crushed candy canes
Directions:
Heat oven to 375 F. In a large bowl combine sugar and butter, beat until light and fluffy.
Add vanilla and egg until blended.
Add flour, baking soda, and salt – mix well.
Stir in chocolate chips and crushed candy canes.
On an ungreased cookie sheet, bake heaping teaspoonfuls of dough for 8-10 minutes or until golden brown. Cool for 1 minute on the pan and then transfer to a wire rack.
Alma's festive feta stuffed piquillo peppers!
My plate – had a couple of these throughout the night, plus lots of red wine and cookies 🙂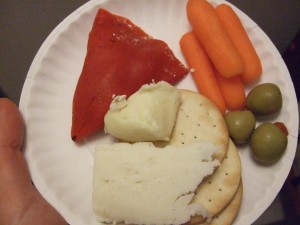 The best part of hosting a party at your own apartment? Not having to brave the cold and snow. However, we MUCH appreciated the wintry trek our party guests made 🙂 Thanks friends!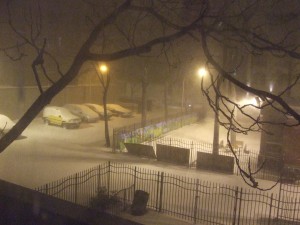 Red wine!
Darien & Megan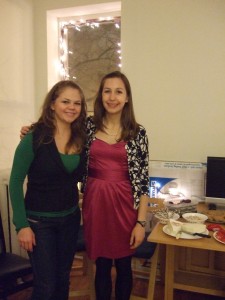 Megan & Alma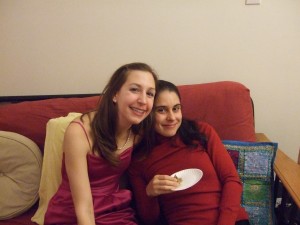 College Roommates unite! Missed you Anj and Hannah 🙁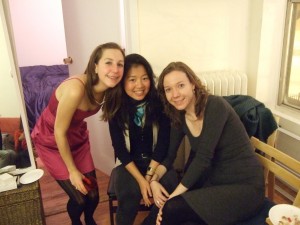 Cute couple 🙂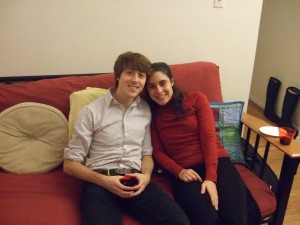 These brave souls sampled our eggnog & triple sec mixed drink.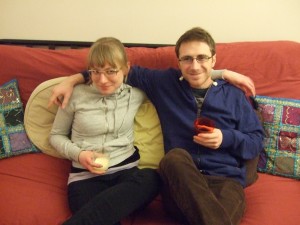 ?? glasses of wine + pop music = Megan pretends to be in an itunes commercial. Or at least I think that's what was going in here…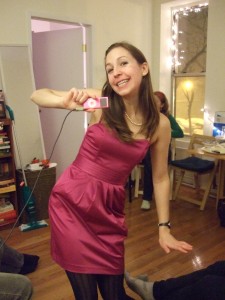 After running 12 miles in the morning and partying until after 1am, I was wiped out. I'm pretty sure I fell asleep the minute my head hit the pillow. Visions of sugar plums (and homemade oreos) danced in my head!
Check out my latest post on True/Slant: Have your cookies and eat them too! My thoughts on how to enjoy the holiday season without sacrificing your running fitness.
Question: What's your favorite party food? I love brie, but for some reason I only buy it/eat it during the holidays.