I grew up wearing a Catholic school uniform and saying the Hail Mary, so my knowledge of Hanukkah and latkes is limited at best. When I saw that the Whole Foods Culinary Center was offering a 3-hour  hands-on latke making class, I was intrigued. I've always wanted to make my own latkes, but figured I could benefit from a structured class. Last night's course was taught by Jayne Cohen author of Jewish Holiday Cooking and contributor to The New York Times, Bon Appetit, Gourmet, and Jewish Woman Magazine.
We began the evening with some basic latke-making lessons:
latke batter should be room temperature; cold batter will lower the oil temperature, causing the latkes to absorb too much oil.

A very wet batter will produce steam resulting in soggy, greasy latkes. Remove as much water as possible from the batter before frying. We used our hands to squeeze out moisture, but you could also wrap the potato shreds in a piece of cloth and wring it out that way.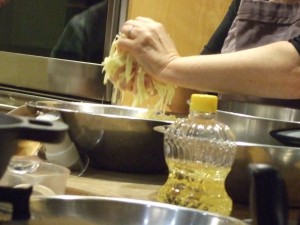 Heat your pan over the highest setting recommended by the manufacturer – you want that oil to get hot!

Regular everyday olive oil adds a great flavor and fragrance (don't use extra-virgin), but for wetter and more fragile batters (like sweet potato latkes) you might want to use an oil with a higher smoke point, such as canola.

To test if the oil is hot enough, stand a wooden spoon handle or chopstick in the pan of oil. If bubbles form around it, the oil is ready. You could also flick a bit of flour into the oil; if it sizzles, start frying.

Remove burnt fragments of batter from the pan between batches as these can affect the taste of the latkes. You may also need to add more oil every few batches or so.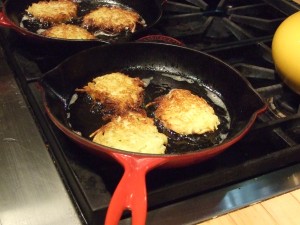 Latkes can be kept on a rack, loosly covered at room temperature for a few hours. Do NOT refrigerate latkes as this will make them soggy.

If you need to store latkes for a longer amount of time, wait until they are cooled and then slide them into the freezer. Once they are solidly frozen, remove from rack, and store in a ziploc bag or airtight container. Reheat frozen latkes by heating in a 400 F oven until crisp.
Our first latke recipe of the night was a traditional potato latke with garlic and rosemary, served with a sprinkle of sea salt. Crisp and delicious!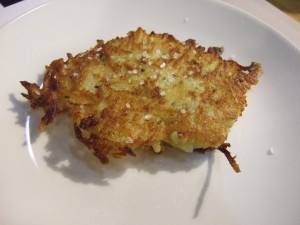 Next, we moved on to something a bit more adventurous: New Mexican Sweet Potato Latkes with Lime-Sour Cream Sauce
From Jewish Holiday Cooking: A Treasury of Classics and Improvisations by Jayne Cohen (Wiley 2008):
Eight days before Christmas, some New Mexicans light a luminaria, a candle nestled in a paper sack, then add an additional glowing luminaria every evening until Christmas, when nine burning lights illuminate the holiday darkness.
If this process of kindling flames sounds familiar, it is no coincidence. These New Mexicans are crypto-Jews: descendents of Converso colonists who practiced Judaism in secret, fearing the relentless persecution of the Inquisition, whose long reach extended into the New World. Even many of those who became Catholics have kept alive their Jewish traditions to this day, lighting candles on Friday nights, abstaining from pork, observing a feast or fast of Esther, covering mirrors during the mourning period, and maintaining many other Jewish practices.
The fascinating story of these crypto-Jews is still being written. Many are rediscovering and exploring their Jewish roots, some even confirming their Jewishness through DNA testing. Some have converted to Judaism; others feel they have been Jewish all along.
Inspired by them, these sweet potato latkes glow with New Mexican spice.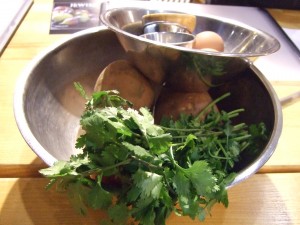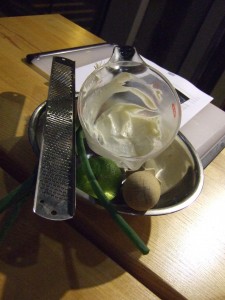 Ingredients:
Lime-Sour Cream Sauce
1 cup sour cream

1/3 cup chopped fresh chives or scallions

2 Tbs fresh lime juice

2 tsp grated lime zest
Latkes
2 large sweet potatoes, peeled and finely grated
kosher salt
3 large eggs, lightly beaten
1/3 cup flour (cornmeal would work great in this recipe!)
2 tsp ground ancho chili powder
2 tsp ground cumin
1 tsp baking powder
1/2 tsp ground cinnamon
Canola oil for frying
Optional garnish: chopped cilantro
Instructions:
Combine sour cream, lime juice, zest, and chives. Allow to sit while you prepare latkes so the flavors can meld.
Remove moisture from sweet potatoes either using your hands or by wrapping potato shreds in a dish cloth and wringing until dry.
Add sweet potato shreds to a large bowl and add onion, eggs, flour/cornmeal, salt to taste, and spices. Mix until combined.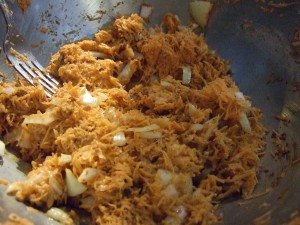 Heat 1/4 inch of oil in a sturdy frying pan (cast iron is ideal). Once the oil is hot, drop 1/4 cup of batter into the oil and flatten slightly. Fry until golden and crispy on the bottom (about 3 minutes). Use two spatulas to flip the latke over and allow the other side to cook until golden brown. Warning: sweet potatoes contain more sugar than regular potoatos, so these latkes will brown quite quickly.

Once latkes are cooked through, remove from pan and place on paper towels to drain.

Best eaten immediately with lime-sour cream sauce and cilantro. However, if you are making a big batch of latkes and need to keep them warm, you can place them on a baking sheet and pop them into a 200 F oven until you're ready to serve.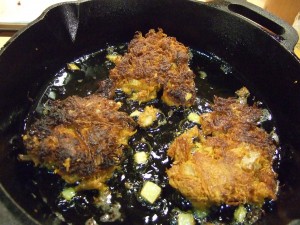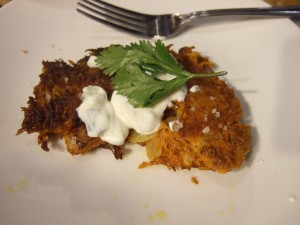 Our final recipe of the night was a sweet variation: Walnut-cherry-cheese latkes topped with rosemary and brown butter applesauce. I would have never imagined that putting rosemary and brown butter in applesauce would taste good, but it was amazing!! These light, fluffy, cheese-y latkes were the stars of the night. I had to go back for seconds 🙂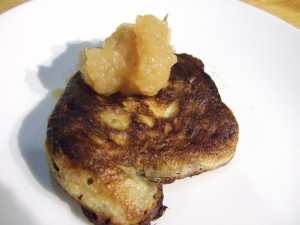 FYI: You can find the rosemary and brown butter applesauce recipe on BonAppetit.com
I left the class with a new-found appreciation for fried potato pancakes and a happy stomach. Yes, we used a lot of oil, potatoes, and full fat sour cream. However, Jayne made a good point: How many times a year are you going to make latkes? Probably, once at most. When you're making a special (and labor intensive!) holiday treat, I think it's best to use real ingredients. It's a time for splurging and enjoying yourself! You can always eat salad tomorrow….
Hungry for more? Check out this New York Times article on Improving the Latke.
Question: Have you ever eaten or made your own latkes? Any tips for the rest of us?