Yikes, this is a busy time of year. I'm really feeling the effects of less sleep – goal for tonight: 7 hours or more!
Wednesday started off with a cup of coffee and a freezing cold enjoyable 8 mile run with Alma. Note to self: if my hands start to go numb, shaking them vigorously brings back feeling. Good to know, even though it makes me look like a crazy person.
Moving on to breakfast: I heart winter citrus fruits. Especially grapefruit & orange!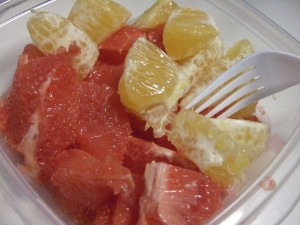 And a hearty slice of Eli Zabar's bread topped with pb & j.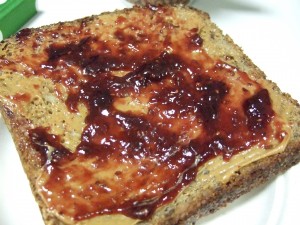 Plus a little more (decaf) coffee: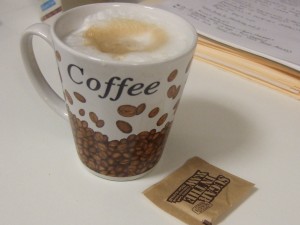 Day was hectic, so lunch was eaten at my desk. But at least it was a fabulous salad!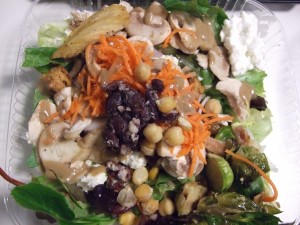 romaine, mixed greens, shredded carrots, mushrooms, onions
roasted brussels sprouts, sample of roasted parsnip
chickpeas & kidney beans (~1/3 cup)
sprinkle of feta cheese, sunflower seeds, dried cranberries, whole grain croutons
balsamic vinaigrette
Yum!
Afternoon snackeroos were a few strawberries/piece of pound cake dipped in chocolate sauce.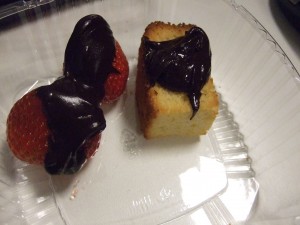 and an oikos greek yogurt for protein!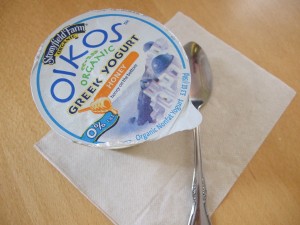 I finally got out of the office a little after 7pm and made my way uptown. Fun evening plans: Laundry! Hah. I actually really, really dislike doing laundry. I try to put it off as long as possible….
Once I made the initial trek to the laundromat, I dug into a special treat. Awhile back, Kath's blog was offering up a very special deal: $25 gift certificate for anything at her Open Sky store. I jumped on the bandwagon and snapped up 2 jars of organic nutzo for myself. This stuff is amazingly crunchy! In addition to peanuts, it also contains: sunflower seeds, hazelnuts, almonds, cashews, and flax seeds. Holy, legume.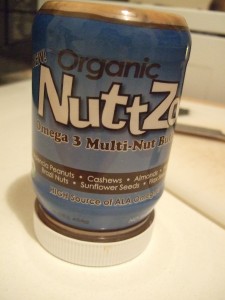 I really only wanted to have nut butter for dinner, but in attempts to make it a little more balanced I made a snacking plate: sliced apple, carrot sticks, and triscuits. With lots of nutzo!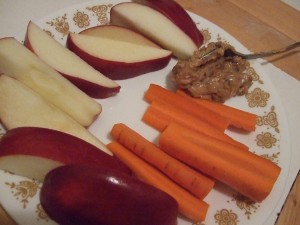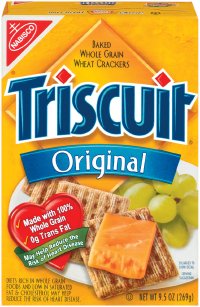 I ended my night very sweetly – with a few of the homemade oreos I made on Tuesday! Homemade oreos? Can it be true? YES. Apparently, I don't have enough on my plate, so I've started re-creating the products of huge corporations. Twinkie, you're next….
Just kidding.
Anyway, I based these cookies on a recipe by Joanne Chang of Flour Bakery (must.go.there.soon). My recipe came out of a book called Baking from the Heart, but the Boston Globe published a similar homemade oreos recipe this summer.
Mix the melted chocolate, butter, sugar, egg, and vanilla with the dry ingredients. Use quality chocolate and cocoa powder – you'll taste the difference in these cookies.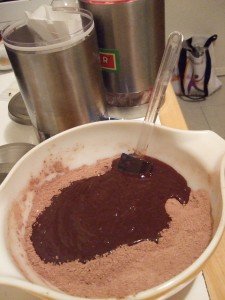 The trickiest part of the process: shaping the cookie dough into logs, chilling it (preferably overnight), and slicing it into thin disks.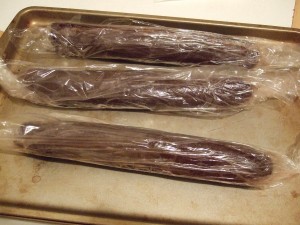 The cookie wafers baked up nice and crispy!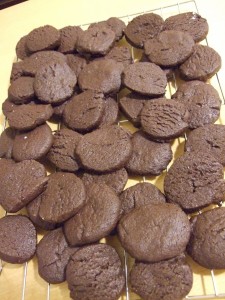 And then I made the filling and shaped that into a log. You don't even want to know how much butter and confectioner's sugar I used. The oreo filling was sliced and sandwiched between two chocolate cookies.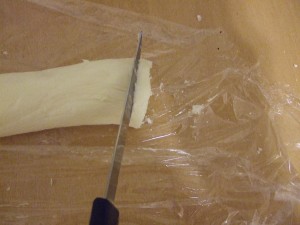 Ta-da! This recipe made a lot of cookies – approximately 50 – so I'm going to be nice and share them with my co-workers and friends. However, I might stash away a few for myself. I have a feeling they won't last long!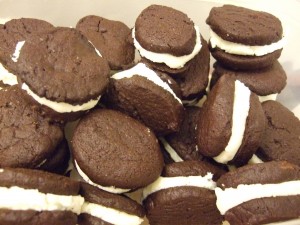 New articles from Running Shorts:
The Atkins Diet for runners? Matt explores low-carb running.
And I recently reviewed John L. Parker's cult classic, Once A Runner. FYI – It's no longer out of print!
Question: What "commercial" food product would you like to try re-creating at home? My oreos aren't exactly healthy, but at least I can pronounce every ingredient in them 🙂