Maybe someday I will wake up in a cheerful mood and ready to run lots of miles sans coffee. Wednesday was not one of those days. When my alarm went off, I couldn't help pondering – "Megan, why did you ever think it was a good idea to plan an interval workout for 7am??" But alas, early morning was the only time I had to get my run in. I poured a cup of coffee to go and fueled up with 1/2 clif bar.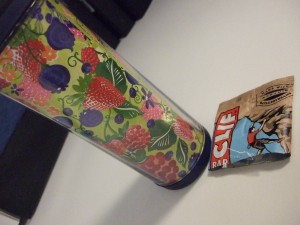 Work/holiday parties precluded me from attending any CPTC practices this week, so I did a modified version of the Tuesday night workout.
1 mile warm-up
4 x 800m @ 10K pace (3:29, 3:29, 3:26, 3:24)
800m easy running between each faster interval
1 mile cool-down
Felt kind of groggy at the outset and wasn't exactly excited about running fast at 7am, but as always I'm glad I did it. Hamstring and IT band felt GOOD! A few episodes of Saved by the Bell entertained me during this run. Love those shoulder pads and tube socks, Kelly Kapowski.
I haven't been as good about packing my breakfast and lunches, so I hit up the cafeteria on my way into work.
Scrambled egg whites with sriracha sauce, mixed berries, and whole grain bread with pb & raspberry jam. Yum.
Plus a cappuccino! Not decaf today. I was le tired.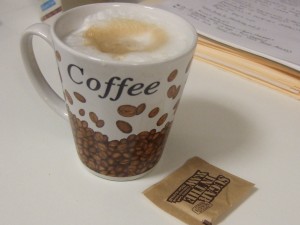 Lunch was delayed (I thought Christmas week was supposed to be quiet? I am so busy, gah!), so I snacked on some prunes around 1pm.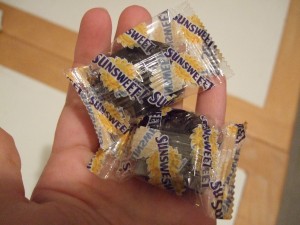 And then finally, some vegetables. I forgot my camera and didn't snap a photo of my actual salad, but this photo is a good stand in 🙂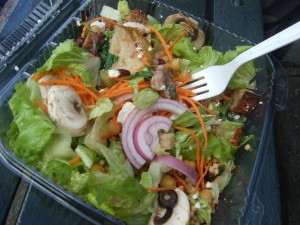 romaine lettuce, sliced onions, shredded carrots, mushrooms, olives

beans, blue cheese, whole grain croutons, balsamic vinaigrette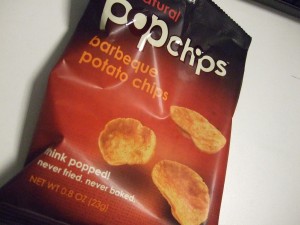 And BBQ pop chips! Love, love, love.
I had long meeting that didn't end until 4:30pm and by this point I was in need of a snack. Thankfully, I had a vitabrownie in my desk drawer. I also sipped on some un-pictured hot cocoa.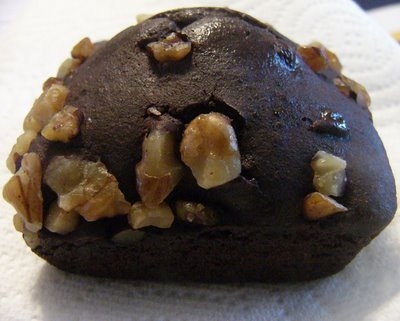 Later on in the evening, I met a friend for dinner at Djerdan, a restaurant that specializes in Balkan cuisine. It's cozy inside and never super crowded – a nice respite from the crowds of Penn Station.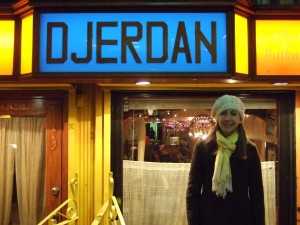 The vegetarian options were not abundant, but I managed to find something. I ordered the vegetarian Sarma – cabbage leaves stuffed with rice and vegetables with a side of steamed vegetables. This dish certainly was packed with fiber and antioxidants, but it was a little lacking on the protein front. I was hungry again a few hours later!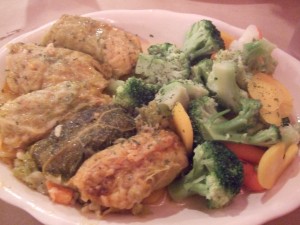 I was kind of jealous of my dining companion's cevapi sandwich – mini sausages tucked inside pita bread and topped with onions and red pepper sauce.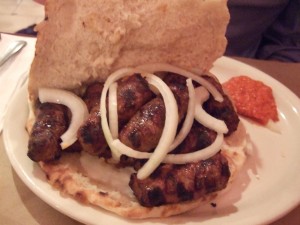 Once I got home I attempted to make chocolate dipped pretzels using candy cane hershey's kisses. Hmm. This did not work so well. I think that the peppermint oil in the kisses made for a weird texture (sort of lumpy?) when I tried to melt the chocolate. The pretzel creations were not exactly blog-worthy, so I just snacked on some (un-melted) candy cane kisses and pretzels separately. Eh, you win some, you lose some. Anyone have tips on melting hershey's kisses in the microwave? Does it ever work?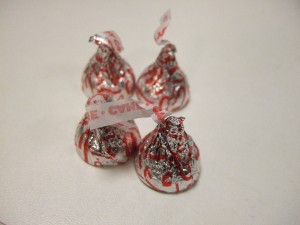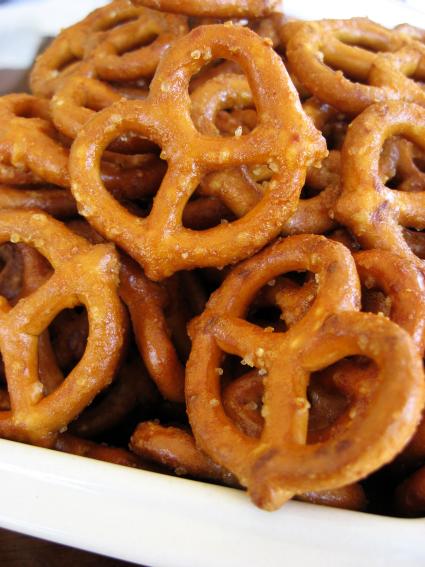 I can't believe it's Christmas Eve morning already! I just ran a lovely (but chilly) 7+ miles in Central Park with Alma and am finishing up some work before I head to Pennsylvania. Safe travels and Happy Holidays!
Live in the Boston area? Check out the upcoming  "Food for Thought" lecture series offered by the Harvard Museum of Natural History.
Are you a runner? If so, I bet you'll get a kick out of the Running Doc's 12 Days of Christmas. Thanks for sharing Katherine!
Interested in Christmas Eve dishes eaten around the world? Check out this article on the healthiest global specialities!
Question: What do you typically eat on Christmas Eve/Christmas Day?