Saturday was such a whirlwind of activity, but it's been a fun weekend, so I can't complain! I woke up bright and early (7am) because I had plans to volunteer with Girls on the Run Manhattan. I fueled with some coffee and a Kashi granola bar and then ran 3 miles to where the Girls on the Run Winter 5K was being held.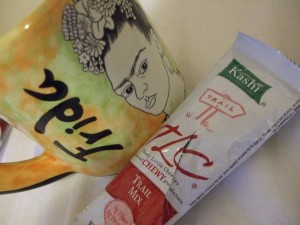 Courtney and I were trying to stay warm, brrr…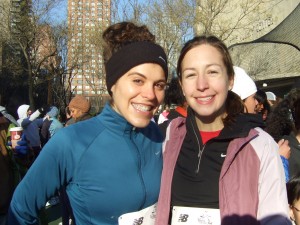 Girls on the Run Manhattan (Hundreds of them showed up to run in the early morning cold. Bravo girls!)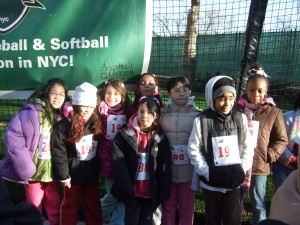 Despite dressing in many layers, I was f-r-e-e-z-i-n-g! But the little girls were SO cute that they made it worth it. I was paired with an adorable 10 year-old and she insisted 1) that I get my pony tail painted with colored hair spray at the Happy Hair station and 2) we line up at the very front of the starting line. She was ready to run!
We started off fast and then finished up the 5K with a mix of sprints, skipping, and power walking. My favorite thing about running with kids is that they just want to have FUN. And isn't that what running should be about?
After the race, I said my goodbyes and ran the 3 miles back to my 'hood. My fingers were like popsicles, so I stopped at Starbucks and treated myself to a decaf misto with one pump of gingerbread syrup. SO good.
I was in a rush to get out the door, so breakfast #2 was quick – sliced pear and a plain greek yogurt with a Tbs peanut butter mixed in.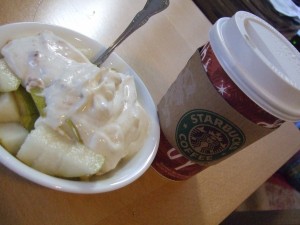 I rushed down to Canal Street for a fun event at The French Culinary Institute!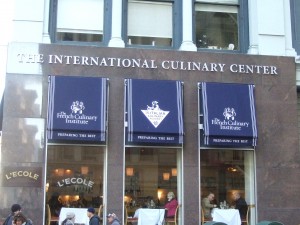 Pastry Scoop and Texasweet Ruby Red Grapefruits were sponsoring a recipe demo and dessert tasting with Jansen Chan, executive pastry chef at Manhattan's Oceana restaurant.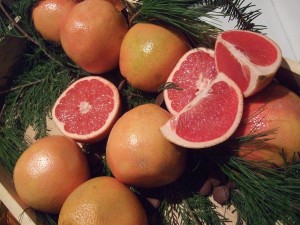 I started off with a grapefruit juice eggnog. Fancy! 1pm is totally an appropriate time for a cocktail, right?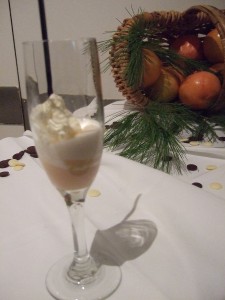 And then the recipe demos began! Jansen was very interesting – he worked as a professional architect for years before realizing his true passion was baking.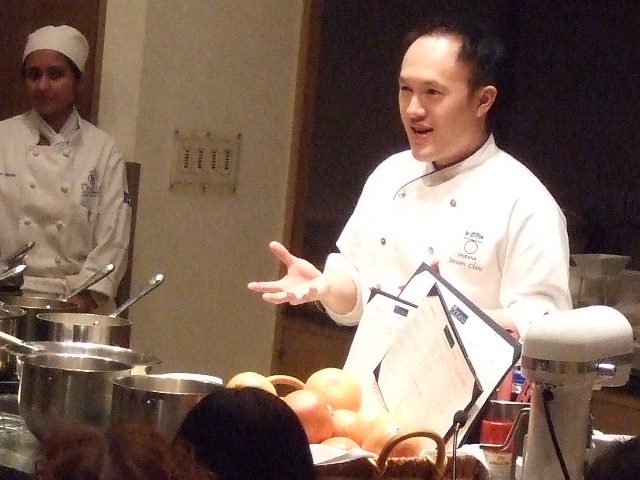 Did you know?
Grapefruits have NO fat, cholesterol, or sodium
High in vitamins A & C
Contain lycopene and fiber
Grapefruits will keep on the counter for 2 weeks of in the fridge for 6 weeks!
And Jansen demonstrated how to properly peel and cut a grapefruit – remove all of the bitter, white pith!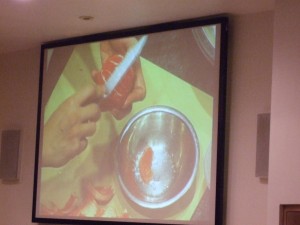 Although a cocktail + dessert tasting was probably not the best choice for post-run fuel, I guess I could do much worse than grapefruits and dark chocolate!
Dessert #1 – Steamed chocolate cake with creamy grapefruit filling (I only ate about half because I wanted to pace myself!)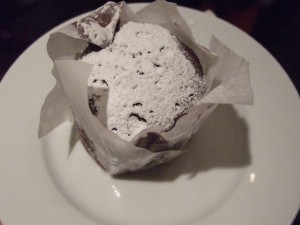 Dessert #2 – Tarragon grapefruit soup with mascarpone gelee and dark chocolate sorbet (loved this – my favorite!)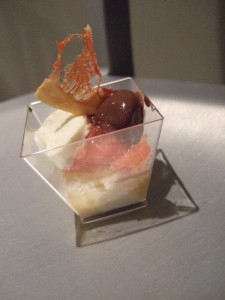 Dessert #3 – White chocolate grapefruit parfait with honey sabayon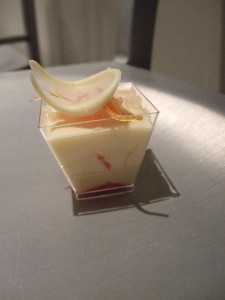 Dessert #4 – Floating island if grapefruit anglaise and milk chocolate sorbet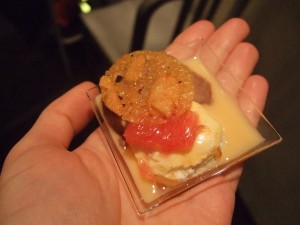 Dessert #5 – Chocolate tarts with grapefruit marmalade and coconut tuiles (the marmalade and dark chocolate flavor in this one were a little intense for my liking).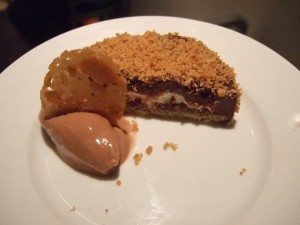 We also received goodie bags full of grapefruits, recipe cards, and gourmet chocolate chips (definitely nibbled on a few of those already!). This event was fun and delicious, plus I got to spend some time with one of New York foodie friends (thanks for coming Darien!). If you're interested in creative grapefruit recipes, check out the Texas Citrus recipe page!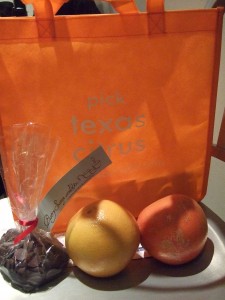 All that chocolate gave me quite a bit of a sugar rush energy, so I headed to the gym for….a swimming workout!! Gah. Remember when I signed up for an indoor triathlon? Um, yeah. That's in less than a month. My goal is to survive the 10 minute swim and then really focus on the bike and run portion. I've been putting off getting in the pool for as long as possible, but on Saturday I finally bit the bullet. I hopped in the water and swam for about 10 minutes (freestyle and backstroke) and then alternated between laps and kickboard drills for another 10 minutes. My form is horrendous and I'm sure the lifeguard got a good laugh, but it wasn't nearly as bad as I feared. Hooray!
By 6pm, I was ready for some dinner (no, chocolate doesn't count). I met my friends Joe and Chrissy at a little spot called Georgio's Country Grill. The menu was simple, but the service really made the place stand out. I got to the restaurant a little early and was seated right away (some places make you wait until the entire party arrives). Georgio's was warm and cozy and I really liked the ambiance – bottles of wine and San Pelligrino on the table made the dinner feel special.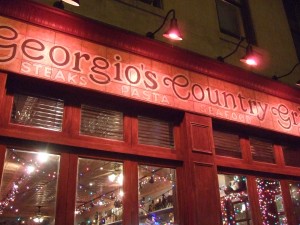 After all my running, walking, and swimming – I was HUNGRY! I started off with a cranberry and walnut roll with butter.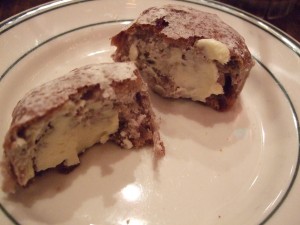 For my entree I was craving vegetables so I ordered the grilled portabello mushroom salad with romaine, tomatoes, cucumbers, red pepper, onion, artichoke, olives, and goat cheese. I ordered the balsamic vinaigrette dressing on the side, but the veggies were so fresh and flavorful, that I only needed to use a bit. The grilled portabellos look sort of like bacon, but I assure you this salad is vegetarian 🙂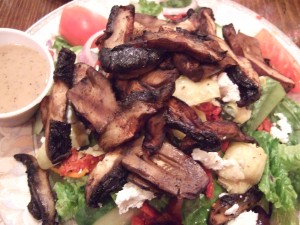 I met a date for a un-pictured glass of red wine at Barcibo and stayed out past my usual Grandma bedtime.
However, I couldn't totally abandon my old-lady ways. I finished the night with a cup of tea and slice of pb & j toast.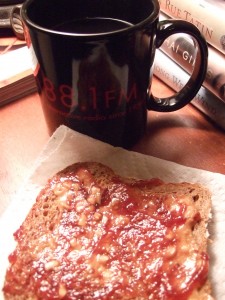 Question: Do you like grapefruit? I think people either love it or hate it…
p.s. Matt and I just posted a new article on Running Shorts – How to manage the pain of racing and running hard!