I've been so busy making latkes and baking cookies that I haven't mentioned running much this week. Never fear, I've been soldiering on in the cold! I had grand plans to do a tempo run on Thursday morning, but after I hit the snooze button a few times, it just didn't happen. Instead I spent a few extra minutes in bed (with coffee!) while catching up on emails. The new plan: attend the Central Park Track Club's weekly Thursday night workout. Around 4pm, my office had a small holiday get-together that featured lots of COOKIES! Does a white chocolate macademia nut cookie + 7-layer magic bar + bite size cupcake = good running fuel? Well, it did last night! Stu Mittleman probably wouldn't approve, but the sweet stuff seemed to work out pretty well. After about 2 hours of digestion and a few glasses of water, I felt ready to run.
I met my friend Ani for about 2 miles warm-up and immediately my face, lips, and hands were frozen. The temperature was about 25 last night and windy. Brrrr….My numb facial muscles made conversation a tad difficult. Luckily, once we began the actual workout I started to generate some body heat. We did a basic 4-mile tempo run in Central Park last night with the goal being half-marathon pace. I ended up finishing the 4.05 (Garmin measured!) loop in 28:58 or about ~7:09 per mile pace. Maybe my legs were just frozen, but this felt surprisingly good. I picked up the pace for the last 1/2 mile or so, but other than that I felt very comfortable throughout the entire run. I did this same workout about a month ago and ran ~7:53 per mile pace. Today's pace was over 40 seconds faster. Hooray! The best part of recovering from injury is regaining fitness levels 🙂
I wore the Nike lunaracers for the workout and have mixed feelings about them. They were super light, so I felt fast, but my toes were cold and I got a small blister on my right heel.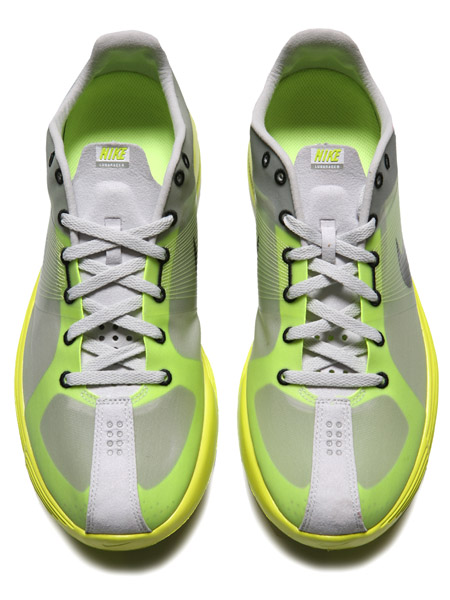 I cooled down for about 2.5 miles and then headed back to my gym. After some stretching, foam rolling, core work, and push-ups, it was time to call it a day.
My cookies ended up working out fine (no tummy troubles at all), but I was pretty hungry by I got back to my place a little after 9pm.
I made a comforting bowl of oatmeal to re-fuel:
1/2 cup oats, milk, water
chopped pear
spoonful of Nutzo
a few white chocolate chips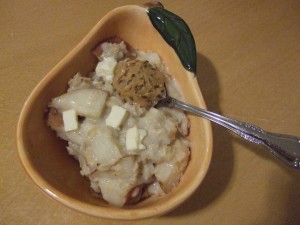 Anddddd I was still hungry so I had some more nutzo with a banana. And hot tea to warm up!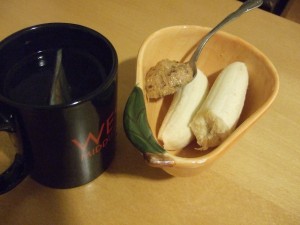 I felt surprisingly good when I woke up on Friday (7 hours of sleep, success!), so I headed out into the 16 degree morning for an easy 3.5 miler.
I wanted something hot for breakfast, so I hit up the cafeteria for a little variety: banana, scrambled egg whites with sriracha hot sauce, and a slice of  7-grain toast with peanut butter and raspberry jam.
Lunch was one of my usual salads:
romaine lettuce, mushrooms, onions, shredded carrots

beans, feta cheese, balsamic vinaigrette, whole grain croutons

spoonful of wheatberry salad, dried cranberries, sunflower seeds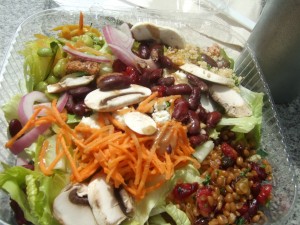 And two single-serving bags of salt & pepper popchips. Love these!!! But one little bag is never enough 🙂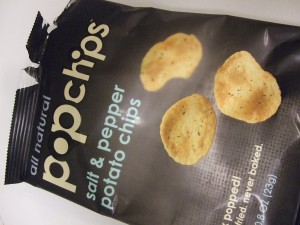 I have fun plans this evening (WELCOME HOME JESS!!), so it's work, work, work for the rest of the day. TGIF!
Question for runners: Do you ever do tempo runs or interval workouts? Have you read about the athlete who ran 60 (!!) 400 meter repeats? That's 15 miles of sprints. I think I would die…
Question for eaters (that's everyone!): What's your favorite "healthy-ish" holiday treat? I'm loving herbal gingerbread tea at the moment! For more ideas, check out this list of holiday favorites that won't weigh you down.