Merry Holidays! Happy Christmas! I'm currently spending the last few days of December with my family in Pennsylvania, so please excuse the irregular blogging schedule. I've been enjoying some much needed rest and relaxation….
I was able to leave the city around 1:30pm on Christmas Eve and arrived home in time to help prepare dinner with my family. Vegetable Lasagna was on the menu!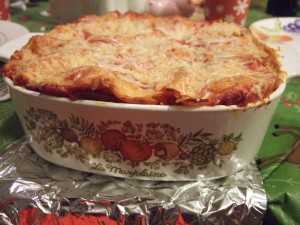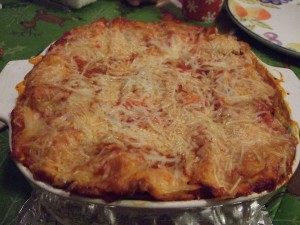 Ingredients:
large onion, chopped
1 bag of fresh spinach
1/2 cup shredded part-skim mozzarella
1/2 tsp salt
1/4 tsp pepper
1 egg
15 oz part-skim ricotta cheese
2 cups peeled, diced butternut squash
24 oz. jar of marinara sauce (~3 cups)
9 oven ready lasagna noodles
1/2 cup grated Parmesan cheese
Directions:
Preheat oven to 375 degrees and lightly oil a 9″ x 9″ square baking dish
Spray a pan with cooking spray and saute onions about 4 minutes or until tender
Add spinach to onions and cook until wilted down
In a large bowl combine shredded mozzarella, salt, pepper, egg, and ricotta cheese
Place squash in a microwave safe bowl, cover with plastic wrap, cook for 5 minutes on high
Spread 1/2 cup marinara sauce on the bottom of the pan, arrange 3 noodles over the sauce
Spread 1 cup of cheese mixture over the noodles, arrange squash over the cheese, spread 3/4 cup sauce over the squash
Arrange 3 more noodles over the sauce, spread the rest of the cheese mixture over the noodles
Arrange spinach-onion mixture over the cheese layer, add another 3/4 cup of sauce
Add another layer of noodles, the remainder of the sauce, and sprinkle the Parmesan on top
Cover the pan with foil and bake for 30 minutes, uncover and cook for another 30 minutes
Allow to sit for about 10 minutes before slicing and serving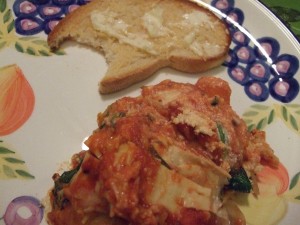 With Junior's Strawberry Swirl cheesecake for dessert. 'Tis the season!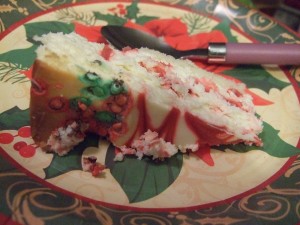 Christmas Morning started off with coffee (of course!), a very ripe banana, and a smidge of peanut butter. At Thanksgiving time there was probably about 1 Tbs of pb left in this jar and I thought for sure it would have been eaten by Christmas. Nope, apparently I am the ONLY person in my family who eats peanut butter. That's ok, I love peanut butter enough for all of them 🙂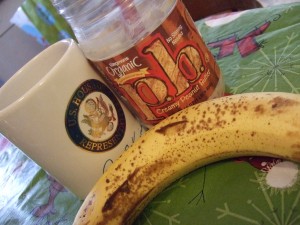 Christmas morning tradition called for secret family recipe cinnamon rolls. YUM.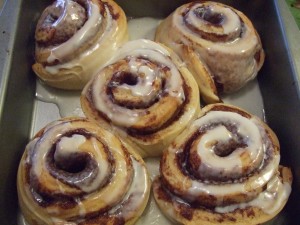 With OJ! I only drink orange juice when I'm visiting my fam, so it always makes things seem like a holiday or vacation.
And then the present opening began! Rachel and I took the requisite "matching pj's" photo. This photo was taken with my old camera (a little blurry, eh?). Luckily I just received a brand NEW Cannon powershot camera. Thanks Mom Santa!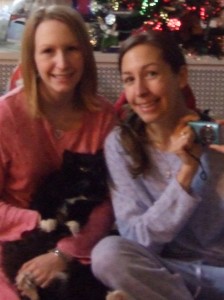 Kiwi likes wrapping paper.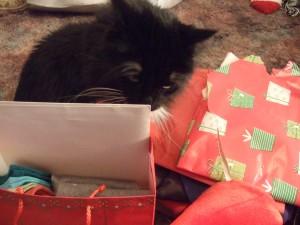 The camera was much-needed, but the best gift award goes to the slankets sent by my Nana. The slanket is the snuggie's much cooler cousin. Obvi.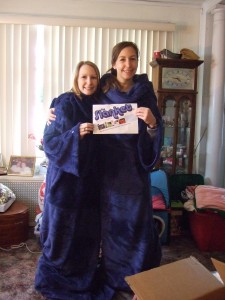 And after weeks of too much delicious cookies and wine, the "Clean Eating" book I received from my mom was very much appreciated! The cookbook focuses on seasonal ingredients and farmer's market produce. I'm very excited to try some of the recipes – tempeh veggie quesadillas, anyone?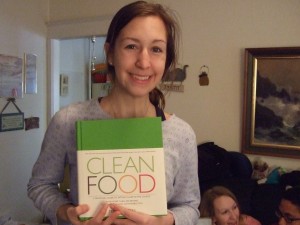 After the gifties were un-wrapped, I headed out the door for a 3-mile run. As I was lacing up my shoes, my Grandma said "It's Christmas Day, do you have to go running?" I thought about it for a minute and replied "Nope, I don't have to go running, but I want to. It makes me happy!" Those 26 1/2 minutes on the road were a Christmas present to myself 🙂
Much snackage occurred throughout the day (cheese! crackers! cookies!), so I was more than ready to eat some vegetables for dinner.
From Left to Right: homemade low-fat potato salad, vegetarian baked butter beans, potato roll with buttah, green beans, and ham with pineapple (yup, I had some meat – it's a special occasion!). I'm not sure why we have baked beans and potato salad with our ham, but it's an annual Christmas tradition!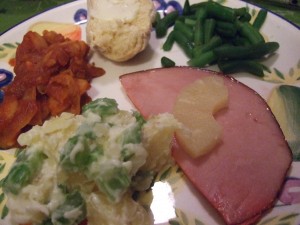 After din-din, sissy and I went to see Avatar. I'm not usually a fan of fantasy/sci-fi or animated films, but this movie held my attention for nearly 3 hours! We watched the 3-D version of the movie – very cool.
When we got back home, I was hungry! Obviously I needed to try a small-ish piece of both the chocolate cream and pumpkin pies. Delicious.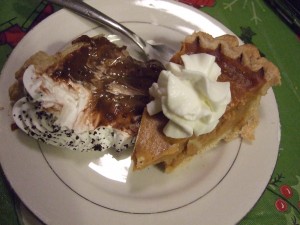 Question: What's best present you've received (or given to yourself)?
Andddd check out my latest Running Shorts post – Will run for coffee!