Over the weekend I made a big batch of caramel and chocolate covered popcorn. Since popcorn is a whole grain and dark chocolate is full of antioxidants – this is practically health food! Hah, ok not really, but it IS delicious 🙂
Caramel and Chocolate Popcorn
Ingredients:

6-8 cups popped popcorn (made with 1 Tbs oil, 1 cup kernels)
25 unwrapped caramels
1.5 Tbs butter
1 Tbs water
1/2 cup pecan pieces
1/4 cup dark chocolate chips
Step 1: Pour 1 Tbs canola oil in a big pot, add 3 popcorn kernels, cover with a lid, and turn the heat up to medium-high.
Step 2: When the 3 "test" kernels pop, add 1 cup of popcorn kernels to the pot. Listen closely for popping – turn off the heat when the there's more than 2 seconds between pops.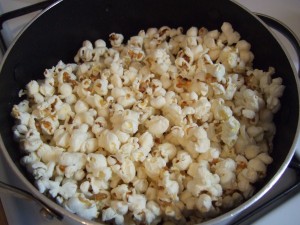 Step 3: In a medium (microwave-safe) bowl, combine 25 unwrapped caramels, 1.5 Tbs butter, and 1 Tbs water. Microwave bowl on high at 1 minute intervals until caramel is smooth and melted.
Step 4: Combine popcorn, 1/2 cup pecans, and caramel in a large bowl. Spread on a large, lightly greased baking sheet. Bake for 20 minutes at 300 degrees (stirring half-way).
Step 5: Sprinkle about 1/4 cup of dark chocolate chips on top of the warm popcorn and stir to combine. Allow to cool completely and then break into pieces or chunks. Store in an air-tight container up to a week. Note: this popcorn was so yummy, it barely lasted 3 days in my house!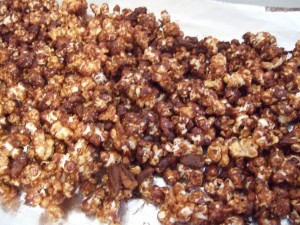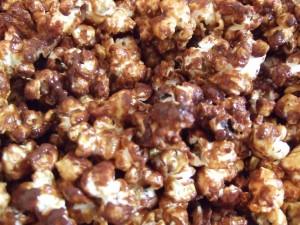 From the NY Times:
Get your whole grains at breakfast.
Foam rollers for all.
Question: What's your favorite whole-grain? Popcorn counts!