I think I may actually be getting a little tired of Christmas cookies and holidays sweets. My long weekend in Pennsylvania has been fun, but cheesecake and pie and cookies – oh my! I'm ready to return to the city and start eating some simpler fare (i.e. fruit, veggies, and whole grains!).
I started my Sunday with banana oatmeal for a crowd (or…me, mom, and grandma). I cooked up 1.5 cups of oatmeal, 2 cups of water, 1 cup of 2% milk, a dash of salt, and 2 very ripe bananas. Yum! Cooking the banana in the oatmeal makes it incredibly creamy. I added a teaspoon of brown sugar and a few dark chocolate chips. My mom was a big fan, too!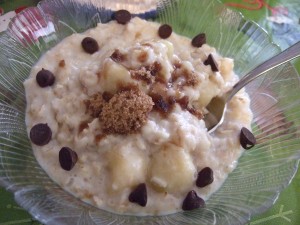 After breakfast, I ran a few errands. After putting 600+ miles on my running shoes, it was time for a new pair. I alternate between the Asics Nimbus and the Asics 2100 series. The Nimbus provides more cushioning, but since I'm a fairly light runner,  I might not need all that bulk. I'm starting to think that when it comes to running shoes, less is more. My new pair is the Asics 2150 style – excited!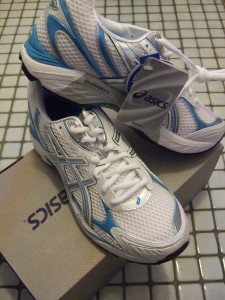 I also picked up a little holiday gift for myself. Hey, I had to take advantage of the post-Christmas sales…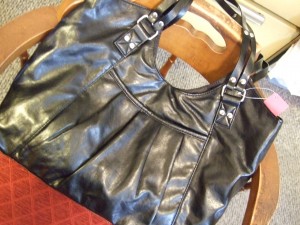 My new bag feels so buttery soft!
I stopped for a Starbucks gingerbread misto and snacked on a Nature's Path peanut butter granola bar as I finished up my shopping. I love these granola bars! They're nice and big and have a great peanut flavor. My only gripe is that they could use a little more fiber (2g) and protein (4g). Oh well.
And maybe a few un-pictured Christmas cookies hopped into my mouth. Just maybe. Those gingerbread men don't take no for an answer!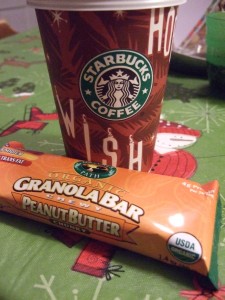 I decided to take advantage of the beautiful weather (sunny and high 30's) and run outside. I've been in a little bit of a funk lately and my motivation has been lagging. I considered skipping my long run this week, but I knew I would feel much better if I got a few miles in. The run was rather uneventful, I ran 10 miles in about 1 hours, 26 minutes. The pace felt nice and easy throughout and I was able to do a lot of thinking and reflection. However, both of my hips were feeling quite tight and ache-y by the final miles. This is what happens when I skip yoga for 2 weeks in a row! Also, I haven't taken a day off of running since December 4th (bad Megan…), so I think a few rest days/cross-training days might be in order.
Immediately post-run I snacked on an apple.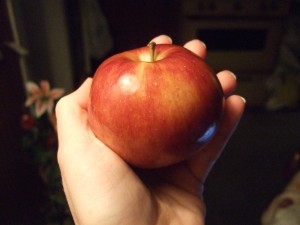 And then enjoyed some leftovers for dinner. My mom fried up some homemade potato pierogis with butter and onions and I had a slice of leftover Christmas ham and green beans on the side. I love homemade pierogis!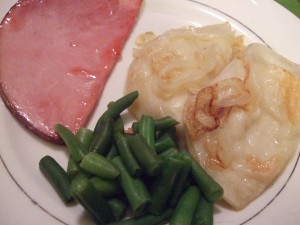 The evening hours were occupied by the movie Nine with friends and a few candy cane sticks. I really enjoyed this movie! It made me miss Italy SO much.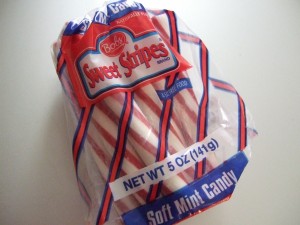 By the time the movie ended, it was late, but I was hungry! I had a slice (ok, maybe two) of pumpkin pie. At least pumpkin is a vegetable, right?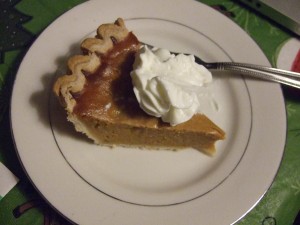 Now that the holidays are (almost) over, I'm looking forward to 2010. I'm still formulating my Resolutions, but beginning today I'm going to aim for a little bit less wine and cookies and little more whole foods. Who's with me?
Web sites to inspire your New Year's Resolutions:
Question: Do you make New Year's Resolutions? If so, what are they?