Despite a 2am bedtime, my internal clock woke me up before 8 on Sunday, bah! After I realized I wasn't going to fall back asleep, I walked over to Starbucks (only 2 blocks away…dangerous!) and ordered my new favorite drink: the eggnog misto.
I'm all for holiday indulgences, but I think you have to be careful when it comes to beverages. Even a small Starbucks eggnog latte made with skim milk clocks in at almost 400 calories! Solution? Instead, order a tall skim misto and ask for a splash of eggnog. You get some sweet and creamy eggnog taste  for 1/4 of the calories. Plus a misto costs about $2 whereas a latte will set you back $4.
Along with my misto, I sliced up an apple and added a spoonful of peanut butter.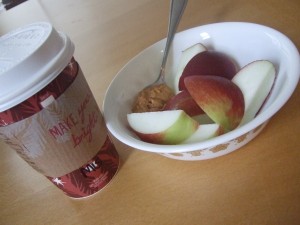 And then a clif z bar as I was running out the door.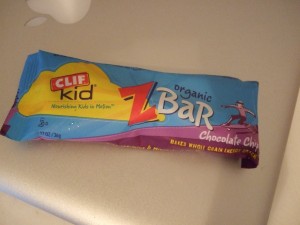 After what seemed like the longest subway wait/ride EVER, Alma and I finally made it to Van Cortlandt Park to do a little cross-country race spectating and running. I ended up running for about 50 minutes or about 5.5 miles. I couldn't believe the weather – it's mid-November and I was sweaty in my shorts and t shirt!
I arrived home to see my Mom and Sister waiting for me in my apartment building's lobby. I left my cell phone at home, so they navigated the subways and streets of Harlem all by themselves. They arrived in one piece, thank goodness.
Next up: Homemade Waffles! I used a cooking light recipe for banana cinnamon waffles and they were filled with all sorts of good ingredients like whole wheat flour, oat bran, mashed banana, organic eggs, and lowfat milk.
I topped my waffles with sliced banana, a bit of butter, and maple syrup. With a glass of milk on the side.  Perfect post-run fuel 🙂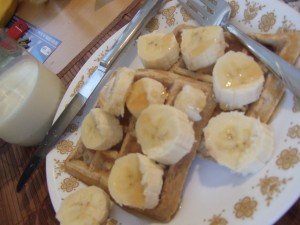 Our original plan involved a museum visit, but the nice weather just called for us to be outside. I led my mom and sis to Central Park where we enjoyed the fall foliage and stopped by the Conservatory Gardens.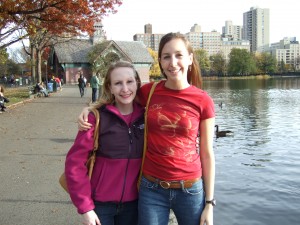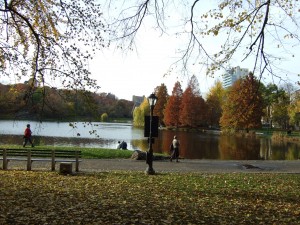 After a few miles of walking, we were parched. Luckily, a Dunkin' Donuts iced latte saved the day. Remember when I gave up coffee? Hah, yeah, me neither.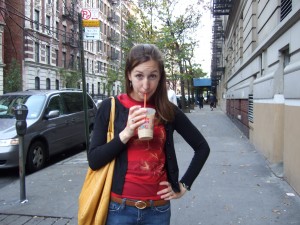 I took my family all over town – Harlem, East Side, Midtown, the Village, etc. and they were really good sports about all the walking! We did a fair amount of shopping and then headed to a little gem called Marrakesh for dinner. The prices were reasonable, the service was attentive, and I LOVED my hummus-babaganoush plate.
My dinner included homemade hummus, babaganoush, salad with pickled vegetables and tahini dressing, and whole wheat pita bread.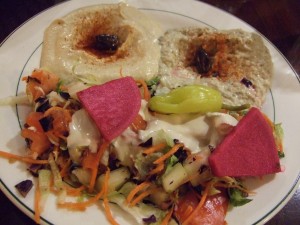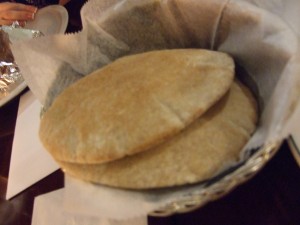 And then the three of us split a piece of cheesecake! It was pretty good, but it was a tad too cold in the middle. I think it had been frozen and defrosted. But that didn't stop us from eating it all! 🙂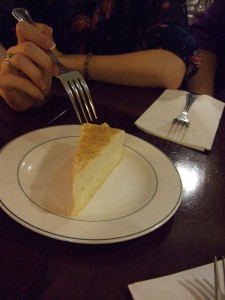 Happy Birthday Rachel! My b-day present to her: Tickets to go see Wicked in January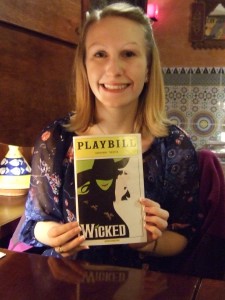 After a bit more walking around, I said goodbye to my fam. It was fun being a tourguide for the day!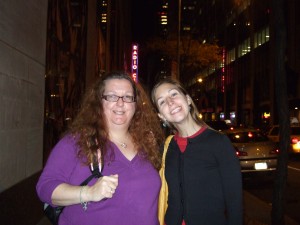 My ~5 hours of sleep were really catching up with me and unfortunately I wasn't as productive last night as I would have liked…but I did make time for a snack (all that walking made me tired and hungrrryy!).
Vanilla oikos (on sale for $1 each at Whole Foods!) mixed with some pretzel nuggets and chocolate chips.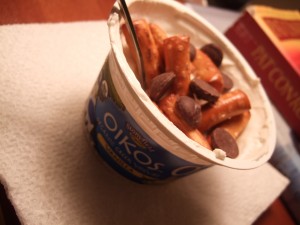 Now it's Monday and I am procrastinating working like crazy. Back to the grind…
Check out these healthy, veggie side dishes. Perfect for Thanksgiving dinner!
And Matt wrote a great article on Running Shorts today – no matter what age you start running, you can expect 10 years of improvement. Check it out!
Question: If you're a runner, at what age did you begin?