Announcements:
Are you ready to chow down tomorrow? Check out my latest True/Slant article on the best seasonal foods for runners!
Become a Facebook fan of The Runner's Kitchen (pretty please?) – just click on the Facebook widget on the right-hand side of the page!
I had plans for a speedy run on Tuesday, so I tried to make breakfast easily digestible. I combined plain non-fat yogurt, a chopped apple, 2 Tbs peanut butter, and a dollop of raspberry jam in a bowl.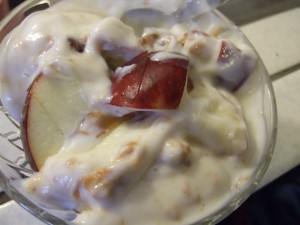 And then I got ready to head to the local YMCA. After Sunday's run (and a few too-close-for-comfort calls with cars/narrow shoulder) I decided that I should do my tempo run on a treadmill for safety's sake. I queued up an excellent playlist (featuring Miley Cirus and other teen pop favorites) and unpackaged my new headphones. These are the only type of headphones I can wear while running – ear buds always fall out!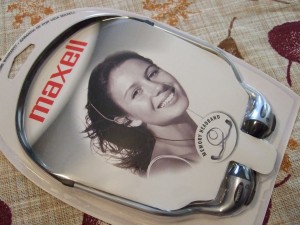 In preparation for Thursday's turkey trot, I decided to see how it would feel to run a few quick miles. I warmed up easily for 10 minutes and then focused on a tough, but manageable pace for the next 4 miles:
Mile 1 – 7:30 pace
Mile 2 – 8:00 pace (hamstring was feeling a bit tight)
Mile 3 – 7:30 pace
Mile 4 – 6:45 pace (this was tough!)
Total time: 4 miles in 29:45

I finished up with an easy 3 mile cool-down and was pleased that my hamstring really loosened up by the end of the run. I followed my run with 3 sets of 10 lunges, calf raises, bicep curls, tricep dips, tricep extensions, dumbell rows, and some ab-work. Phew! I certainly got my money's worth for my $5 YMCA day-pass.
After a quick shower, it was time to re-fuel and hydrate! I had plans to walk over to my Aunt's house to help her with some computer troubles, so I packed a lunch – I started with red grapes and celery with cream cheese.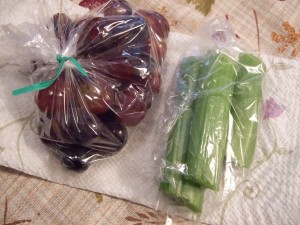 And followed up with a luna bar and some skim milk.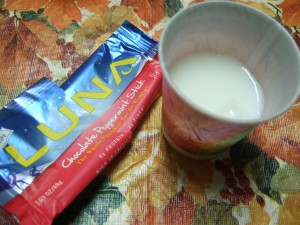 That speedy run must have fired up the furnace because I was hungry for the rest of the afternoon and evening! I picked up a hot chocolate while out running errands –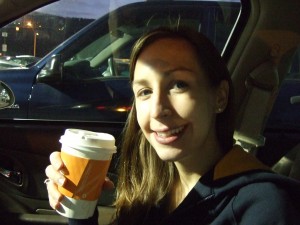 And then munched on an apple while waiting for my family to get ready for dinner.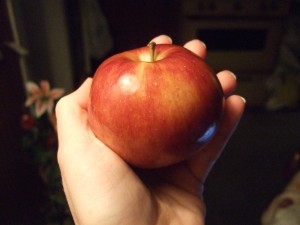 I don't get to visit Pennsylvania much, so when I do I like to spend as much time as I can with my Mom and Grandma (and sister!). Even though they're not big on ethnic food, I convinced them that we should go to the region's only best Thai Restaurant for dinner.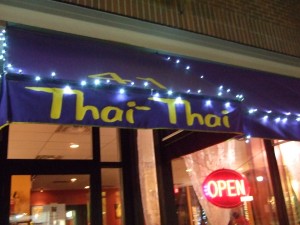 Thanks for being an adventurous foodie last night, G'ma!
(Side note – I've been living in running spandex and a sweatshirt all week. Appropriate for all occasions, of course.)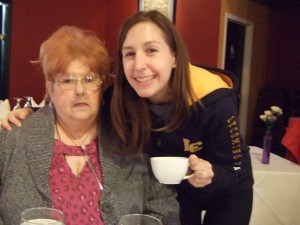 I've had a serious craving for green curry lately, so that's exactly what I ordered! My spicy (love it!) green curry came packed with tofu, baby corn, carrots, green beans, broccoli, bamboo, bell pepper, and eggplant.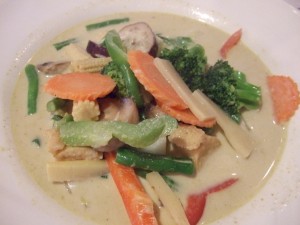 And a side of jasmine rice.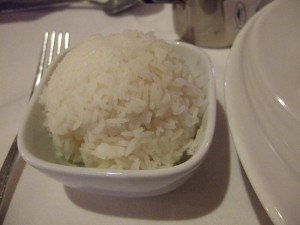 I ate every last bite. This girl likes to EAT!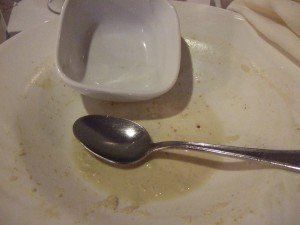 As I caught up on Glee last night, I enjoyed a leftover piece of birthday cake. I didn't take a picture because I was lazy didn't want to make you jealous 🙂
In the News:
The roving runner takes a night run through Greenwich Village.
Are dairy products and calcium supplements ineffective at preventing stress fractures and osteoporosis?
America's fastest female marathoner (Deena Kastor) offers up some delicious vegetarian dishes for the Thanksgiving table.
Check out this Women's Health article on how to enjoy Thanksgiving without going overboard.
Question: Is being home for the holidays fun or stressful for you? For me, it's a mix of both – I have a lot that I want to get done, but it's mostly things I enjoy (like cooking!).