As expected, I was a bit sore after my Thanksgiving race. I ran an easy 4 miles on Friday and then rested (and drank beer with friends!) on Saturday. Definitely a wise decision. After a wonderful 8 hours of sleep, I woke up on Sunday to sunny skies and a Starbucks misto. I followed that up with a pre-run bowl of oats:
1/3 cup oatmeal, 2/3 cup water
chopped apple
2 Tbs peanut butter
sprinkle of dried cranberries and chocolate chips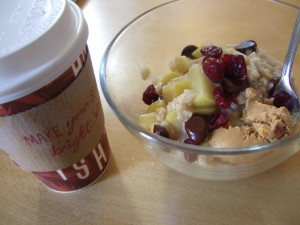 After some digestion, I got ready to run! I had plans to do a long run, but rather than focusing on a distance at the outset, I decided to run by feel. The first 6 miles went by pretty fast. I had some great Black Eyed Peas tunes to keep me company and the weather was fabulous – 55 degrees and sunny. Miles 6-12 were also very relaxed, but I was starting to get a bit thirsty. Unfortunately the NYC Parks Dept shuts off the water fountains in the winter. I discovered this at mile 12. Bummer. Luckily, I had some cash and was able to buy a Gatorade to perk me up a bit. Unfortunately my $20 bill was quite soggy (sweaty). Dear Rite Aid cashier – sorry about that.
I ended up running 16 miles in 2 hours, 18 minutes (~8:40 pace). Yahoo! Also, just for kicks, I took note of my half-marathon time (13.1 miles) and it was 1:54:13 which is 22 seconds faster than when I "raced" the half-marathon back in October. I was really pushin' it that day, so I think today's (easy) effort is indicative of positive training gains. Plus my hamstring and IT band felt good! I had some weird twinges in my IT band when I started running clock-wise in the park (due to the tilt of the road), but all in all it feels a million times better than it did this summer.
I finished off my Gatorade and then grabbed a dark chocolate covered pretzel as soon as I walked in the door (salt + sugar!).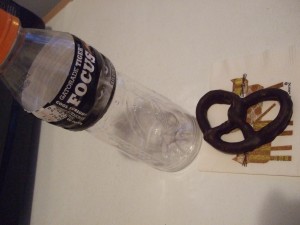 Then I put my feet up for 10 minutes to increase circulation and reduce inflammation. This is one of my must-dos after long runs (along with compression socks!).
Cute, eh?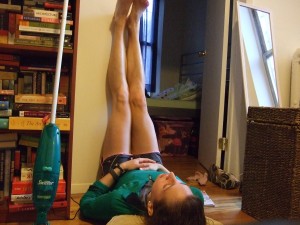 And then I wanted to eat my arm. Luckily I managed to throw together some eats before it got ugly.
I toasted up an Arnold whole wheat sandwich thin, added a black bean veggie burger, hummus, and a string cheese and chowed down. I like string cheeses just as much now as when I was 6. They're fun to eat!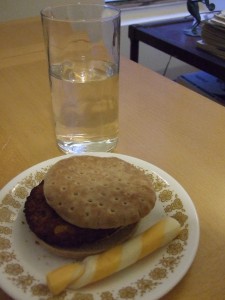 More food required – celery stalks with goat cheese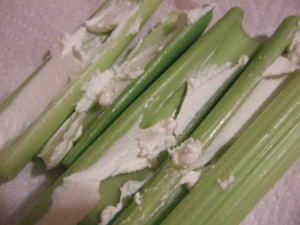 And some ak-mak crackers with Sabra's supremely spicy hummus. My favorite kind!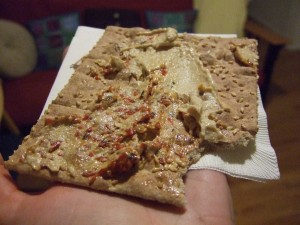 Surprisingly full of energy, I decided to get creative in the kitchen. Inspired by Robin Robertson's Vegan Planet, I made maple-roasted root vegetables!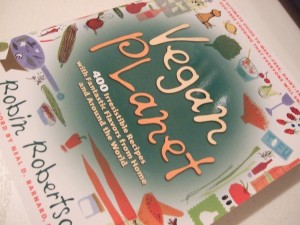 A small pour of red wine kept me company as I prepped the rutabaga, carrots, and sweet potato.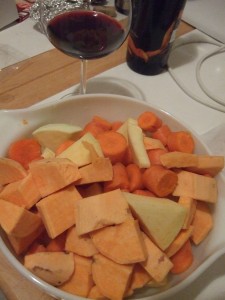 I followed the recipe pretty closely. The only adjustments I made were: substituted garlic for shallots, omitted turnips/parsnips and replaced with sweet potato, reduced the cooking time (my oven is HOT). I'm not going to post the recipe (copyright issues?), but if you say hi to Matt over at Eat With Me and ask really nicely maybe he can hook you up with the recipe.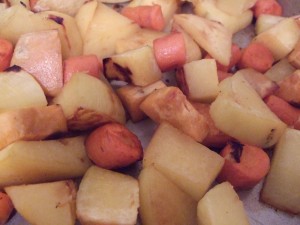 Delicious! Served with some ketchup on the side. I devoured this plate and then had seconds.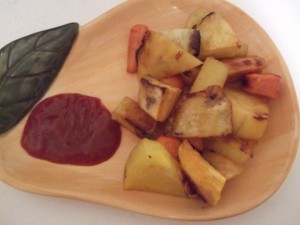 And then for dessert, Alma was nice enough to bring me one of her Aunt Paula and Aunt Lauren's famous chocolate chip cookies. I snapped this photo of the cookie after I had eaten most of it – it was delicious and gigantic! I think I detected hints of cinnamon? Loved it.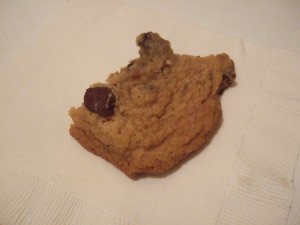 Question: Have you ever eaten a rutabaga (or parsnip or turnip)? Tonight was the first time I ever prepared and cooked rutabaga at home and I liked it. I'm excited to try more seasonal produce.
In the News
The NY Times discusses the stigma of food stamps.
Do tight hamstrings = better running economy and faster 10K times? Yes, according to a recent study.