My Friday just ended up getting better and better – a project deadline was extended, so I was able to leave the office on time, yay! And you know what that means? 6 o'clock hot yoga class with Katie. I've been looking forward to a class all week and this session did not disappoint! I was dripping in sweat by the end and I think I scurred a few people on the subway. I was the girl attired in sweaty running shorts + bright red winter coat + cowboy boots. I didn't quite look homeless, but I certainly didn't look sane. Ah well, it's the price I pay for stretched out muscles and core strength…
When I got home, I scrounged around in the kitchen and made a dinner of pantry staples: 2 slices of whole wheat toast topped with peanut butter, a smidge of homemade apple butter, and apple slices. Plus more apple slices and pb on the side. Can you believe all of that apple is from just ONE piece of fruit? I had a jonagold the size of my head and it was very delicious. I love apple season!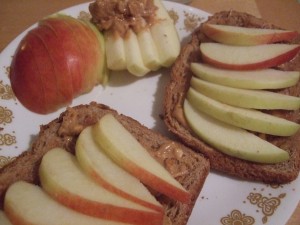 After I ate dinner and showered I was feeling mighty ambitious, so I decided to bake something yummy. I looked at a few cookbooks for inspiration, but in the end I decided to make up my own recipe for Peanut Butter Cup Brownies. The combo of salty and sweet is really addictive and I am in a bit of a sugar coma from all of the batter sampling and crumb nibbling. So worth it though!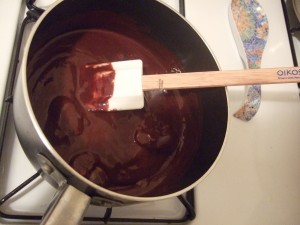 My Kitchenaid stand mixer was the BEST birthday present ever. Thanks mom!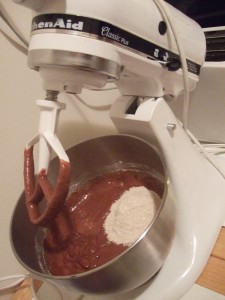 I love things that are mini-sized. Especially if they contain chocolate and peanut butter.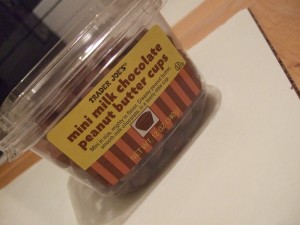 Brownies warm from the oven: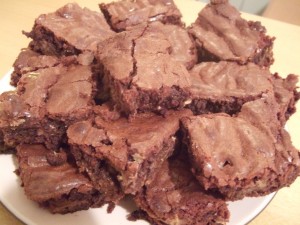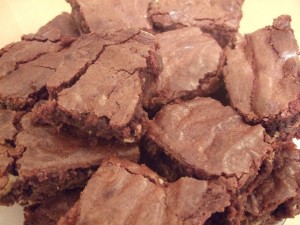 Brownies with mini peanut butter cups

Ingredients
3/4 bag bittersweet chocolate chips (I used ghiradelli brand)
12 Tbs unsalted butter (1.5 sticks)
1/4 cup applesauce
2 cups sugar
3 eggs
2 tsp vanilla extract
3/4 cup whole wheat flour, 3/4 cup all-purpose flour
1/4 tsp salt
(most of a) container of Trader Joe's mini peanut butter cups
Directions
Preheat oven to 350 degrees, lightly grease a 9″x13″ baking pan
Melt butter and chocolate chips in a pan over low heat
Using a mixer, cream together eggs and sugar
Combine chocolate mixture with egg/sugar mixture, add in vanilla and applesauce
Slowly mix in flour and salt
Stir in peanut butter cups
Pour batter into baking pan and bake for about 30 minutes or until toothpick inserted into middle comes out clean
Makes about 20 servings. Enjoy!