So far my time in Pennsylvania has been all about running, good food, and family. Pretty perfect if you ask me!
I was feeling surprisingly good after Saturday's 12-miler and decided to head the door for a run around noon yesterday. To make things interesting, I turned the run into a bit of a game. I had planned to do errands with my mom later in the afternoon, so she gave me a head start and I began running towards our first destination (the bakery!). The goal was to see how far I could run before she could catch me in the car. After about 7.33 miles (1 hour, 3 minutes/~8:30 pace), I heard the beep of the horn and ended my run. The route featured a ton of hills (pretty much un-avoidable in the Poconos region of PA), but I embraced the challenge – I have a hilly 9-mile race coming up on Thanksgiving Day morning!
I totally forgot about my bum IT band/hamstring until a mile into the run yesterday. And then I realized – hey, nothing is hurting! Running without pain might not seem like such a big deal – in fact I took it for granted for a long time, but after this year of injury every good run that I have is something I feel incredibly grateful for. Want lots of motivation? Get injured! Hah, just kidding. But really – being limited by injury just fueled my desire to train and race. After months of not being able to run fast (or long), I'm more motivated than ever to hit the pavement. I plan to do a more detailed post about my recovery and will include information about the things that helped. Stay tuned!
For an interesting read that questions the merits of stretching, check out Matt's latest contribution to Running Shorts!
Later on in the day, I helped my mom prepare one of her signature dishes – stuffed shells. A few winters ago I was down for the count with the flu and I remember the worst part of being sick was missing out on the shells my mom made for Christmas Eve supper! Luckily, I was in top form for last night's dinner and since I helped shop for the ingredients, the nutritional profile of the recipe was a bit healthier than usual.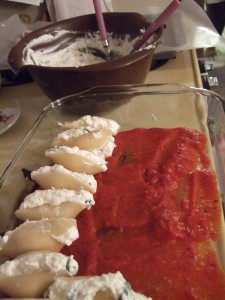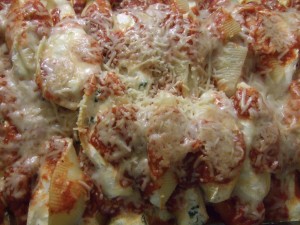 Ingredients:
box of shell pasta
1 bag of baby spinach
32 oz. part-skim ricotta cheese
8 oz. part-skim mozzarella cheese, shredded
2 eggs (preferably organic)
1/2 tsp salt, 1/4 tsp pepper, dash of nutmeg
1/2 cup parmigiano-reggiano cheese
24 oz. jar of Newman's Own marinara sauce
Directions:
Pre-heat oven to 350 degrees
Bring a large pot of water to a rolling boil, add a dash of salt, and cook shells for 10 minutes
After shells are done cooking, drain, and place on a wax-paper covered tray
Microwave spinach in a large bowl covered with plastic wrap for 60-90 seconds, set aside
In a large bowl, mix together ricotta and mozzarella cheese, eggs, S&P, nutmeg, and spinach
Spread 1/2 cup of marinara sauce on the bottom of a 9″ x 13″ baking dish
Fill shells with Tbs of cheese filling and place in bottom of pan, once bottom of pan is filled, cover with 1/2 of remaining sauce
Continue to fill shells, place them on top of the first layer, cover with the rest of the sauce, and sprinkle 1/2 cup shredded parmiggiano-reggiano cheese on top
Cover with foil and bake for 35 minutes
Enjoy!
Makes 8-10 servings
Note: If you want, you can replace some of the cheese with lightly sauteed mushrooms, peppers, and onions. That would bump up the fiber content and make the dish a little less indulgent 🙂

I enjoyed my stuffed shells with a salad (romaine, avocado, crispy sugar snap peas, thousand-island yogurt dressing) and a slice of whole wheat baguette with butter. Classic comfort food and just what I was craving post-run.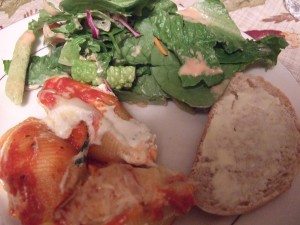 And then it was time for cake. Happy Birthday, Mom!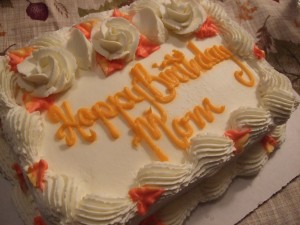 I'm sure you've heard me talk about Sanitary Bakery many times before, but I just can't get enough! I think it's the best (and most inexpensive) bakery in the world. For my mom's birthday we had a marble cake with whipped cream icing. The cake was incredibly moist and the icing was a delicious blend of butter cream and whipped cream. While I love straight up butter cream icing, it can be a bit cloying. The whipped cream added a lightness that just melted in my mouth. Prepare yourselves, this week is going to be full of the good (sweet!) stuff.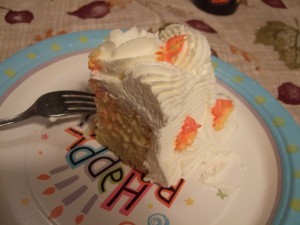 Question: What recipe reminds you of your childhood?