After my fun run and veggie-packed dinner, I got the urge to bake. The timing was good because earlier in the day, I received a package from Pillsbury asking me to participate in their "Love the Pie" campaign. Fall is apple season and personally I think apples taste best in PIE! Usually I make my own pie crusts from scratch, but on a busy worknight, using prepared crust was a great time saver. I was happy to see that the Pillsbury pie crust contained 0 trans fats and it was deliciously flaky! I always have trouble getting the consistency of my crusts to come out right (especially when I try to experiment with whole wheat flour…).
I began the pie process by peeling and slicing apples while watching gossip girl (I used 2 granny smith apples and 4 macoun apples).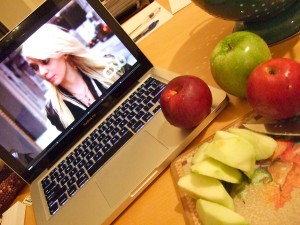 And then I followed the directions for Pillsbury's Caramel Apple Streusel Pie (with just a few modifications!).
Ingredients:
| | |
| --- | --- |
| 6 | cups sliced peeled ripe apples |
| 1 | tablespoon lemon juice (juice from 1/2 lemon) |
| 1/4  | cup sugar |
| 2 | tablespoons quick-cooking tapioca |
| 3/4 | teaspoon ground cinnamon |
| 1/4 | teaspoon salt |
| 1/4 | teaspoon ground nutmeg |
| 1 | box (15 oz) Pillsbury® refrigerated pie crusts, softened as directed on box |
| 3/4 | cup old-fashioned oats |
| 1 | tablespoon whole wheat flour |
| 2 | tablespoons sugar |
| 3 | Tbs cold butter or margarine |
| 18 |  caramels, unwrapped |
| 5 |  tablespoons milk |
| 1/4 |  cup chopped pecans |
Directions:
1) Heat oven to 400°F. In large bowl, mix apples and lemon juice. In small bowl, mix 1/4 cup sugar, the tapioca, cinnamon, salt and nutmeg. Add to apples; stir gently. Let stand 15 minutes. Place 1 pie crust in ungreased 9-inch glass pie plate. Pour apple mixture into pastry-lined pie plate.
2) In small bowl, mix oats, flour and 2 tablespoons sugar. Cut in butter until crumbly. Sprinkle over apples. Cut second crust into wedges; arrange wedges in an alternate pattern across the mixture.
3) Bake 45 minutes. Meanwhile, in 1-quart saucepan, heat caramels and milk over low heat until caramels are melted. Stir until smooth; add pecans. Drizzle over pie. Bake 8 to 10 minutes longer or until crust is golden brown and filling is bubbly. Cool completely on cooling rack, about 2 hours.
Note: Cover the edges of the crust with foil after the first 20 minutes of baking, so the edges don't burn. And keep an eye on your pie – all oven temperatures vary.
Yum! This pie was packed with delicious things – apples, cinnamon, oats, caramel, pecan. Delish! I won't pretend it's healthy, but I did cut out a little bit of butter and sugar (from the original recipe) and an apple is a fruit!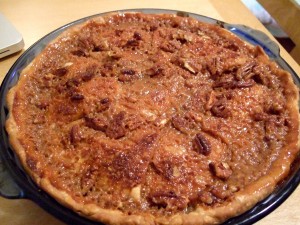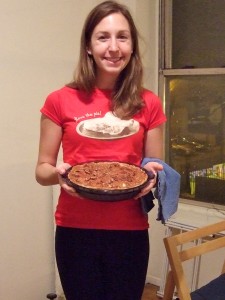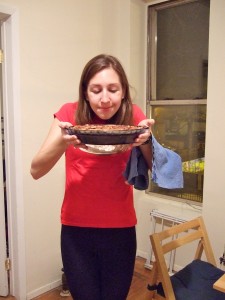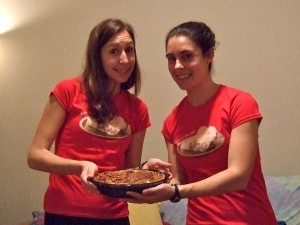 And you better believe I had a slice of warm caramel apple streusel pie after all of the dishes were done. I was very skeptical of the pre-made pie crust, but I have to admit it was very good (perfectly flaky). And the caramel-pecan topping was a nice addition to the cinnamon-y apples. I can't wait to have another slice tonight!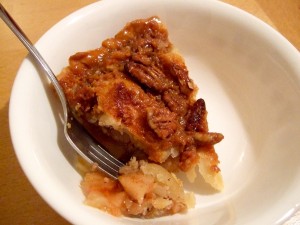 And now for the free stuff!! Do you like my red "love the pie" t-shirt? Well, I have 4 of them to giveaway! Four readers will get their own "Love the Pie" t-shirt, a Pillsbury pie recipe card, and some extra special goodies from me!
To enter the contest, leave a comment telling me what your favorite pie is and how you could bake it a little bit healthier. I'll choose the winners at 5pm on Friday, November 20th.