Man, what a week. I'm not sure why I decided to initiate the self-hosting process during one of the busiest times of the year at work…
But despite getting a bit less sleep than I'm used to, I'm in pretty good spirits. It doesn't hurt that my eats have been pretty tasty…
Wednesday morning started off with the usual 1/2 decaf coffee and a 4 mile run in Central Park. I would have liked to run longer, but a few minutes of extra sleep won out. I felt pretty good on the run, only minimal IT band discomfort, and I saw the cutest dog! There was a shiny, brown lab playing fetch with his owner and I came thisclose to stealing him away…
Breakfast was a yummy oatmeal combo – Nature's Path flax seed oatmeal made with skim milk, sliced banana, dried cranberries,  pecans, and a sprinkle of brown sugah.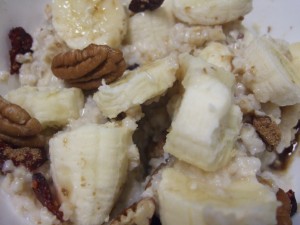 Around 10am I started to feel real yucky. I do not function well on 6 hours of sleep, ugh. Luckily, a (non decaf ) cappuccino put me in better spirits. I feel sort of bad relying on caffeine like this, but it DID help me to get through the work day.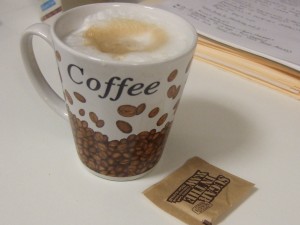 Lunch was kind of boring, but I wanted to use up some fridge ingredients, so a sandwich it was! Two slices of Nature's Pride whole wheat bread topped with Sabra's greek olive hummus, mozzarella cheese, 1/4 avocado, and spinach.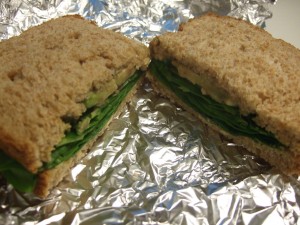 And some salt & pepper popchips on the side. Love these so much! I think I had a piece of leftover Halloween candy at some point, but it escaped the camera lense.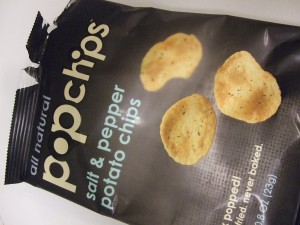 As I mentioned, this week is super busy in the office, so I made sure to have a hearty snack around 5 o'clock: a vanilla greek yogurt topped with a crumbled cherry pie lara bar. The protein in the yogurt and the fiber in the fruit & nut bar held me over until a late dinner time.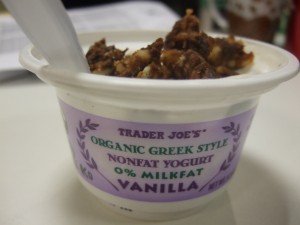 I made it out of the office and back to my apartment around 9pm and was in no mood to cook anything elaborate. Luckily a chopped apple + 2Tbs peanut butter + 1 cup greek yogurt + 1/2 kashi granola bar saved the day!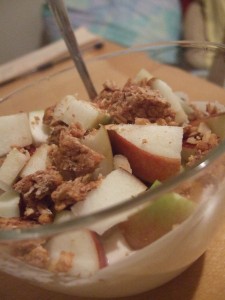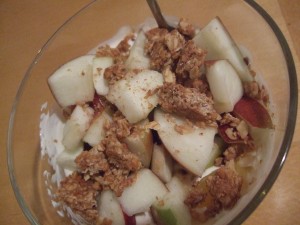 I spent a few more hours working on bloggie stuff (thanks for visiting the new site!) and then finished off the last two white chocolate pumpkin cookies. These cookies were SO moist, now that they're gone, I might have to make more!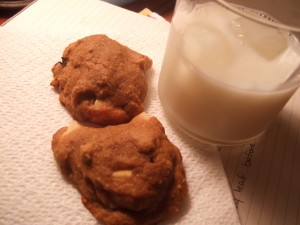 I called it a night shortly after – my eyes wouldn't stay open!
This morning, I woke up to the sound of rattling leaves outside my window and prepared myself for a windy run. But first, coffee and 1/2 peanut-chocolate chip clif bar. This is my favorite flavor!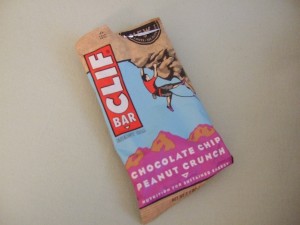 6 miles and 51 minutes later, I returned home for a shower that was scalding hot. We desperately need the super to make some repairs – no matter the water temperature coming out of the shower head, scalding hot (boiling, even!) water leaks out of the faucet and splashes all over my legs and feet. Yikes. But at least we HAD hot water today – some mornings it's MIA . Oh, the joys of living in a crappy New York City apartment.
After I treated my first degree burns commuted to work, I was more than ready for breakfast:
1 cup of plain Oikos greek yogurt (yes, I am an addict, can't get enough) mixed with PB2, a sliced banana, and 1/2 Kashi crunchy granola bar.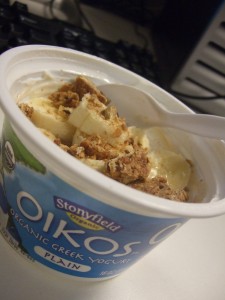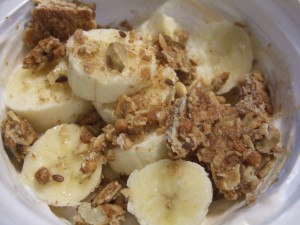 Plus a decaf cappuccino to warm me up –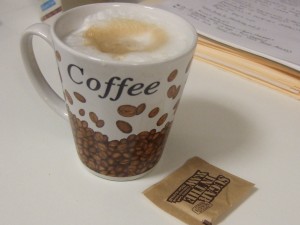 The morning involved a lot of number crunching and some ice for my IT band. Classy set-up, eh? And yes…I keep no fewer than 4 pairs of shoes under my desk. A girl's gotta be prepared.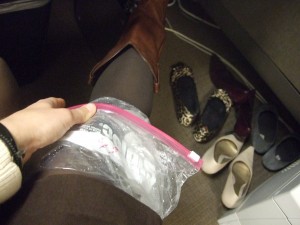 I'm not sure why, but I wasn't hungry for lunch until well after 2pm. I was lazy didn't have time to pack a lunch, so I made a trip to the salad bar. Vegetables make me happy. It's the small things, right?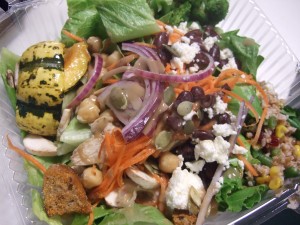 romaine lettuce, red onion, carrots, mushrooms, roasted squash

kidney beans and chickpeas (~1/2 cup)

feta cheese, whole grain croutons, pumpkin seeds

homemade balsamic vinaigrette
Delicious and nutritious. Now, get back to work!
Does your SIGG water bottle contain BPA? Mine did. Find out how to get a free replacement.
Alarm didn't go off this morning? Don't worry, you can fit in a workout during your lunch break and STILL make it to happy hour.
It's rainy and cold in NYC today, I'd really like someone to make me this healthy macaroni and cheese recipe…
How about a healthy peach cobbler for breakfast? Check out this list of yummy (and healthy!) 2-ingredient recipes. Yay!
Question: What is your favorite 2-ingredient combination? I'm a big fan of greek yogurt + peanut butter. Holy protein…