And the winners are…….
Comment #10 K: That pie looks incredible!! Nice job baking that! My favorite pie is pumpkin. We make it a bit healthier by skipping the crust completely. We just bake it in a huge bowl – just as delicious
Comment #13 Anth: I've read that recipe before but never tried it, hope it was good. My favorite pie is cherry, but my favorite to bake is rhubarb – and since rhubarb is technically a vegetable, I consider it pretty healthy. (But if you add strawberries you get a lot of vitamin C!)
Comment #30 Angharad: I love a fruit pie over a creamier one to cut back on fat and calories. Also since pie crust is the biggest culprit in the unhealthy factor, I like making crumbles or bottom-only crusts rather than pies with full crusts. My fave is a blueberry or blackberry low-fat oat crumble made with whole-wheat flour, rather than an upper crust of traditional pastry. Instead of ice cream or double cream on top, I'll have a dollop of Greek yogurt! So yummy!
Comment #40 Anna: My favorite pie is, by far, pumpkin! To make the pie a little healthier (and vegan-friendly), I use tofu in place of butter and eggs and whole wheat flour in the crust! Super creamy, delicious, and healthy! To make fruit pies healthier, I like to include as much real fruit as possible and skip the sugary "fruit pie fillings!"
Congrats! Email me your mailing addresses (
runnerskitchen@gmail.com
) and I'll send the t-shirts plus extra goodies out to you next week!
And now, a recap of Thursday (I'm a wee bit behind, life's been hectic). I started the morning with Frida –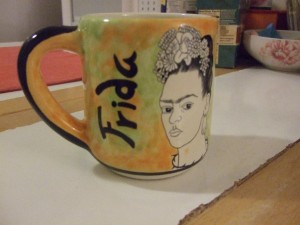 And then I dined on oatmeal + skim milk + raisins for breakfast. Made in the office microwave, how fancy!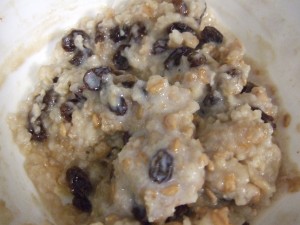 Mid-morning snack was a banana walnut vita muffin (with a smidge of buttah!).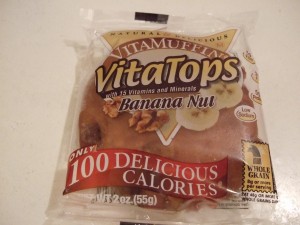 Lunch was a random mish-mosh of leftovers, but at least I got my veggies in! First course: roasted cauliflower, black beans, and hot sauce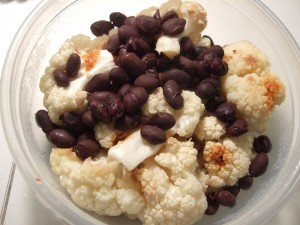 And then a little later, I had some cheetahs (aka baked sweet potato wedges) with ketchup. I prepped these the night before and it was totally worth the effort.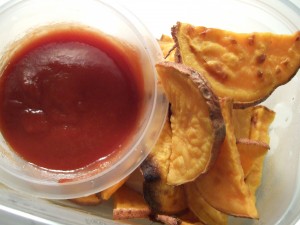 Afternoon snackeroos: decaf cappuccino and a halloween kit-kat. There was definitely another mini kit-kat consumed later in the afternoon….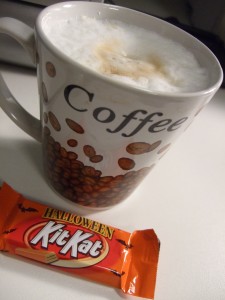 I had plans to go running after work, so around 5pm I snacked on some plain Oikos greek yogurt with a spoonful of PB2 (powdered peanut butter!).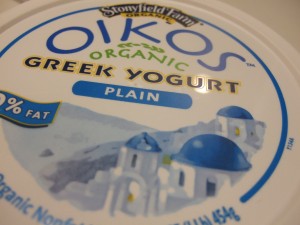 And then the most exciting part of my day – a workout with the Central Park Track Team! This was my first workout back with them since I got injured in January, so I was excited and nervous at the same time. Would I be able to do the workout? Would my hamstring hurt? Well, I'm happy to report that the workout went well! I warmed up for about a mile and then did a 4 mile tempo run. I ran with some teammates who are still recovering from the NYC marathon, so the pace wasn't too strenuous. We ran about 7:53/mile pace and chatted the whole time. The pace was probably a little too easy, but I think it was smart for me to stay relaxed. I certainly don't want to re-injure myself! I finished up the night with a 2.5 mile cool down and some stretching. Hooray!! I finally feel like this injury is fading into the background. Thank goodness.
To avoid a drop in blood sugar, I stashed a couple of dried prunes in my jacket pocket and popped them in my mouth on the subway ride home.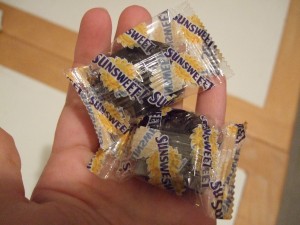 Dinner was quick because I needed to do a lot of writing and emailing in the hours before bed:
1/3 cup oats, milk, water

chopped apple

2 Tbs peanut butter

a few chocolate chips and a sprinkle cinnamon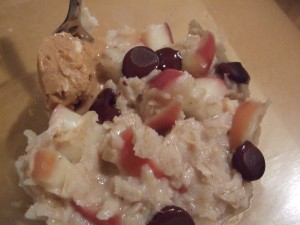 And then….a big slice of caramel apple steusel pie. With a glass of milk 🙂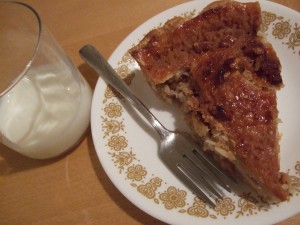 And some herbal tea before bed – gotta stay hydrated!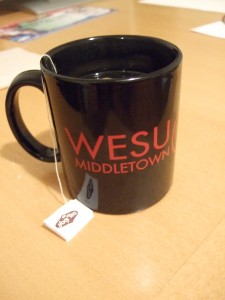 Want to win a cookbook all about PIE? Check out my friend Matt's blog – Eat With Me for a fun give-a-way. The recent photos of cupcakes made me way jealous 🙂
Are you feeling a little sniffle-y? Check out these 4 strategies to cure that cold.
A new study suggests that exercising in the heat reduces appetite. Interesting news if you love hot yoga (or live in Florida!).
That's all I've got. Happy Friday!!