After tossing and turning for most of the night, I woke up feeling kind of crummy. Understandably, this made me more than a little nervous for the 9-mile race I was about to run…
My pre-race breakfast was a cup of coffee (with half 'n half) and an 8-grain bagel with some peanut butter and a sliced banana. I ate my breakfast on the 45 minute drive to the race start and started to feel a little better.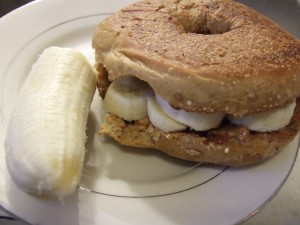 I really lucked out with the weather – my 3/4 length spandex and CPTC t-shirt were perfect for the 50 degree temperatures.
After a 1-mile warm-up, it was time to head to the starting line! Today's race was the 100th anniversary of the Run for the Diamonds and featured the largest field ever (close to 2,000 runners).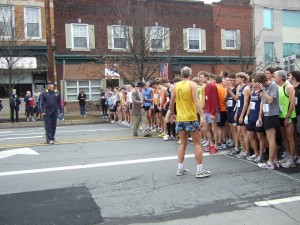 And then we were off!
I was pleasantly surprised at how good I felt once I got moving. Despite a lot of weaving, my first mile was in 7:18 (mostly flat). Miles 2-4 were basically up a mountain (aka Foundry Road) and consequently slow. After the half-way point we got some nice downhill action and I maintained sub-7:20 pace for miles 5-9. I was really proud of my fast first mile and my negative splits (36 minutes for the first half, 32:40 for the second half). I was also really pumped to PR for this race, beating my 2007 and 2008 times by nearly a minute. Take THAT hamstring/IT band injury 🙂
2007 – 1:09:29
2008 – 1:09:38
2009 – 1:09:26 (1:08:40 according to my watch).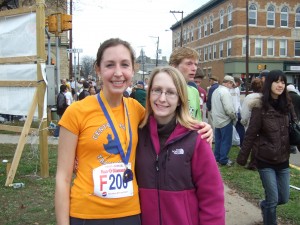 My sister is such a trooper. Not only did she wake up super early to spectate the race, but she was also my official photographer. Thanks Rachel!
After a s-l-o-w mile cool-down (I am going to be sore tomorrow), we headed back home. I didn't want to spoil my appetite for Thanksgiving dinner, but I needed to re-fuel after 11 miles of running so I picked the pineapple out of a container of fruit salad (pineapple = the best part):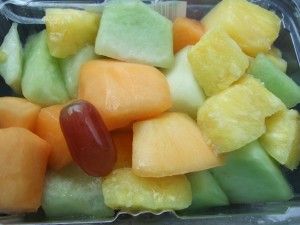 And then had a bowl of greek yogurt (protein for muscle recovery!) + jam and a seasonal clif bar before I hopped in the shower.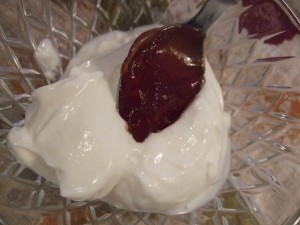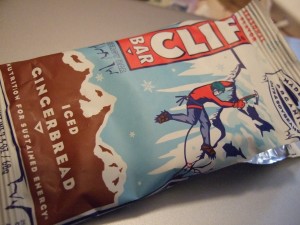 Overall I'm very happy with today's effort!
However, I do have a gripe with this race. A new disposable timing system was utilized this year and all of the chips were activated at once (when the gun went off). It probably took me a good 45 seconds to get past the starting line (2,000 people were lined up on the street), so the results pages shows a gun time (1:09:26) rather than an actual chip time (1:08:40 according to my watch). Oh, small town racing. I've become quite spoiled by NYRR!
ALSO there were no port-a-potties on the 9 mile race course. Too bad if you needed one, yikes.
Now I've got to get cookin' – the turkey is in the oven and mom needs help with the mashed potatoes!
Happy Thanksgiving!
What are you thankful for today?