Do you run with a club/team or is most of your mileage done solo? Check out my latest Running Shorts article  about group running on True/Slant!
I tried to be extra productive yesterday afternoon – I had a fun dinner planned and I didn't want to get stuck in the office! Around 5:30pm I snacked on a few handfuls of dried cranberries (yay, Ocean Spray!).
After I left the office, I walked the 2 miles or so to Candle Cafe on the Upper East Side. When the weather is dry, I'd rather walk outside than deal with the subway!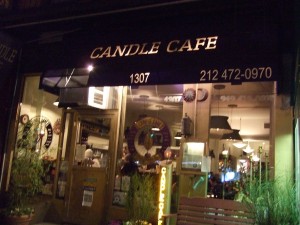 Tonight's dinner was a mini-nyc food blogger get together. It was so much fun to meet other New Yorkers who read my blog and love to chat about yummy food!
After perusing the menu for a good 10 minutes, I finally decided on the cajun seitan sandwich. My pan fried seitan (a.k.a. texturized wheat gluten) was served on toasted foccacia bread and came topped with steamed greens, avocado slices, and caramelized onions. A spicy aioli sauce and coleslaw were served on the side. The sandwich was delicious! The seitan reminded me a lot of fried chicken. Although since I don't really eat meat anymore, I'm not sure how accurate my taste buds are 🙂 The coleslaw needed a little salt and pepper, but it was nice and light and overall a good accompaniment to the sandwich.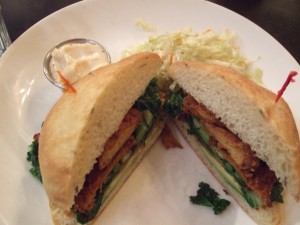 The food was good, but the company was even better! It was so nice to meet Chelsea and to reconnect with Courtney.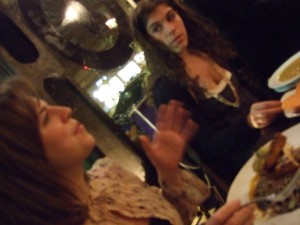 Darien ordered an amazing sandwich stuffed with tofu, sweet potato, and kale and Lindsey's ginger stirfry looked yummy too. If you like vegeterian food, Candle Cafe is where it's at.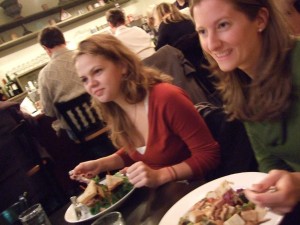 Thanks for a fun dinner ladies! If you're a NYC reader, shoot me an email (runnerskitchen@gmail.com) and I'll let you know the next time we plan a dinner.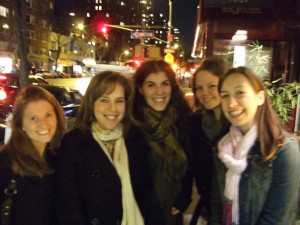 Feeling inspired to cook up your own veggie dishes? Check out these yummy Autumn recipes!
Beet, Apple, and Goat Cheese Salad with Curly Kale 
Broiled Pears with Maple Vanilla Walnuts and Cranberries
Question: Who's your favorite person to eat dinner with? I like to cook for Alma because she enjoys everything I make 🙂