Day 2 of vacation week started off with some pumpkin spice coffee in my U.S. House of Representatives mug (I used to be an intern there!). I've been having full-caf coffee and I can definitely notice the difference.
I made peanut butter cup oats for breakfast and even convinced my mom to have them too!
1/3 cup oats, 1/3 cup milk, 1/3 cup water
chopped apple (cooked with the oats)
2 Tbs peanut butter
a few chocolate chips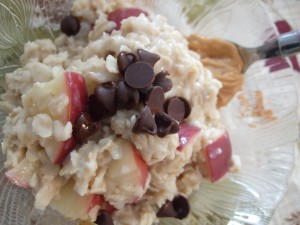 I ended up doing quite a bit of work from home. Around noon, I decided I needed to try a piece of pumpkin cookie from my favorite bakery. This cookie was SO moist and light. Almost cake-like.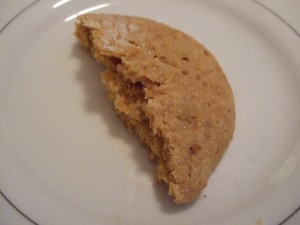 I was tempted to take a nap with Kiwi the cat (love.him.so.much)……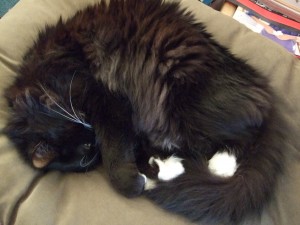 But I got myself out the door for a run instead! I took it very easy today – 4 miles followed by 4 strides at the end. In case you're unfamiliar with strides – they are controlled pick-ups of speed. I usually make mine about 100 meters (or one city block) long. I pick-up speed for the first 25 meters, maintain a quick, yet relaxed pace for the middle, and then gradually decelerate for the final bit. I do these before workouts or in the week leading up to a race. It gets my leg muscles used to movin' fast!
Post-run, I put together an interesting lunch – a big bowl of grapes, a Stonyfield Farm pumpkin pie yogurt, and a few crumbled graham crackers. I've been searching for this special seasonal flavor of yogurt for months and I have to say I was a bit disappointed. If you like sweet yogurts, this might be a good option, but I really missed my plain greek yogurt!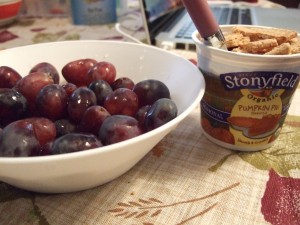 Still hungry, I toasted up a whole wheat sandwich thin and topped it with a layer of peanut butter and a few chocolate chips.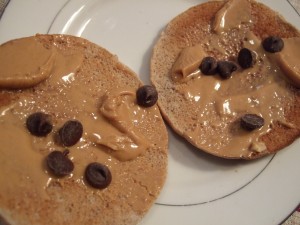 I was out and about walking and shopping for most of the evening. Around 5pm, I needed to break into my emergency purse snack – raisins! Luckily, these held me over until dinner. I was getting hangry.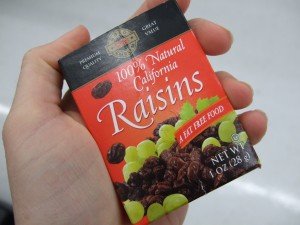 Din-din was a quick salad of spinach, celery, and thousand island yogurt dressing.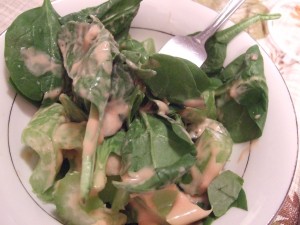 And them mom made pierogis! Our neighbors have us some homemade potato pierogis and while they might not be the most nutritionally sound choice, they were DELICIOUS. I forgot how much I miss the local Polish specialities.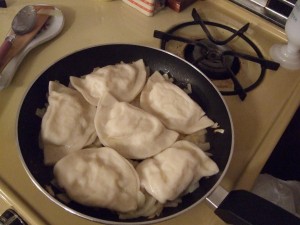 Mom combined about 3Tbs of butter (err…maybe more) and a large, sliced onion in a saute pan over medium heat. After the onions begin to get a bit brown, she added the pierogis. She allowed them to cook until the pierogis were heated through and the onions were caramelized.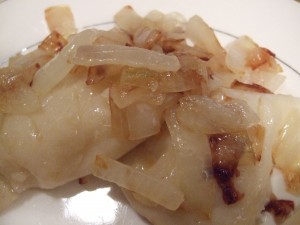 I had two pierogis and a leftover stuffed shell.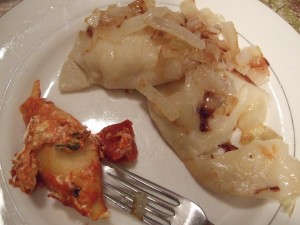 After finishing up my Season 2, Episode 6 of Mad Men – it was time for dessert! Homemade pumpkin ice cream with a crumbled sugar cone on top.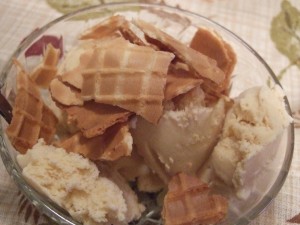 Lots of sweet things today and a bit of butter – but isn't that what enjoying good food is all about? I'll try to eat something green tomorrow 🙂
Check out some tips from this vegan, running machine – she just ran 3:15 for her first marathon!
Breakfast is important, we all know that, but cheerios can get a little boring. Luckily, Women's Health comes to the rescue with innovative recipes like the berry waffle-wich. Yum.