I set out for my long run around 2:30pm on Saturday afternoon and was happy to see that it was only drizzling. However, my luck soon changed. By the time I was on mile 5 it had started to pour and I was up to my ankles in puddles on the bridle path. I was a little bit worried that my contacts were going to come out (this has happened before in extremely windy, rainy weather…), but thankfully they didn't! I finished my 10 mile run in about 1:25 (about ~8:33 pace) and was lookin' like a wet dog.
But look what greeted me when I returned to my warm and dry apartment:
a GIANT cauliflower!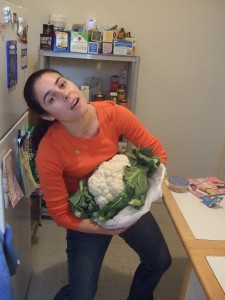 Alma snagged this big guy from the farmer's market and I'm not sure my photos convey just how large it actually was. It was at least the equivalent of 3 regular-sized cauliflower heads.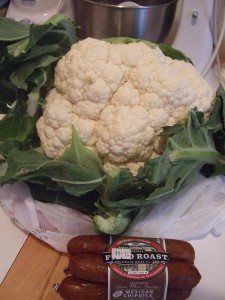 While I was washing the rain and mud out of my hair, Alma was nice enough to cook up dinner!
Sauteed Cauliflower and Vegan Sausage
Ingredients
1/2 HUGE cauliflower, florets chopped and washed

2 links of Mexican Chipotle vegan "sausage" (grain-based, not soy based)

olive oil
Directions
Lightly steam cauliflower (either in the microwave or in a pot with a little pit of water)
Add oil to lightly coat the bottom of a large sautee pan, crumble in sausage, and cook until nicely browned
Add cauliflower and stir everything together so that the spices and flavorings in the sausage mix with the cauliflower
Add a little more olive oil if necessary and enjoy!
Note: this was a super-easy 3-ingredient dish that tasted much fancier. I would highly recommend the vegan sausage that Alma used (Field Roast brand – Mexican Chipotle flavor). It had so many great spices that we didn't need to add anything else to the dish – not even salt! And I'm pretty sure you could serve this dish to meat-eating friends and they wouldn't be able to tell the difference. Yum! Thanks Alma!
My plate (plus a second helping later!):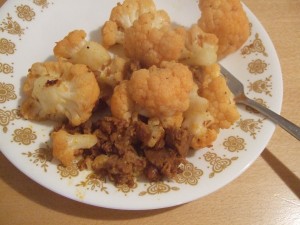 Did you know? Cauliflower and other cruciferous vegetables, such as broccoli, cabbage, and kale, contain compounds that may help prevent cancer. These compounds appear to stop enzymes from activating cancer-causing agents in the body, and they increase the activity of enzymes that disable and eliminate carcinogens. (From the World's Healthiest Foods website)