Happy Thanksgiving! As soon as I press "publish" I'm out the door and on my way to my 9-mile turkey trot. Stay tuned for a race update.
So, what did I do to prepare for this little lengthy jaunt?
Wednesday breakfast was the "Megan Special" – whole wheat toast topped with peanut butter and banana.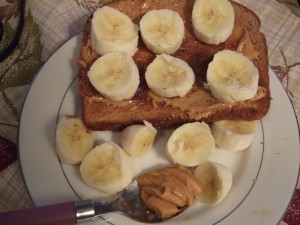 After a morning full of holiday errands, I stopped for a quick lunch. I toasted up a whole wheat sandwich thin and topped it with spinach and Cabot reduced fat cheddar with some thousand island dressing on the side.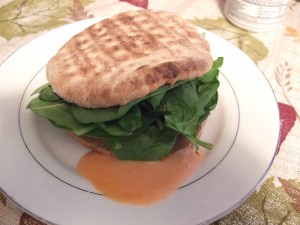 And some super-moist pumpkin bread from my favorite bakery. Plus seconds. So good!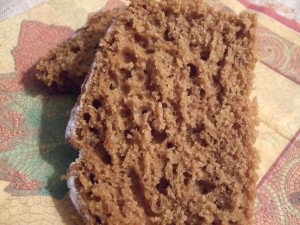 I was feelin' a bit sore from Tuesday's tempo, so I took a very easy 3-mile recovery run in the 5pm darkness.
And snacked on an apple before dinner. I really like Michael Pollan's saying: "If you are not hungry enough to eat an apple, then you are not hungry." Well, Michael – I was hungry and this apple was the perfect appetizer.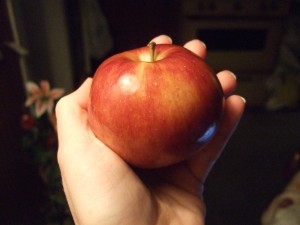 For dinner, my family wanted to go to a steakhouse (yikes!). I don't really consider myself a vegetarian (I plan to eat a bit of turkey today), but I avoid red meat whenever possible and I definitely don't eat steak. So what's a veggie lover to order in a middle-America steakhouse? I actually came up with a pretty good option!
Started off with unsweetened iced tea and a side salad with balsamic vinaigrette (note: make sure you ask for the salad without bacon bits).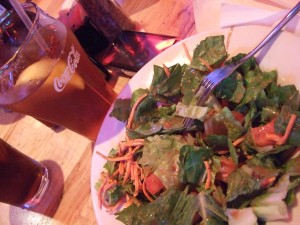 And then for my entree, I ordered a baked potato with a side of black bean-salsa. My sister also gave me the sauted mushrooms and onions from her burger (she doesn't like them) and they added great flavor. I've never met a vegetable I didn't like! I also had a bit of un-pictured sour cream. The waitress was a little confused by the lack of meat in my meal, but it was tasty and the potato provided some "night before a race" carbs.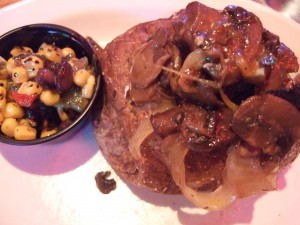 And then I did something you probably shouldn't 12-hours before a race – I met my friends at a bar. Ah well, Thanksgiving Eve is the biggest bar night of the year and I'm all about celebrating the holidays right!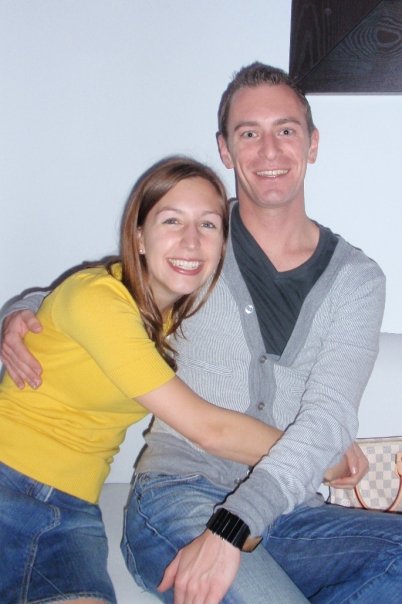 (Mark you're famous – you made the blog!)
4 seconds after this photo was taken, I lost my balance.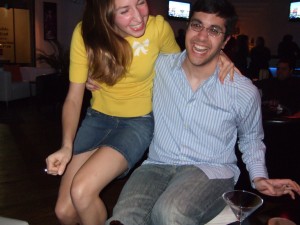 Who comes home from a night at a bar and eats greek yogurt and tea? I do! In my defense, I only had one beer, but I realize that this isn't a very traditional midnight snack 🙂
I mixed together a cup of plain greek yogurt, peanut butter, and a generous helping of crumbled pumpkin bread. Mmm, carbs.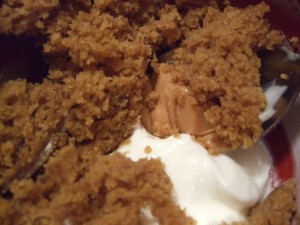 The weather is 40 degrees with lots of fog – good running conditions?  Whee! I'm off to go run, check in later.
Question: What's your favorite midnight snack?