Check out slide #11 of this Glamour article on workout motivation. Hey, that's my quote! 🙂
Anyway, welcome back to the grind Monday! One of the main reasons I go to yoga is because it forces me to do a bit of core work and strength training. However, I haven't been to yoga in over a week. Solution? I grabbed my latest issue of Women's Health and knocked out a 15-minute ab workout this morning. I was pretty proud of myself for finishing the routine, but I have to admit it was kind of boring. I just don't like strength training! The workout consisted of planks, v-twists for the obliques, supermans, and a variation on the basic crunch. The exercises are featured on page 57 of the latest issue of WH, so pick up a copy if you're feelin' motivated!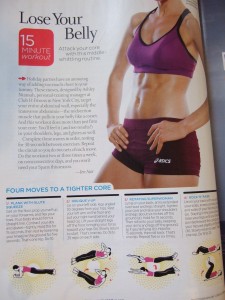 strong core =  strong runner!
Today was crazy busy and my snacks were not that interesting (example: dried cranberries eaten straight outta the bag), so I'll just feature the day's best highlights.
The best of breakfast: 2% plain Chobani mixed with PB2, dried cranberries, and Kashi Go Lean.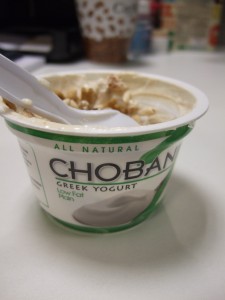 Best of lunch: leftover maple-roasted root vegetables on top of mixed greens, chickpeas, feta, and whole grain croutons.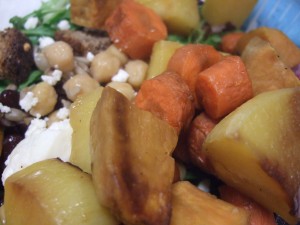 The best of the afternoon: Bustin' loose from the office and running 4 easy miles. I run to stress less.
Best of dinner: More (!) maple-roasted root vegetables with ketchup, black bean veggie burger, whole wheat sandwich thin, and lots of spicy hummus.
Best in Show: a cinnamon chip oatmeal cookie. PERFECT. Good night.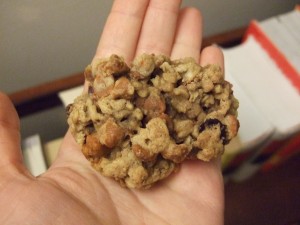 Question: What's your favorite holiday cookie? I think I need to bake something soon!
Check out these 8 cookies that won't wreck your healthy diet. Yay, cookies!