Is there anything better than a sunny Saturday morning? I started mine off with a HUGE bowl of yogurt goodness –
sliced banana
1 cup low-fat plain yogurt (whole foods brand)
1 cup Heritage Grains cereal
1 Tbs PB2 (mixed in the yogurt)
dollop of almond butter, dollop of peach jam
This bowl had a lot of volume and made me feel quite full!
Since it was such a beautiful day, I decided to walk to Target and back (about 3 miles round trip). I went with the intention of only getting a new Swiffer vacuum, but of course, you can never leave Target with just one thing! I picked up a cute pair of black capris and then stopped at Starbucks for a mocha Frappuccino (lite). I used to drink these wayyyy too often, but now that I limit myself to every once in awhile, I think I enjoy them more. The icy cold drink was perfect for the warm, sunny weather.
My frapp and reusable bags 🙂
I stopped at the Farmer's Market on the walk back and picked up a ginormous zucchini and a bunch of basil.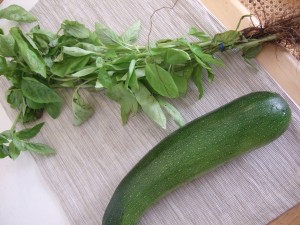 My stomach was feeling a tiny bit hungry, so I snacked on some Trader Joe's trail mix – almonds, peanuts, dried raspberries, and dark chocolate chips. Yum!
I'm not sure if I mentioned it, but my doc doesn't want me to run until I see him again (on August 6!!). I'm really trying to be a good patient and listen to him this time. Spinning, long walks, and easy elliptical are OK, but I shouldn't run. I hope by announcing it on my blog, I'll be more likely to follow through 🙂 I didn't feel like going to the gym on such a nice day and since I had dinner plans with Alma, I decided to walk to her place! If you're unfamilar with the layout of Manhattan, the island is long and skinny (about 13 miles long, 2 miles wide). I live in Washington Heights/Inwood (very top) and Alma lives in the southern part of Harlem (middle-ish). It was about a 5 mile walk and took me 1 hour, 40 minutes. It was surprisingly pleasant! I enjoyed the nice weather and chatted on the phone with Hannah (miss you!). When I arrived at Alma's, she greeted me with a cold, juicy nectarine. Perfect! I didn't take a photo, but here's a stand-in image 🙂
Alma and I decided to make a chicken-pasta-sauce dish roughly based on Jenna's shrimp scampi. However, we improvised A LOT and our end result was quite different. It tasted pretty amazing though. Perhaps we should copyright this recipe? 🙂
Alma and Megan's Mediterranean Chicken Scampi
Ingredients
6 cloves garlic, minced
Tb Spanish olive oil
14 oz can diced tomatoes (ours had jalepenos added)
Glug of red wine (we used a Spanish Tempranillo)
1 1/2 large chicken breasts, chopped into 1″ pieces
juice of 1 lemon
4 roasted red peppers, chopped
~10 pitted green olives, halved
1 sprig of fresh basil, leaves chopped
1/2 box whole grain spaghetti or angel hair (we used Barilla plus)
big handful of feta cheese
cracked black pepper
Directions
Heat the oil in a large skillet over medium heat and saute garlic until soft
Meanwhile, bring a large pot of salted water to a boil, add dry spaghetti, and cook pasta until al dente
Pour diced tomatoes (do not drain) and wine into skillet, allow to cook for a few minutes
Add chicken, red pepper, olives, and lemon juice to skillet
Cook everything in skillet over medium-high heat until chicken is cooked through
A few minutes before the chicken/sauce is finished, add the basil, feta, and cracked black pepper
Serve over pasta and add some extra feta on top! Enjoy with wine 🙂
This dish was really yummy AND it's great pre or post run fuel. You're getting protein from the chicken, complex carbs from the pasta, tons of veggies, heart healthy garlic, wine, and olive oil, and a bit of salt from the feta. Don't forget – runners need more sodium in the summer months due to the warmer temps and sweatier runs! The only thing we would change next time is the wine. The high alcohol content of the Tempranillo didn't really pair well with the lemon and tomatoes in our dish. Too acidic?
I left Alma's and walked to the subway around 9pm – I think this extra bit of walking brings my total to about 9 miles of walking today! Yikes, my legs are definitely feeling a bit tired. When I returned to my apartment, I did some much needed cleaning and of course had to end the night with some mint chocolate chip ice cream. Mmm…
I got in bed around midnight and dozed off fairly quickly. However, about 30 minutes later I woke up super hungry! I guess it was all the walking I did today – I needed a snack ASAP or I wasn't going to be able to fall asleep. I decided on a peanut butter & jelly Clif Mojo bar that I've had in my stash for awhile. This bar was really delicious! Almonds and peanuts were mixed together with a fruit flavored jelly and the whole bar was dipped in a vanilla yogurt coating. My only complaint? It was quite small! Luckily the satiating nuts quelled my hunger and I was able to sleep for a solid 9 hours. Yay!