Hello! I'm back with my quarterly update. I'm going to make this one quick because if I don't…I'll feel too overwhelmed with what I want to say and I'll never write anything.
Life/Baby/Running Updates
Sleeping: Depends on the day! We have our ups and downs, but in terms of sleep, I think we're in a much better place than we were in November/December. He started sleeping poorly around 4 months (after sleeping through the night from months 2-4) and I think it was maybeeee due to a slight drop in milk supply, but mostly due to bad sleep habits/associations (nursing/rocking to sleep). We sleep-trained the babe when he was around 6 months and it was honestly the best parenting decision we've made so far. We still have our ups and downs, crappy naps, and bedtime crankiness, but we're all getting more sleep now and for that I am very thankful. Someone asked me the other day if I thought longer nighttime stretches and crib naps were developmental….and I definitely think age has something to do with it (your 3 week old is probably not going to sleep 12 hours straight), but I also believe that getting your kid to be a good sleeper takes time and effort. Of course, there are always exceptions, but I guess my point is…for many weeks we just kept hoping the frequent night wakings were a sleep regression and that they'd go away. Spoiler: they did not. The only thing that helped was teaching Teddy how to go to sleep independently. I know it's a touchy subject, but if you're in the trenches of baby sleep, I highly recommend visiting the website Precious Little Sleep. This is not sponsored in anyway, but they were a lifesaver and I think every mom should know about them. They also have a Facebook group, podcast, and forthcoming book.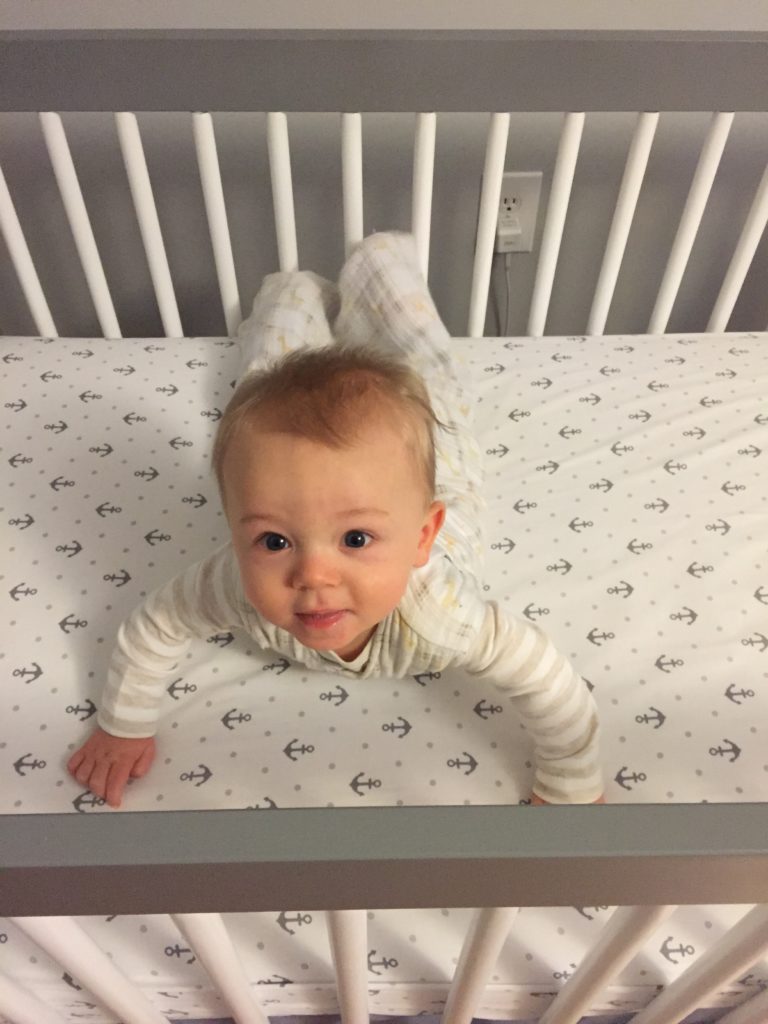 Nursing: Anyway, so even though Teddy is giving me 10-11 hours of sleep in his crib at night, most days I am pretty damn tired. Sometimes it's my own fault – I know he's going to wake up early, so I shouldn't stay up so late. Other times….it's just the stage I'm in. Small children are exhausting – no matter how much sleep you get. He's also constantly moving and crawling, so he needs a lot of calories. He's eating solids, but more than half of his calories still come from breastmilk. And that's a big energy drain for me. I'm so thankful that I've been able to nurse him for 9 months, but I am also looking forward to this summer when I can start weaning. After he's a year old, my hope is to nurse in the morning and just before bed…and provide cow's milk and solids during the day. I signed up for my first postpartum marathon (!!) and I really don't think I can start training in earnest until I've weaned him a bit.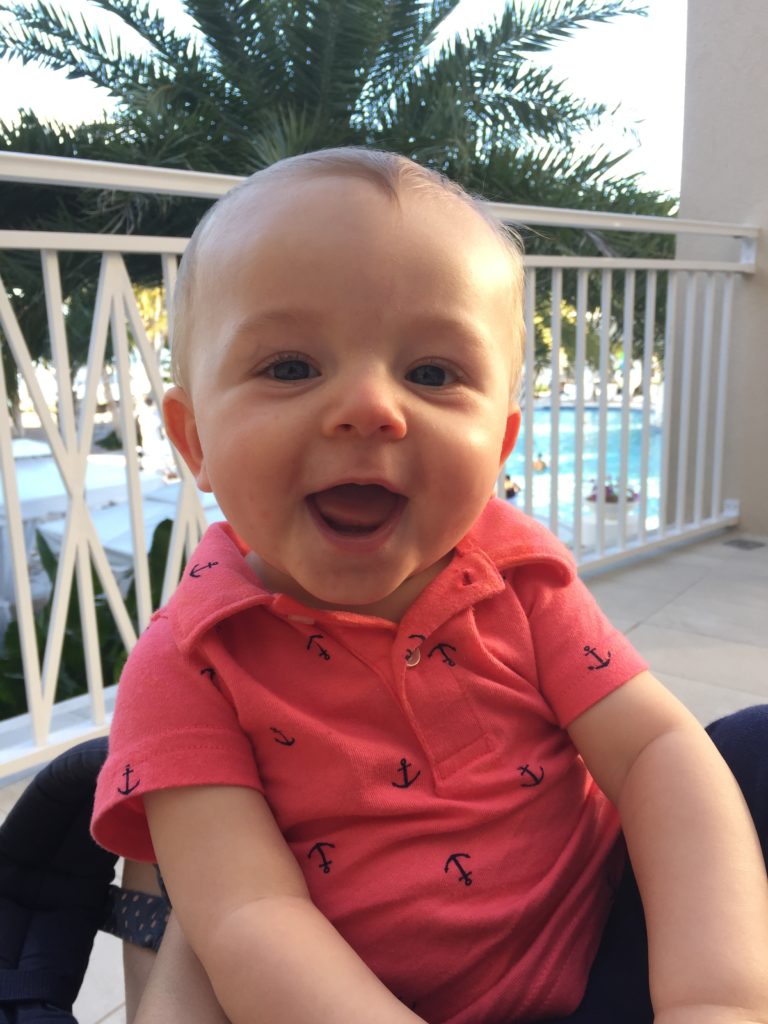 Working: Some days I feel like I have the best gig in the world. I'm currently working part time from home, so I get to contribute to my family's income AND be with my baby. It sounds ideal. And most days it is. But other days, it's the worst of both worlds. I'm not fully a stay-at-home mom, but I'm not working full time either. I know every situation has its difficulties, but man I some times I end up feeling stretched thin trying to do everything. This is sort of related to running because I feel like having a flexible schedule is a double-edged sword. Because there's not a time of day when I have to run (say, early morning) I end up putting it off a lot of times. And when late afternoon rolls around, my energy levels are the pits. This doesn't make for very energized training. Sometimes I'm able to squeeze in runs during naptime, but there's always the feeling that I should be working during that time instead. I'm hoping that as we get more morning daylight, I'll be able to nurse the baby and fit in a run before Brian has to leave for work at 7am. I feel like I said the same thing a few months ago, hah. Oh well.
Running: I'm not setting any mileage or speed records, but I feel like my running has been solid lately. I did the Runner's World Run Streak over the holidays (ran at least a mile every day from Thanksgiving through New Year's) and that helped me build a good base. Then I ran a no frills half marathon on New Year's Day. I hadn't done a ton of mileage (just 2 x 10 mile long runs), but the course was flat and the weather was great for early January, so I was pleased with my 1:48:20 (8:16 pace) finish. I felt like I was in control the whole time and mostlyyyy comfortable although I was more than ready to be done by mile 11 or so. The race was the Hangover Half Marathon for any locals who are reading this and it was FREE for members of the Mohawk Hudson Road Runners Club (annual membership is just $12). It was very basic – no chip timing, no medals, no finish line beer tent, etc. but I thought it was a great deal. I was quite nervous about running 13.1 miles after so much time off, so low key was what I needed.
After the half, I started settling in to training for my next race: The Philly Love Run Half Marathon this weekend (!). And I am looking forward to it! Goal is TBD, but hopefully somewhere around 1:40 (I would love to see 1:39:xx). I wish I could say I've been following a real training plan, but I mostly just wing it. I've been shooting for 30-40 miles per week with a 10+ mile long run most weekends and one stress workout (tempo, mile time trial, etc.) during the week. I think I'm in okay shape, but it's hard to tell. Some days I feel strong and other days…I feel exhausted. I've noticed that I'm down a few more pounds since the fall (unintentionally) and I think this is probably due to nursing a growing and hungry baby boy and running more. It's tricky because the lighter you are, it's easier to be a faster and more efficient runner. But only up to a point, you know? After that, you just feel weak. I'm still trying to figure out how to combine fueling for running and nursing…on a busy schedule. I think the key for me is having easy snacks/meals around. I just don't have time for much prep work during the day and take out isn't really an option where I live (UGH I MISS NYC MIDTOWN LUNCH OPTIONS). I stopped eating energy bars a few years ago (because they're $$ and sometimes have weird ingredients), but I just stocked up on lara bars because they're easy to eat. I also have a big stash of dates, bananas, and nut butter in the pantry. I know if I want to feel strong and energized during my training, it's not just about running and sleep…what I eat also plays a big role. Here's hoping I can figure out a good balance soon.
This mom life is hard work and even though I want to train and race well, honestly…most of the time the babe takes priority. Case in point: I ran a 5k a few months ago and the old me would have done a nice cool-down and then refueled with a nutritious snack. The new me had to jump in the backseat of the car 30 seconds after finishing the race because someone was having a meltdown and needed to eat RIGHT NOW. And I think I refueled with coffee and a donut. 'Tis the season of life, I suppose.
In other news, Santa brought me the Thule urban glide running stroller and I LOVE it.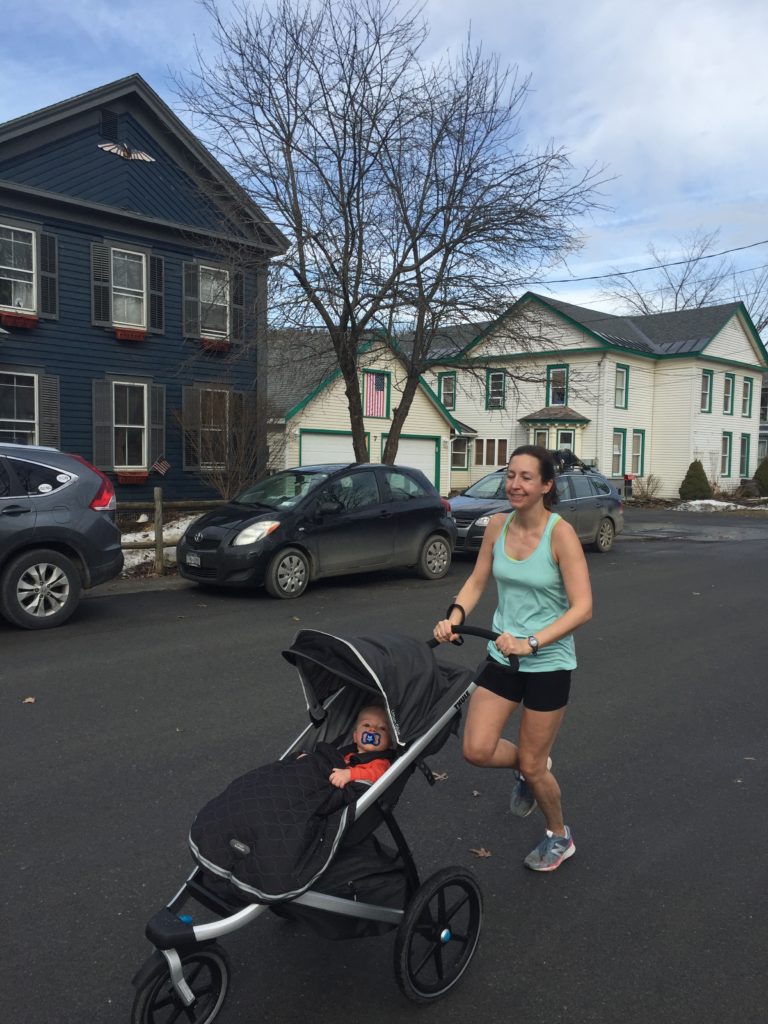 This was kind of a rambling post, so thanks for sticking with me. More on this later (I hope), but I committed to my first postpartum marathon. NYC 2017 I'm coming for you. 🙂
For more on what I'm up to, you can follow me on Instagram/Insta stories (lots of baby photos and sometimes running updates/kitchen projects) or read my latest running posts for Active.